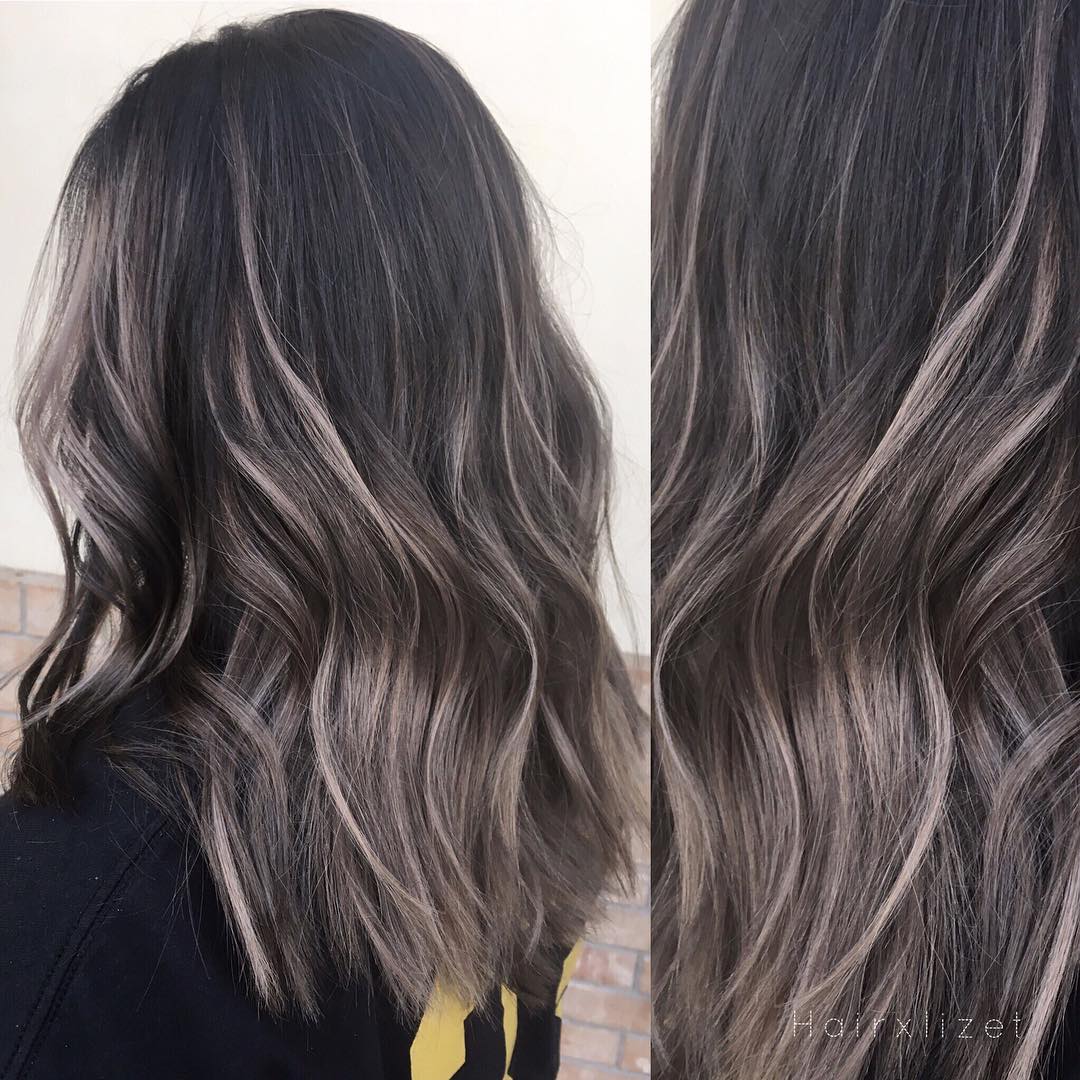 10 Everyday Medium Hairstyles for Thick Hair – Easy Trendy & Very Stylish!
Want to get the best out of your thick hair, for the least effort?  Easy-care hairstyles – that are also trendy, flattering and eye-catching? Of course you do! No-one wants the bother of elaborate hair-styling every single morning, but we all dream of looking fabulous every day!  So to show how much we truly care about you, we've created this exciting, new gallery of easy – but incredibly stylish – medium hairstyles for thick hair that look great every day!  Enjoy!
Clever color effects on everyday medium hairstyles for thick hair
Black or dark-coffee-brown hair is one of the first natural colors to start fading to gray.  We all know that – but have you heard the good news – gray streaks are a hot, high-fashion look!  Cover and highlight your gray strands with an expertly applied white or light-gray blonde balayage.  The hairstyle above shows just how much extra texture, movement and up-to-date trendiness you can get from this fabulous new color option!
Beige-ash-blonde for super-stylish everyday medium hairstyles for thick hair
Long thick hair can be time-consuming – so switching to a medium length will definitely 'lift a lot of weight off your shoulders'!  Ask your stylist to thin-out your dense hair with long, 'sliced' layers ending in long, tapered tips.  This allows any natural wave to show up, because there's less weight of hair dragging it down.  And this high-fashion color blend of beige and ash blonde shades adds tons of 'effortless' style, without you needing to lift a finger!
3-D balayage FX on everyday medium hairstyles for thick hair
What could be easier to manage every day than a long, straight bob? It's still a very attractive and popular choice for stylish women with busy lives.  But even the busiest women – from mothers/home/family managers to lucky execs who only attend meetings each day can feel bored or out-of-date.  Change your whole beauty look with a lovely light-chestnut color makeover, expertly highlighted with this dual-blonde 3-D technique!
Groovy unwoven texture & hazel-nut color – everyday medium hairstyles for thick hair
The trick to ensuring thick hair adds style to your overall look every day of the year, without lots of faff, is keeping up with hair fashion trends.  Choose styles that rely on texture and interesting balayage techniques, so stylist does the work and you get the compliments!  This easy-care, medium layered cut is full of lovely hair-fashion features that lift it out of the ordinary. But all you need to do is wash and condition it!  The defined sections resemble an 'unwoven basket' texture and pretty hazel-nut color with blonde balayage completes a totally new look!
Cute new copper-beige ombré trend
Discovering the latest hair colors never ceases to delight and surprise me! This gorgeous hair design brings together several of the latest style and color trends.  Tousled waves are quick and easy to create in everyday hairstyles for an evening variation that's casual and appealing.  And fashionable auburn, with an adorable copper-blonde ombré, looks wonderful with soft-beige toner creating a chic and sexy look!
Edgy super-textured tips & ash-blonde ombré
Edgy cutting and ash tones transformed this model's long, thick dark-blonde hair to a cool makeover look.  This trendy wave, placed half-way between roots and tips, is easy to create if you wear hair in a ponytail while sleeping!  So no active styling needed for that look!  And contrasting the beautiful gold top, with light-brown roots and an ash-blonde ombré accentuates the degraded texture in the tips!
Pearl-blonde with beige balayage & 3-D waves
If your natural hair color is quite light, you're in the best color range to get this gorgeous, new pearlized pale-blonde shade.  (Unfortunately, going this light isn't recommended for medium or dark natural colors, as the strength of bleach required would damage the hair).  I love soft blonde color designs with beige roots and light-ash balayage!  Roots and highlights kept within one or two tones up or down do look very pretty!
Adventurous medium-length hairstyles for every day wear
Reflect flattering light on your face with this bold, new color design!  We all know good lighting 'removes' some of our fine lines and wrinkles for a 'good' selfie. Well, white-blonde balayage next to the face has the same effect!  But there's much more creativity in this easy-care, medium hairstyle for thick hair.  The heavily textured layers begin just below the chin, creating a finely tapered shape that frames and softens the face.  Just add ash-brown roots and balayage, divided by golden-blonde, for a very hip medium layered hairstyle!
Lively red & coral balayage on ripple waves
The description, 'everyday hairstyle' doesn't mean dull, plain or boring in my world!  And this colorful, easy-care, medium-length haircut proves my point perfectly!  This is the work of a talented team who have created a super co-ordinated cut and color.  Brown roots are decorated with fabulous pinky-red balayage, which becomes coral-orange and ends with brown and pink tips! And ripple-waves show the gorgeous colors in this casual, easy-style, medium-length masterpiece, beautifully!
Exciting soft-copper-beige medium hairstyles with defined waves
Copper, red, orange, ginger and auburn hair colors are extremely fashionable again this season.  And the season's cool, new twist on hot colors is made by adding a little light-beige into the color-blend.  The result is softer shades which are still bright, but have a more sophisticated, muted quality.  This hair design is exciting in the way dual copper-blonde balayage transforms a plain brunette base color.  This easy-care, medium length 'everyday' hairstyle is also an eye-catching, 3-D balayage-ombré creation and a totally modern look!