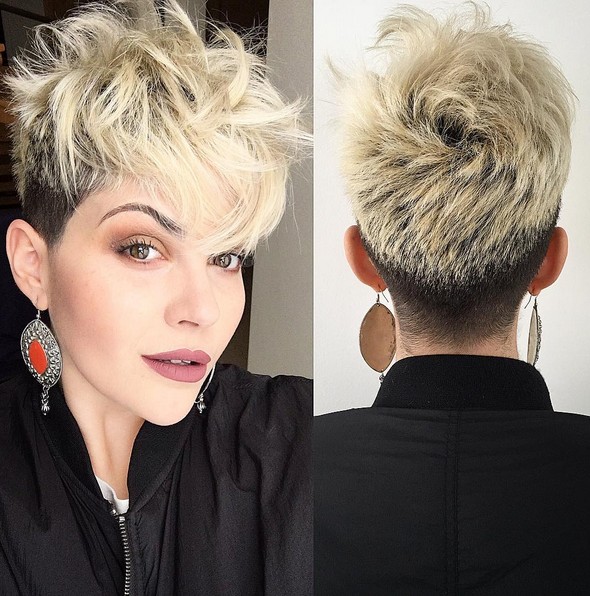 22 Best Hairstyles for Thick Hair – Sleek, Frizz-Free & Contemporary Styles
Discover the best cutting techniques for coarse, dense or frizzy hair and always get the best hairstyles for thick hair from your stylist!
Best half-up hairstyles for thick, long hair
Bring your long or medium-length hair right up-to-date with a half-up style that has a bun on the top and flowing hair at the back. It's a classic look, that's never reallyout of fashion but make sure your fringe is cut straight across to be totally trendy for 2016.
Beautiful, Texture Long Hairstyle for Thick Hair
This is one of the perfecthalf-upstyles to choose if you have thick, long hair as it chimes perfectly with the 1960's vibe that's reflected in lots of the 2016 hair-fashion preview look-books!
Left casual and windswept it's an authentic retro-Beatnik look from the late-50's, but it also looks fabulously elegant when carefully styled for a formal event!
Summer, Blonde Balayage Long Hair
Medium-length best hairstyles for thick hair
There are lots of great new hairstyles for chin to shoulder-length hair right nowthat can be worn successfully on thick hair types. To calm your fears of getting a 'triangle' or a 'mushroom' shaped cut by a stylist inexperienced in cutting techniques for thick hair, book an initial consultation and ask questions until you're satisfied.
Medium, Layered Haircut for Thick Hair
Sliced layers are the key to layering thick hair properly, as this takes away the weight and encourages hair to lie sleeker to the head and move in a specific direction. Among the current best hairstyles for thick hair are long, sleek layered bobs or long bobs with loose waves and a trendy straight-across fringe.
Shaggy, Wavy Hairstyle for Medium Thick Hair
The centre-parting is the most popular look for AW15 and on an oval face you can wear this with shorter layers parted to create soft 'wings' that frame your face. If you don't have an oval face, just choose an off-centre parting that balances with your individual face shape!
Best hairstyles for thick hair – short bobs
Another of the basic cuts that always makes the list of the best hairstyles for thick hair is the graduated bob. The correct layering technique should aim to break-up the solid sections of 'weight' and leave the hair with its natural movement defined and flexible.
Stacked, Blond Short Bob Hairstyle with Pink Highlights
So, there should not be a set line circling the head as is the case for other hair types. An experienced 'thick-hair stylist' should make an artistic evaluation of your hair and create a tailor-made cut that encourages the hair to fall in an inward curve at the ends – minimising any trace of bulkiness – whilst achieving the right amount of crown lift!
Chic Shaved Long Pixie Haircut for Thick Hair
Balayage Hair Styles for Curly Long Hair
Easy, Everyday Hairstyle for Long Hair
Curled Long Hair
Curly Long Hairstyle with Blunt Bangs
Gorgeous Blonde Color
Shaggy Hairstyle for Medium Length Hair
Cute Medium Wavy Hair
Shaggy, Medium Hairstyle for Thick Hair
Light Brunette Balayage Highlights
Undercut Bob for Thick Hair
Casual, Everyday Hairstyles for Short Hair
Cute Straight Short Bob Cut
Soft Blend Bob
Amazing Short Hair with Braid
Messy, Pixie Haircut with Thick Hair
Lavender and pale blue with a darker base
The choice of long, medium and short styles for thick hair is huge, so dive into Pophaircuts.com  fabulous gallery of the trendiest and best hairstyles for thick hair right now and fish-out your favourite new look!