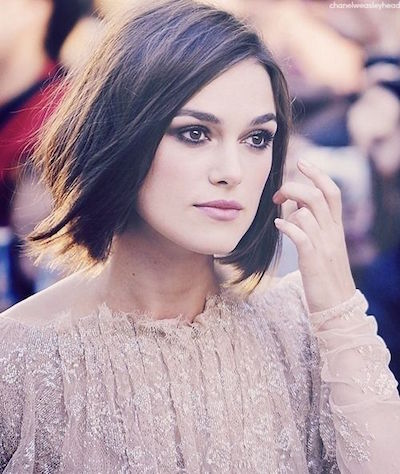 20 Amazing Short Haircuts for Fine Hair: Chic Summer Hairstyles
Fine hair is a battle on it's own. While you never have to worry about it getting "big," it can be a struggle to get it to hold texture or the much desired volume. While it is desired by those who don't have it, those who do know that there is a fine line between chic and scraggly. Luckily, there are a lot of flattering short cuts that will expertly display the beauty of fine hair, rather than the faults. Here are some looks that will look amazing on you if your hair is fine.
1. Sleek Angled Long Bob Hair Cut
This gorgeous look is bound to look fabulous on anyone.
2. Sweeping Bob
Not only does this cut look great, it will also add some volume to your locks.
3. Emma Watson Pixie: Very Short Haircut
This British beauty showed us all how to rock a stunning pixie.
4. Boy Short Cut with Layers
Or, be bold like Charlize and go even shorter!
5. Waves with Flair
A few waves will go a long way to add some gorgeous texture.
6. Smooth Pixie
There is a reason that this is the third Pixie cut on this list. Because they look phenomenal.
7. Side Swept Bob
Don't get too crazy with layers. This look proves that the right cut looks amazing.
8. Tousled Bob
Mess it up and give your head a spray. This is bound to keep you looking fresh and naturally beautiful all day.
9. Elegantly Framed
Framed hair is a flattering look that will accent both you hair and face.
10. Wavy With Fringe
This look is perfect because it balance the weight of Rashida Jones' hair perfectly.
11. Pin Straight: Ombre Short Haircut
Pin straight hair works as long as you keep it framed around your face.
12. Swooping Undercut: Asymmetrical Short Haircut with Side Long Bangs
A subtle undercut will put the focus on the top of your head, rather than the sides, giving an illusion of volume and texture.
13. Messy Pixie Haircut with Side Swept Bangs
There is nothing sexier than a messy pixie these days!
14. Classic Crop
Or you can keep it clean, like this classic pixie crop.
15. Silky Bob with Bangs
Elisha Cuthbert displays a stunning cut that shows us that sleek and straight works.
16. Beachy Waves
Slightly beachy waves is a killer look for both summer and fine hair!
17. Angled Blunt Cut
Add some edge to your haircut with an interesting angle.
18. The Delicate Frame
While Sandra Bullocks hair may be a bit on the longer side, this subtle frame is a style that works well on shorter cuts as well.
19. Sleek Side Bangs
Play it up with some intense side bangs!
20. Bob from the Past: Office Haircut Ideas for Short Hair
Or go vintage! It's your choice, but all of these looks are bound to look amazing.