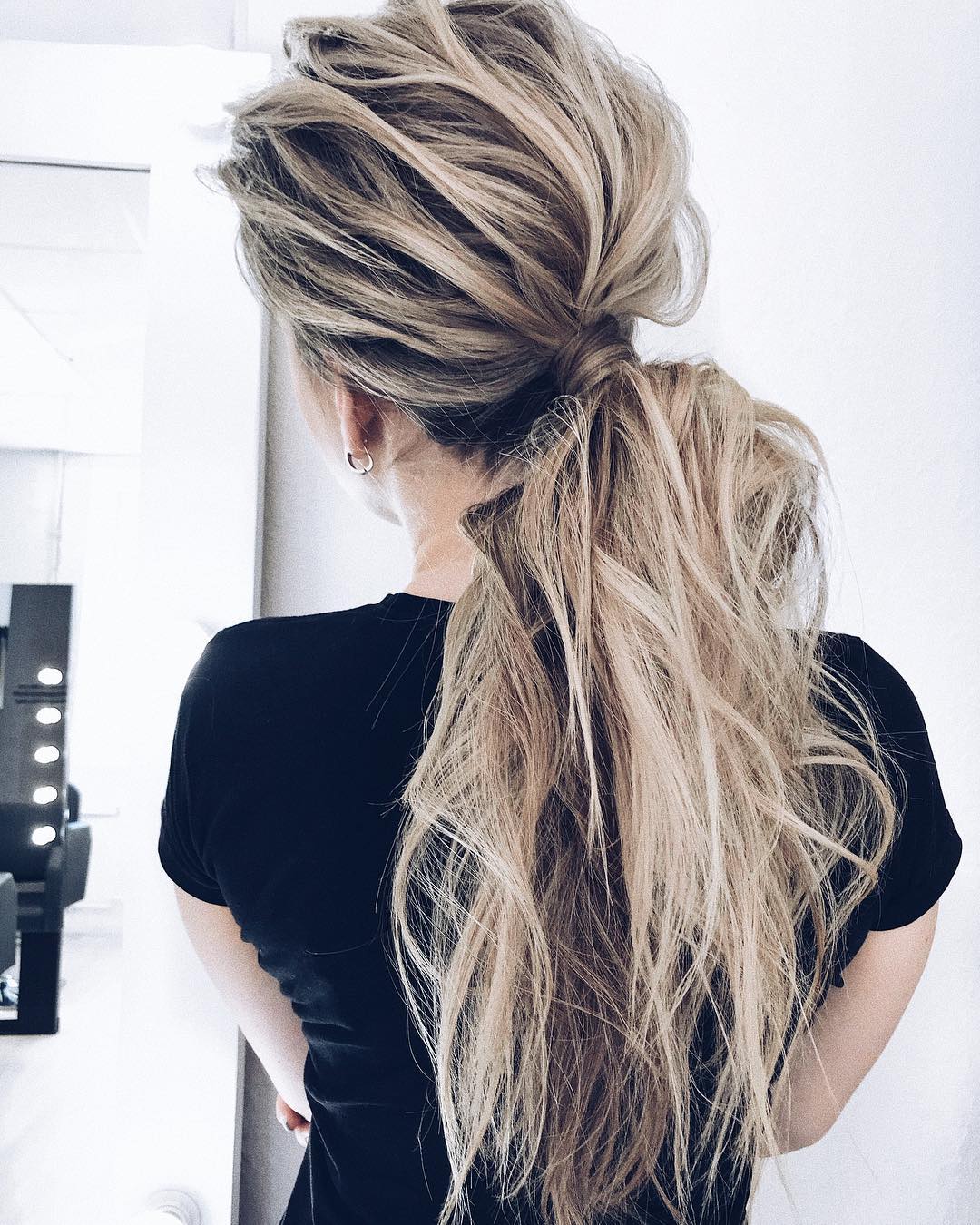 10 Creative Ponytail Hairstyles for Long Hair, Summer Hair Styles
When it comes to styling your hair, you can't go wrong with a ponytail. Ponytails are classic styles that are beloved for their simplicity, manageability, and practicality. They're so popular that most women with medium-length or long hair keep at least one hair band on their wrist at all times to tie their hair up into a ponytail  After all, you never know when you're going to need to get your hair out of your face at a moment's notice.
Ponytails are more than just a casual, lazy-day hairstyle, though. It is nice to be able to create a hairstyle in seconds that looks polished and put-together when you wake up late in the morning. However, you can also dress up your ponytails to create professional and date-ready styles, too. If you're bored of your standard everyday ponytail, check out these ten creative ponytail styles that you can recreate yourself in minutes.
1. Messy Teased Ponytail Hairstyles for Long Hair
If you're into the messy-on-purpose style, try this trendy tousled ponytail that takes only minutes to style yourself.
Comb your hair back loosely and tease lightly at the roots to add volume in front. Secure all of your hair in a low ponytail and wrap a strand of hair around your hair band for a more polished finish. Tease your hair around the base of your ponytail and add texturizing spray if you need more volume.
2. Side Braided Ponytail with Hair Ribbon
Look cute and flirty with this side braided ponytail. Its loose plaited side braid adds interest and femininity to this hairstyle. A patterned hair ribbon gives this ponytail an eye-catching, flirty finish.
DIYing this ponytail is fast and easy. Part your hair with a deep side part. Starting at your part, braid the front section of your hair into a loose side plait. Gather all of your hair–including the braid–at the nape of your neck and secure it with a hair band. Tie a hair ribbon over your hair band to finish the look.
3. Double Braided Ponytail with Hair Ribbon
This double braided low ponytail is an easy, stylish hairstyle for casual everyday wear.
Its double braids set this ponytail apart from other similar styles and give it a unique, sporty finish. A printed hair ribbon adds whimsical style to this fun ponytail.
4. Curled Plaited Ponytail
This plaited ponytail is the perfect practical hairstyle for a summer day at the pool. Its top plait keeps your hair secure all day long, but it still looks put-together and stylish.
The roots of this ponytail are teased in front to add extra volume. Its subtle curled ends give this style extra flirty, feminine flair.
5. Creative Braided Ponytail
This wacky braided ponytail puts a creative spin on the classic braided ponytail style.
The unique double braids in this ponytail are small enough that they don't look too over the top. The wrapped hair band and loose strands in front give the rest of this ponytail a sleek style that balances out its fun, whimsical braids.
6. Braided Headband Ponytail and Layered Braid Ponytail
When it comes to braided ponytails, the possibilities are endless. The picture above shows multiple trendy braided ponytail styles that you can do yourself.
The braided headband ponytail on the left is a creative look that transforms your own hair into a decorative accessory. The layered braid ponytail on the right adds texture and interest to your pony and is very easy to recreate.
7. Fishtail Side Braided Ponytail
This ponytail is sleek, smooth, and stylish. Plus, it's easy to DIY at home if you know how to fishtail braid.
Fishtail a small section of your hair from the side of your head. Then, comb the rest of your hair back and secure it all into a ponytail. Wrap a strand of your hair around your hair band and tuck it in to preserve the sleek, polished finish of this style.
8. Curly Twisted Ponytail with Hair Ribbon
If a braided ponytail seems too complicated for you to DIY, try out this simple twisted pony style instead for a cute everyday look that's easy to do yourself at home.
Start by taking a small section of hair from the top of your head. Separate the section into two equal smaller sections and twist them together loosely. Secure your hair into a ponytail and clip the twisted section at its base to keep it together. Leave a few strands of hair free in the front and add a colorful hair ribbon for a flirty finish.
9. Single Dutch Braided Ponytail
The dutch braid incorporated into this ponytail is a unique twist on the classic French braid, setting this style apart from other braided pony-s.
This ponytail is super simple and easy to style yourself on a busy morning. Braid a small section of hair–taking from the front of your head near your face–into a dutch braid. Then just secure all of your hair into a high ponytail. Wrap a strand of hair around your hair band to conceal the band for a polished finish.
10. Loose Draped Ponytail
If you want to rock a ponytail to your next office meeting, you can't go wrong with this polished, ultra-professional style.
A teased crown and sleek, loosely secured layers in front add interest and volume to this ponytail. Its draped style effortlessly conceals your hair band and makes this ponytail look less casual and more professional.