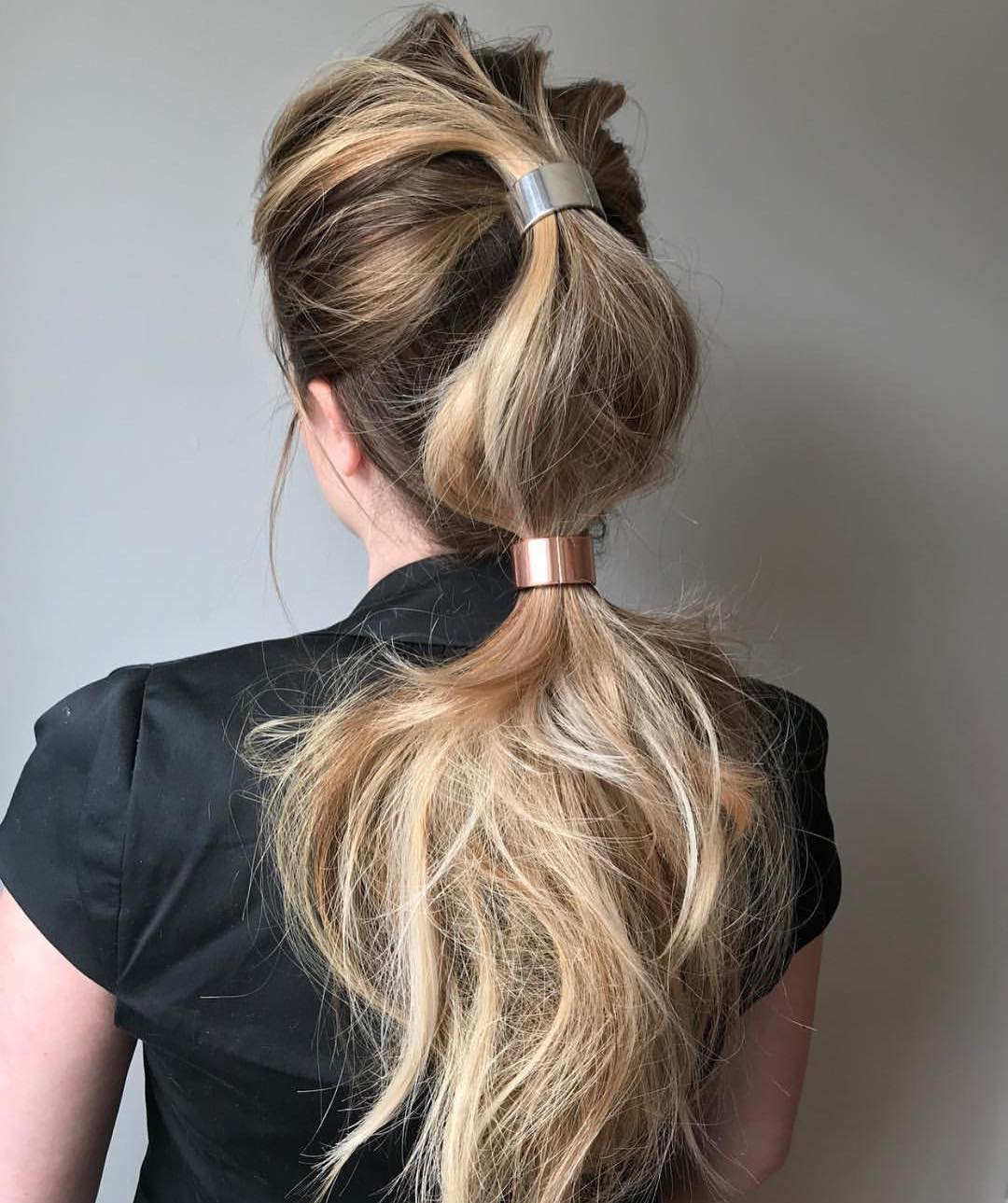 10 Trendiest Ponytail Hairstyles for Long Hair – Easy Ponytails
This is what we all want – super-trendy, ponytail hairstyles for long hair you can do at home!  These easy ponytails are also packed with style and personality – plus gorgeous, and surprising, new hair color ideas.  If you haven't yet seen, 'salmon-pink', promoted from vintage-corsets to be the latest high-fashion hair color, you really shouldn't miss this gallery.  Come in and enjoy clever ponytails with maximum fashion impact from minimum effort!
Cute half-up trick – trendiest ponytail hairstyles for long hair
Here's a great example of the saying, 'work smart – not hard'!  This simple design can be copied at home easily with two matching or contrasting ponytail clips.  Clips that match your hair-color, like this copper band accentuating the copper highlights at the nape – add extra style!  The triple blonde balayage and ombré in golden blonde shades really liven up light-brown hair.  And all achieved on an everyday half-up style with an extra fastener added.  How's that for an easy, but trendy new look?
Add a cute hair extension – trendiest ponytail hairstyles for long hair
This is a super-quick way to create a trendy ponytail on long hair or with a hair extension.  This model's medium-blonde hair is tied in a ponytail at the nape, with smooth hair around the head. The sides have been twisted and braided to make a lovely band of color and texture hidden by the fastener.  The wavy ponytail can be lightly teased and tousled to add thickness and a contrasting, casual texture down the back.  Pull down some loose tendrils to soften the profile and all done!
Quirky peachy pink & chocolate brown – trendiest ponytail hairstyles for long hair
Here's a great idea for anyone who loves the individuality and casual style of a boho look!  The color design of deep chocolate brown contrasting with peachy-pink look fabulous, because both colors come from the warm brown shades.  There's also a definite touch of black lowlights in the loose braid, which adds that 3-D depth we all love.  The sides are loosely draw back and braided, with a very low-slung, tousled ponytail draped in defined waves down the back.
Gorgeously feminine honey blonde low ponytail
Honey-blonde is a sensational color that's just come back into fashion, after quite a long absence.  I know that because I had a doll with honey-blonde hair, quite a few years ago!  But this color design is new and super-attractive, with fine, light-beige highlights and ombré.  The look is very soft and flattering to pale skin with warm undertones.  The braid detail on this ponytail has thick, curvy links like a sophisticated chignon.  But the low ponytail, spread out to display the delicate honey-beige ombré keep the look informal.
Simple chic half-up ponytail – beige-blonde with gray-blue roots
Depending on the your computer's color settings this is a blonde style with graphite-gray or deep blue roots.  Whichever you see, it's a sophisticated look with a smooth finish and lots of well-groomed style!  If you already have long white hair, adding gray or indigo blue roots is a great way to add some modern zing!, in a fairly subtle way.  This is a good style for medium or fine-textured hair as blunt-cut ends make hair appear thicker.  Gray- and beige-blonde strands hide the ponytail elastic with a pretty pattern on this attractive, natural look!
Double-knit big-link braid & ponytail hairstyle
I love this extra big, loose braid decorating the back of this trendy ponytail hairstyle!  And it's no co-incidence the model's wearing a thick, cable-knit sweater, because that's the inspiration for a fabulous new ponytail style.  This style gains lots of extra movement from the ivory-blonde highlights running through the hair.  The dark-blonde roots create lots of 3-D texture against white blonde balayage in the braid.  And with softly waved wide ponytail draped down from the nape, you'll be as warm and fashionable as a panda when the temperatures drop!
Let's twist again – fab messy easy ponytail
What a brilliant idea – anyone can make twists like this and wear a trendy ponytail hairstyle everyday!  With 3 broad, twisted bands making a lovely V above the ponytail, this style has a fashionable new look about it.  It's a 'messy' ponytail style that's designed to look casual, so the wispy silhouette and strands framing the face are all part of the design.  And the model's lovely, brunette hair has been lightly balayaged in fine, coppery-blonde to highlight the textures!
Trend-setter silver & ash-blonde space-age ponytail
What a super look for anyone who loves the limelight, whether you're a 'stage-act' or just a trendy fashion-fan!  This high blonde ponytail reflects every scrap of light with blended silver and ash-blonde for a fabulous, platinum-blonde finish!  The absence of contemporary darker roots, also helps present it as a futuristic style with a definite, anime sci-fi/fantasy vibe.  The neatly braided side-plait makes a cute decoration, contrasting with the wild, tousled high pony that's very glamorous!
Clever simplicity on pink & gray low ponytail
This simple ponytail with braid details offers a fabulous new color combo – gray roots with salmon-pink blonde!  It's another of the color combos revived by current interest in vintage clothing styles and color.  Actually, what we have here is 'underwear' pink – a color that was popular for satin lingerie and as panels in old-fashioned corsets!  And it is a very attractive and feminine shade, which has never been used as a high-fashion hair color before.  It makes a very tasteful contrast with gray roots on this chic, straight haircut.  The fine braid details are equally innovative, and you can add fake braids to get the same look.
Accessorize low ponytails with fashionable velvet bows
These two hairstyles show how the right accessory can transform your bad hair day into a happy hair day!  They show beachy waves, and straight hair, cut in long layers, so you get a loosely defined diamond shape in a low ponytail.  Anyone with long hair should have a drawerful of ribbons, bows, vintage brooches and bits of broken jewellery ready to give your hair a little extra personality!  Black velvet has always looked lovely on blonde ponytails and half-up styles, but you can also match or contrast the hair-accessory to your outfit, or your eyes.  Green or purple velvet ribbon looks stunning on copper-orange hair, as does indigo or rich-brown, too.  Have fun trying new accessory ideas!