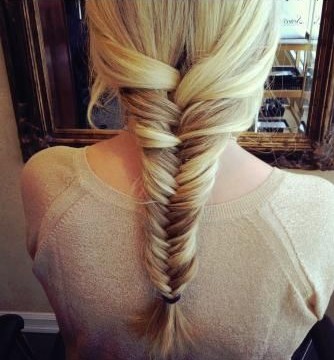 Fishtail Braid Tutorial: Cute Hairstyles for Girls
The lengthy hair is styled into a causal and lovely loose fishtail braid. Some side-parted layers are left out in front and most of the hair is combed back and then separated into three parts to gain the fun loose braid. Just a few simple steps can help gain the cool and romantic hairstyle.
Smooth all the hair to get rid off tingles.
Comb the hair back and divide it into three even sections.
Begin braiding at the nape of your head level.
Fix the hair ends with a clear elastic band.
Loosen the braid for natural volume and fun.