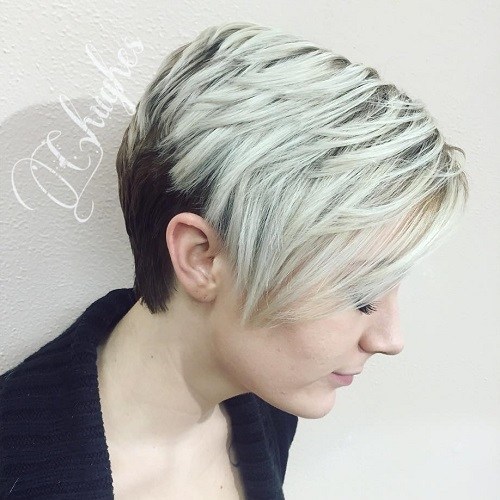 20 Chic Wedge Hairstyle Designs You Must Try
A wedge haircut is undeniably one of the hottest hairstyles, especially if you're looking for a hairstyle that will give your hair body and fullness. There are tons of variations to a wedge haircut, but this type of hairstyle will typically leave lengthier strands on top with shorter sides and backs.
A stacked bob is very similiar to a wedge haircut, but there are tons of variations. It is best for ladies with straight fine hair that need extra bulk, but it can also be great for thick, wavy, or curly-haired gals.
Chic Undercut: Short Pixie Haircut with Straight Hair
For the ladies out there with confidence and sass- the ladies who prefer a more 'edgy' and 'out-there' 'do- this one is for you! Her rocker-inspired haircut features lengthy bangs that are swept to one side with a wild undercut in the back.
Maroon Ombre Wedge
Stragetically placed layers combine for the perfectly-styled haircut, while a gorgeous maroon ombre ties this sensuous look together magnificently. These colors are overwhelmingly silky and refined, creating a show-stopping style that's downright sexy.
Sandy Blonde Beach Wave: Balayage Short Hairstyles
Everyone loves beach waves. They have an effortless fluidity about them that are heavily desirable, giving you a look as if you've been relaxing by the ocean all day long. Her beach waves are given even more summertime appeal with a sandy blonde color scheme.
Layered with Waves
Styling your locks is a cinch when you add a ton of definitive layers to your hair. From shorter pieces in the back soft, lengthy strands up front, it's a very feminine and sweet piece that's loaded with dainty volume and life.
Cute Layered Crop
Simplicity is key with this hairstyle, and it has a professional appeal that's wonderful for older women. The simple cropepd cut features a lot of short layers that are wispy as fun, from the back all the way to the front where the look is completed with some simple little wispy bangs over one eye.
Wedge Bob: Straight Short Hairstyles for Women
Bobs are undeniably trendy, seen on women of all ages. Their popularity makes it difficulty to stand out from the crowd, but you can make this hairstyle unique by tossing in some lovely lighter highlighted pieces and cutting your hair at a perfect angle such as this.
Blonde Bob with Shorter Side
Wedge haircuts are all about having cleaned-up, shorter sides and nape of the neck with plenty of lengthy pieces on top. Get playful with your look and do something unique by adding in some extra short pieces on one side. Asymmetry is the name of the game here, and it's fun and full of playful energy.
Black and White Layered Short Bob
A black and white combination is fierce and enticing; the two colors are such an extreme contrast, it's sure to turn heads wherever it goes. Piecey layers from front to back add even more exciting contrast to this already wild 'do.
Blonde and Black Bowl with Undercut: Short Hairstyles with Thick Hair
Her take on the bowl cut certainly shakes things up a bit in an edgy fashion with an avant-garde undercut that really showcases those longer pieces up top. For added cool contrast, she goes for a blonde and black mix that's downright striking.
Combed Over Deep Side Part: Balayage Short Hairstyle
Adding volume to your locks when you're dealing with thin or fine hair may be a challenge, but you can give your hair some bulk and fullness by indulging in a deep side part that's combed over to one side. It's luscious and effortless, great for everyday wear.
Slicked Back Wedge: Short Haircut for Thick Hair
Quirky and cute, this is an artistic way to show off your personality: it's cool, collective, and certainly has a refined attitude. Simply slick your locks back and texture them up a bit for a casual and cool hairstyle that has a bit of boyish charm attached.
Layered with Short Bangs: Pixie Hairstyles for Women Over40, 50
This lovely pixie sets itself apart from the crowd with tons of layers throughout the crown and some flirty wispy short bangs that are subtly swept to the side. Casual, and great for older women or ladies with longer faces that need to cut the length.
Natural Gray Layers: Balayage Short Haircut with Side Bangs
Don't worry about going gray- embrace it. Gray is the hottest color, and if you're naturally going gray, you don't have to worry about spending money at the salon getting this shade. Let your natural beauty shine through and give your hair some layers to spice it up a bit.
Blonde Side Sweep: Casual Pixie Haircut
Short haircuts like these look extra cute with some lengthy bangs that are swept to the side. It's an easy way to add some delicateness to your hairstyle in a way that's fluid and free.
Red Hot Bob Cut with Short Hair
There's some so devious and sexy about a spicy red hot and jet black hair combination, and it's extra fiesty when placed on a bob that's perfectly angled such as this.
Bulky Short Bob
Creating serious volume is as easy as asking your stylist to cut your strands close to the nape of the neck and doing a subtle undercut to draw more attention to your locks on top. Such a bouncy, adorable bob that's loaded with body.
Contrasting Curls: Curly Pixie Cut
Giving your hair a soft, spunky makeover is as easy as throwing in some curls to your wedge haircut. She has some voluminous, luscious curls near the face for a feminine effect while the back is mixed up with some smaller curls for sass.
Messy Bowl Cut: Women Short Haircut Ideas
Who said bowl cuts can't be chic and stylish? This fashionable take on the bowl cut is loaded with layers of all sizes for some added body, while a bit of texturizing ensures it's effortless and fun.
Tousled, Layered Balayage Hairstyles – Chic Bob Haircut
For gals with thin or fine hair, this is the ideal hairstyle. The layered strands of all different lengths and the inverted style creates the illusion of bulk and depth, enhanced even further with a lovely balayage blend of reddish brown and dark chocolate strands.
Long Layers with Babylights
One-toned hair can be mundane, but if you don't want to lose the color or do anything extreme, consider some babylights. These kind of highlights match your hair color almost perfect, but have a slightly different hue to create depth. Long layers are a great way to wear a wedge haircut longer.