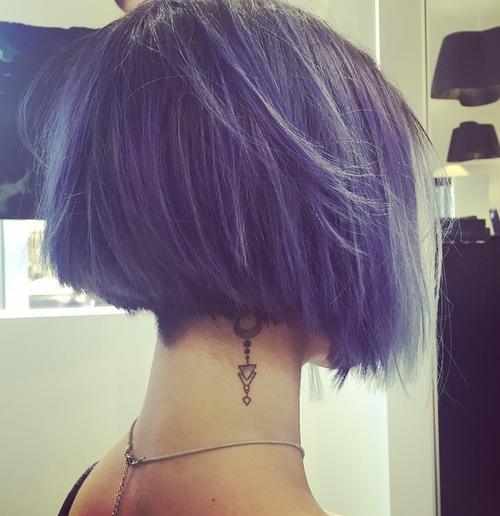 20 Chic and Trendy Ways to Style Your Graduated Bob Hairstyles
Graduated bobs are among one of the most popular hairstyles; it seems like everyone is enjoying this awesome style. The best part about a graduated bob is it instantly adds a youthful bounce that's refreshing and fun. Switch it up with one of these cool styles!
U-Shaped Bob: Chic Short Hairstyle
A U-shaped cut may be more trendy on lengthier locks but that doesn't mean someone with a graduated Bob should shy way. The U-shaped cut ensures there is tons of volume especially in the back where you really want your locks to pop. Leave the front of your main long and lean surrounding the face making sure one side bang flows delicately over your eye for a sultry flirty finish.
Lengthy Graduated Bob: Straight Lob
This classic haircut is a great option if you're not looking to lose too much length. The lengthiness of this haircut allows easily styling with waves or curls, or run a straightener through these strands to get that effortless, carefree look that blows gracefully in the wind.
Purple Blunt Bob Cut: Pastel Short Hairstyles
Thicker-haired females my shy away from bobs in fear of being overly full, but this look is sure to tame your fears! Her blunt cut is slightly shorter in the back, and the rigid ends naturally curl slightly inward for a bouncing and energetic style that's made even more lively with a deep purple hue.
Sharp Angle: A-line Lob Hairstyle
Some bobs play it safe with their angles, but this lengthy bob defies all the rules when it comes to subtlety. The front is left hanging down beneath the chin while the back is cut extra short, a lovely angle that has just enough femininity to counterbalance the sharp angle.
Red Layers: Short Bob Haircut for Thick Hair
Adding a little bit of sex appeal to your look is as easy as dousing your mane with some fiery red coloring. Tons of layers in this look also add instant bulk for a full,come-hither finish.
Contrasting Layers: Asymmetrical Bob Haircut
If uniqueness and contrast is what you're after, then be inspired by this cool look. Her layers range from extra short in the back to lengthier up front, framing her face majestically. Add some glossing product to your mane to make chocolate brown strands stick out with shine.
Highlighted Layers: Balayage Bob Hairstyle
It may be hard to see layers on a darker shade of hair, but adding highlights throughout your mane defines those layers and really makes them pop. Caramely highlights on a rich, dark brown base is a subtle and classy way to add brightness, making it a great choice for women of all ages.
Lightly Tousled: Cute, Easy Short Hairstyles
Looking for that perfect everyday style to wear to the office? This is it. Her lengthy graduated bob is a cinch to recreate: simply shampoo, condition, and blow dry straight using your fingertips as a brush. Don't straighten or add any product- let the naturalness flow through those unkempt strands.
Short Layers with Lengthy Side Bangs
There's so much bounce and sass with this style, we're thinking it's suiting for the wild gals out there who love to live life on the edge. Tame this trendy look by choosing a strawberry blonde color or kick it up a notch with vibrant shades like black, purple, blue, or even pink.
Asymmetrical Cut: Cute Short Haircuts with Side Bangs
Asymmetry is super hot right now, and we love how her subtle light brown highlights amplify her quirky cut while brightening her complexion. Her lovely haircut also frames her jawline beautifully, an awesome style for diamond or heart shaped faces that want to elongate while also showcasing their best features.
Cute Fringes: Blonde Bob
An adorable choppy layer meted graduated bob like this can only be accompanied by some stylish fringes. The whole cut leaves hair bouncing freely with loose strands that are straight and effortless.
Baby Bangs: Graduated Bob Hairstyle with Bangs
Baby bangs are certainly making a fierce comeback in the fashion world, and they're the perfect match for this bluntly cut graduated bob. Consider a darker shade for a more mysterious and sultry vibe.
Textured Curls: Messy Short Hairstyle for Women
Just because you're sporting a short bob doesn't mean you should shy away from styling! These textured curls are fabulous and create some lovely volume that pairs well with formal attire.
Highlighted Choppy Lob: Balayage Hairstyles with Thick Hair
So much body, so full of life! an extremely angled graduated lob is filled front to back with a variety of lengthy layers that are simply flawless. The layers are lightened and made a focal point thanks to charming light town highlights with hints of red that play off the darker brown hued base.
Ombre Undercut
Uniquely styled, this undercut is exactly what you need to shake things up a bit. The undercut naturally tosses the back to one side, creating a flowy wave that's made bright and beautiful by ur of Ombre.
Contrasting Flips
Variety is the spice of life isn't it? Well this hairstyle has plenty of variety To keep things looking refreshing and bouncy. The trendy side bangs are flipped back away from the face opening up her cheekbones and letting those eyes pop, while the contrasting lengthy graduated bob flips forward to frame the face. Together they make a face framing masterpiece that looks great for almost any face shape.
Balayage Layers: Bob Hairstyle Ideas for Women
Thin haired girls will love this style- the contrasting layers give the impression your hair is more dimensional and full then you think it is, while Balayage blonde hair coloring keeps your mane bright and dazzling in the sunlight. Perfect choice for summer!
Razored Graduated Bob
Who wouldn't love a cute razor cut? It's great for forming those sharp layers and rigid contrast that's both blunt and stylish. Add some instant bulk and body to your mane by indulging in a razored graduated bob.
Ying Yang Coloring with Bangs
This is undoubtedly one of the coolest ways to color your hair if you're sporting a short graduated bob. Ying Yang hair coloring is not only an amazing and trendy way to sport two contrasting shades, but the black on white blend gives the illusion that you're stacked bob is shorter than it truly is. Paired with some blunt, thick bangs, it's a unique and super stylish bob that works well on all women.
Edgy Shave with Volume: Messy Short Haircut
Feeling fierce? Then this look has you covered. A shaved side is accented beautifully by a lengthier counterpart, teased up and textured high to create asymmetry that's bursting with funky body. The contrasting coloring only adds to the distinctness and boldness of this eye-catching style.