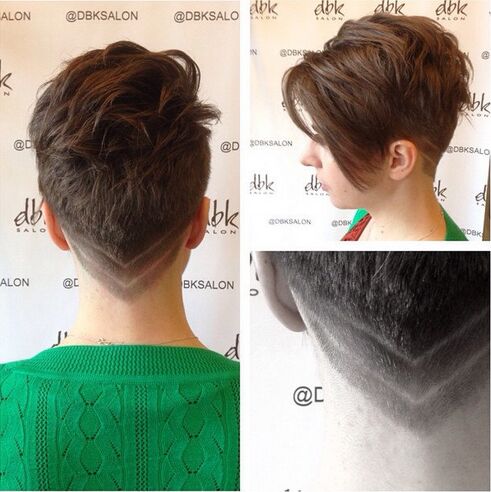 60 Cool Short Hairstyles & New Short Hair Trends!
Not since the explosion of super-short hairstyles burst onto the scene in 1960's Swinging London, have we had such a fabulous choice of smoking-hot, super-short hairstyles for this new year!
Super short haircuts are definitely a style trend, and that includes everything from shaved sides to a-line bobs. We've come up with an extensive list of 58  awesome short haircut ideas.
Bursting with creativity
During the long (grey!)period of long, straight hairdo's, often achieved with extensions, talented young hair-designers had their creativity smothered. But now it has burst out into an amazing new range of 21st century trendiness!
Balayage Pixie Hairstyles – Short Haircut for Thick Hair
Short Pixie Haircut Designs /Via
Celebrity trends
The Halle Berry quiff is riding high for this season, along with the pixie cuts we've seen on so many Hollywood beauties. For example, Anne Hathaway with an asymmetrical parting and that luscious, long side-swept fringe, accentuating her gorgeous brown eyes!
Rihanna continues to wear her hair short, in a waved pixie style that is a fantastic inspiration for anyone who is changing away from chemically straighteners looking for trendy 'natural hair' super-short style.
Accentuate your eyes
And the fact is that some of us don't look good at all with long hair hanging around the face. And you may well find that a sassy, new super-short hairstyle will accentuate your eyes and enhance your facial features in a way you never imagined!
Messy Short Curly Hair Styles with Side Bangs /Via
Hair designfirsts!
A lot of the latest super-short hairstyles are completely new in the history of hair design, too. And buzzed sides, choppy layers, short asymmetric haircuts and quiffs are no longer considered too avant-garde for women of all ages to wear, so don't be afraid to take a risk on something different!
Short Hairstyle Ideas for Thin Hair /Via
False myths
It's a myth that all men think long hair is the most feminine look. It's simply not true – super-short styles add personality andcontemporary style to suit your individuality – and nothing can take your femininity away!
Softly-styled, super-short hairstyles like pixie cuts can produce an adorable, kittenish look. And a spiky pixie, styled to look 'boyish', which will serve to accentuate your femininity because of the contrast with your soft, female features!
Short Haircut with Volume and Texture Back View: Textured Short Bob Haircut /Via
Decisions, decisions!
My pick of the latest super-short hairstyles hovers between:
Short back and sides, contrasted with an extra-long fringe, sweeping down at the front from an asymmetric side parting.
The short feathered, choppy, razored and messy layered looks – which look like being the style winner for this year.
Highly textured, contemporary super-short hairstyles with chopped layers, spiky tips and quiffs to create volume and interest without
Artsy Shave
Want to know one of the hottest hairstyle trends for 2017? Artsy shaves! Forget the boring, dull, and totally lifeless shaved haircuts. If you're looking for something with a little bit more dimensional and life, consider an artsy shaved hairstyle. This wonderful woman decides to add stripes to her mane while keeping plenty of length up top so there's wiggle room for styling!
Lengthy Pixie with Choppy Layers
For girls who love a haircut that's untamed, wild, and absolutely free, this is an excellent option! The cut starts off with a super lengthy pixie, then choppy layers are added throughout for a rigid and edgy finish. She adds to her edgy appearance by splashing some blue on her side bangs (blue being one of the most popular hair colors for 2017!), leaving the rest of her mane with a lovely sandy blonde shade with hints of brown underneath.
Shaggy Haircut: Easy Everyday Short Hairstyles /Via
Bowl Cut
A bowl cut? I thought that was a fashion faux pas we left to second grade boys! Well, NOT anymore! The classic bowl cut is making a HUGE comeback, being recognized as a fashion STATEMENT rather than a faux pas! Just look at how chic and edgy she looks, love it. Plus you can style this haircut in SO many amazing ways, like you see in the pictures below!
Very Short Haircut Ideas for Women /Via
Choppy Light Brown Bob with Light Waves
This adorable look is casual and cute, perfect for days off when you just want to go out and have some fun! The light brown shade is classy and subtle, with just a few accenting blonde highlights to add some depth to the overall appearance. Fabulous choppy bob hairstyle!
Cute Pixie Haircut: Shaved Short Hairstyles /Via
Super Short Choppy Bob with Layers
Who said lengthy hair is the only hair that can sport gorgeous layers? Think again! This extra choppy short bob haircut is textured with TONS of layers ranging in all different sizes and lengths to create a very wild and bouncy finish. We're adoring the subtle red shade and think this is a flawless look for ladies who enjoy a quick and easy 'do.
Trendy Pixie Haircut with Highlights /Via
Wild Colored Short Choppy Bob
If there's one thing that's on the top of the charts , it's this: wild colors! And this particular choppy bob hairstyle showcases the art of wild style perfectly. If you're in the mood to step out of the box and try on a crazy, look-at-me style, consider adding splashes of blue, purple, and blonde to your mane, and finish with a trendy side part.
Messy Short Hair Cut with Side Long Bangs /Via
Highlighted Side Swept Choppy Bob
Side swept bangs never go out of style, and it's always a great option for any face shape! This adorable 'do has a bit of wavy texture throughout, and the subtle hints of blonde highlights bring the look to life with ease.
Short Straight Bob Cut Back View /Via
Golden Blonde Layers
Edgy and bold, this layered hairstyle is filled with tons of body thanks to the mix of short and long layers. The front is kept extra long, which softens the face beautifully and creates a very alluring style. We're loving the golden blonde hue against dark roots, an intense blend that's nothing short of modern and elegant. Easily dress it up with a black dress or keep it casual with blue jeans and tee.
Asymmetrical, Short Pixie Hairstyle /Via
Platinum Blonde Layered Pixie
When you think of a pixie haircut, this is exactly what comes to mind: a platinum color and hair that's been shredded with tons and tons of delightful layers from front to back, especially in the front where the bangs can cover the face coquettishly. Everything about this stylish look is flawless, and it gets a modern touch with a pair of pouty dark lips and sultry dark eyes.
Lovely Short Layered Hairstyle /Via
Short Asymmetrical Cut with Loose Waves
For prom, for school, for a trip out with your gal pals- for ANYWHERE! This lovely haircut is brought to life with loose waves, of which are both classy AND adorable; the perfect combination! Start with a short asymmetrical cut and add loose waves throughout. Dress up or down. Done!
Shaved Hairstyles for Short Hair: Short Haircut with Bangs /Via
Lengthy Layers and Framing Side Bangs
There's tons of reasons to fall in love with this look: from the jet black locks that scream edge and seduction to the rockin' lengthy layers of all different shapes and sizes. Here, layers add overall dimension to the look and the choppiness subtracts overall length of the face. Side bangs give this cool look some extra snazzy style, and paired with light lips it's a killer look for fall/winter.
Super Short Hairstyles& New Trends! /Via
Pretty Hair Color with Pixie Cut /Via
Chopped Back with Heavy Bangs
Have we not yet mentioned how much we adore side bangs? Well, we do. Especially when it comes to toning down lengthy oval face shapes. Here we see a totally hot look featuring extra heavy side swept bangs for a style that really takes care of that 'over-ovalness'.
Classic Stacked Bob Haircut /Via
Classic Long Pixie with PINK!
Everyone loves the classic long pixie, with the hair cut just above the ear and a significant side part with bangs that hug the face magnificently. It's a great choice for girls and women of all ages, from 12 to 112. But you can really make a statement by lightening up your locks with some cute and fairy-like PINK coloring!
Blonde Pixie Haircut /Via
Shy Shaved Side
Wow. Just wow. We're adoring the hair color on this woman! The sea foam green is exotic, and it just looks simply amazing against her skin tone. As far as the haircut goes, here we see a super polished look that just has a hint of shaved side- one of the most popular trends. If you're not bold enough for an entirely shaved side, consider this shy peek-a-boo shave.
Short Hairstyles for Straight Hair /Via
Major Side Part with Extra Length
Why part is to the side when you can toss your locks to an extreme side part? This leaves the locks casually and elegantly thrown over in a single direction, with side bangs draping seductively over the eye. Leave the other side and the back short- you don't want to take away from the trendiness of this cut. (And consider this sexy hair color while you're at it! Love the modern hint of purple beneath the auburn. Wow!)
Stacked Bob Haircut for Short Straight Hair /Via
Super Short Bangs with Lengthy Top
A hairstyle that's modernized and certainly chic? This is it. Not for your everyday office gal, this unique and edgy cut features super short bangs that round up and around the forehead, while the rest of the mane is kept lengthy and chopped with plenty of layers. With hints of dark blonde and violet and super sexy red lips, this is definitely a style reserved for the gal that craves some edge.
Short Layered Haircut for Fine Hair /Via
Pixie Hairstyles with Long Bangs /Via
Super Short Flipped Layers
This look is simply lovely. There's three different gorgeous hair colors found in this trendy flipped 'do, and there's just as many- if not more- layers. These flawless layers are great for softening the face and letting your best features do all the talking.
Bob Hairstyles& New Trends! /Via
Shaved Back
Her black and white oreo hair coloring is an absolute knockout, perfect for any time of year. But what about that cut?! It's incredibly modern and stylish, featuring a shaved back and tons of layers up front. This makes it easy as ever to add some serious body and volume with a bit of teasing, and don't forget a trendy side sweep.
Super Short Haircut Trends! /Via
Platinum Blonde Graduated Bob with Teased Volume
When you tease your mane, you likely spend another 5 minutes trying to make it look neat and natural; but sometimes it's best to just leave your teased hair exposed! This teased, platinum blonde graduated bob is funky and trendy and would do wonders at a party.
Shaved Short Hairstyle /Via
Shaved Short Haircut with Curly Hair /Via
Messy Short Hairstyle – Summer Haircuts for Women /Via
Short Hairstyles with Long Bangs for Heart Face Shape /Via
Soft A-Line Cut with Natural Highlights
This super sot a-line cut is great for the gal that craves a bit of overall dimension while still keeping length. The soft a-line frames and softens the safe, creating a youthful and perky finish that's fresh- not too rigid or extreme. A bouncy look with lovely natural coloring that's perfect for spring and summer.
Cute Asymmetrical Pixie Haircut /Via
Pretty short haircuts for fine hair: Short hairstyle photos /Via
Everyday Hairstyles Ideas for Short Hair /Via
Short Haircut with Blunt Bangs /Via
Funky Short Haircut /Via
Asymmetrical Short Haircuts for Thick Hair /Via
Above-the-Chin Bob
With the words 'cute' written ALL over it, this adorable bob is chopped just above the chin, making it a wonderful choice for women with round faces who want to add some length. She tosses her hair way over to one side, letting her trendy side bangs hang gracefully just above the eye. Tousled up with some coquettish waves, this hairstyle goes from day to night with ease.
Amazing Short Hairstyle Designs for Women /Via
Short Hairstyles for Women: Short Haircut with Side Swept Bangs /Via
Pixie Haircut with Lengthy Layers
The pixie haircut has risen in popularity throughout the last few years, and this beloved 'do will continue to soar in popularity ! We especially love with extra lengthy pixie haircut with tons of layers. The length frames the face beautifully, highlighting the cheek bones and skimming above the eye for a trendy finish. Oh, and of COURSE we're loving that red hot hair color; beyond sexy and eye-catching!
Super Cool Short Hairstyles /Via
Anyway, take a look at this pophaircuts.com gallery of this year super-short hairstyles inspiration and plan your next cut and colour in line with this year's fabulous, new hair-fashion trends !