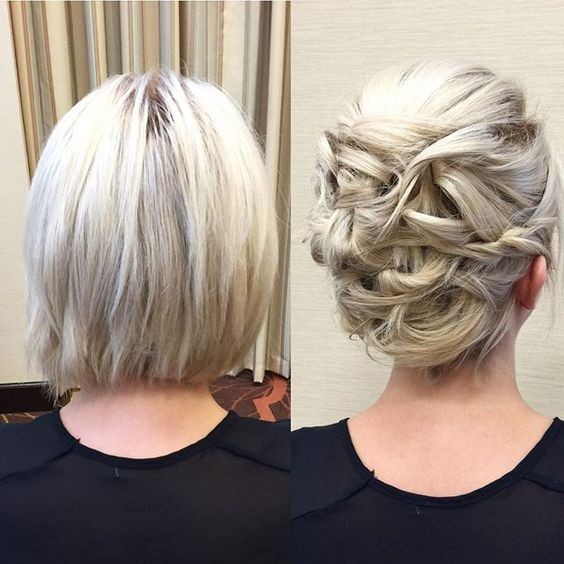 20 Gorgeous Prom Hairstyle Designs for Short Hair
If you're heading to prom, then without a doubt it will be one of the most special nights of your life. You'll choose an incredible dress, do your make up to perfection and style your hair until you look your very best, cementing the evening in your memories forever. Long hair is renowned for being versatile, allowing you to style it a range of different ways, but short hair can be a little more difficult to style. PoPular Haircuts have gathered some stunning hairstyle designs for short hair that will ensure you stand out at prom and look simply fantastic.
It's your opportunity to dress up like a princess, do your makeup and have an exceptional night with your favourite people. You want to feel absolutely beautiful on your prom, and your hairstyle is one of the main ways to ensure you feel simply stunning. With long hair it's easy to choose to wear your hair down or to create an elaborate up do, but this post is designed to prove that you can create a whole host of versatile looks with short hair too. Here's a selection of gorgeous prom hairstyles for short hair.
Pink Bob with French Braid – Pastel Short Hairstyle
This sassy pink bob is starting our prom gallery off with a bang – don't you think? You can recreate this incredible look with ease. Start by chopping your hair into a jaw length bob. Dye a pretty pink colour. Add curls throughout the hair. Work a pretty French braid from the front of the hair back towards the ear for a stunning end result.
Braided Up Do with Loose Curls – Prom Hairstyle Ideas for Short Hair
Up dos are made all the more special with the addition of braids – especially when it comes to special occasions like prom! Recreate this look by working a chunky French braid throughout the top of your hair. This will sweep the fringe section into a braid and keep any loose strands. Pull the ends of the hair into a bun. Leave some loose curly strands around the ears.
Twisted and Pinned Curly Up Do
Pinning your hair into curls can create the most gorgeous and glamorous up do we ever did see. Steal this stunning prom style by firstly adding curls throughout your hair. Work tight curls form the top to the bottom. Pull your hair backwards into a classic up do. Take sections of your ponytail, twist them and pin them into place for this amazing curly look.
Twisted Blonde Updo Hair Styles
Another stunning prom hairstyle to add to the collection! This beautiful blonde up do has truly stolen our hearts. Grab the length of your hair and work it into a cool twisted up do. Your hair should be pinned in place to retain the unique twisted style. Finish with a pretty flower accessory. Leave a few strands of hair to fall loosely around the face.
Knotted Caramel Up Do – Bob Hairstyle
Caramel is such a stunning shade of blonde – so why not show it off with a gorgeous up do for prom? Separate the length of your hair into sections and create a cool and chunky knotted braid. Intertwine the sections and pin so that all of the hair is swept up into this unique knotted up do. You're guaranteed to turn heads with this incredible style!
French Braided Half Up Section
You can work a braid into your hairstyle in a stunning way whilst still keeping the majority of your down and loose at the same time! Start by adding beautiful ringlets throughout your hair from top to bottom. Take the front section on one side of the head and work backwards into a French braid. Pin towards the back of the head to create a unique half up half down look.
Pinned and Tucked Under Blonde Bob
Up dos needn't always be sleek and smooth – a bit of tousle goes a long way, especially for prom! Take the length of your hair and work into tight curls. Twist around and pin up, making sure that you get all of your hair swept up into the hairstyle. Loosely tousle the top section of hair to create a unique and rugged finished result which is still pretty and perfect for prom!