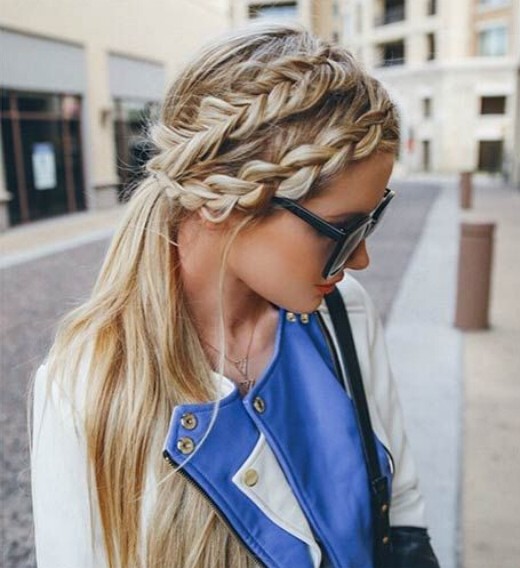 15 Adorable French Braid Ponytails for Long Hair
French braids never go out of style and are a quick and easy way to add dimension, depth, and overall CUTENESS to your look. And if your looking for a ponytail featuring one of these lovely and fab french braids, we've got you covered. These 15 adorable french braid ponytails for long hair are exactly what you need to take your traditional ponytail from drab and dull to unique and fabulous.
Quick and Cute Pull-Through Braid
French braids can be a LOT of work, making sure every strand is in order and you're pulling enough hair with each sweep. That's why we love this super quick, easy, and amazingly cute pull-through braid. It's a great choice for students short on time that still want to flaunt a voluminous, trendy french braid. Just make sure you're stocked up with enough hair bands!
Elegant French Side Braided Ponytail
Taking your ponytail to the next level is a cinch with this gorgeous french side braided ponytail. It's classy and romantic enough for a date night at the fanciest restaurant yet can easily be made casual for a day trip to the lake. Start with a stunning side braid leading back to a mid-height ponytail. Finish off this incredibly glamorous and romantic look with a set of loose, sexy curls.
Messy French Side Braided Ponytail with Volume
This adorable and messy take on the classic french side braided ponytail is a great choice for casual days when you want to look incredibly cute and feminine but just want to relax in your favorite sweater! Start by teasing your hair a bit at the roots for some volume, then add a side braid leading back to a mid-height ponytail. Finish off this snazzy style with some messy loose curls!
Wrap Around Back Braid Ponytail
A mid-height ponytail is given a glamorous makeover with this knockout wrap around back braid! It looks difficult, but it's really not as complicated as it looks. Simply throw together two side french braids, but leading back and coming together at the base of the ponytail. Then, wrap it up into an elastic and you're left with a high-style look that's super sophisticated, especially when paired with a set of dangling silver earrings and a gorgeous royal blue dress.
Mini Side Braid Trio High Ponytail
We've seen a couple chunkier side braid ponytail hairstyles, but what about a style for the girls who prefer miniature braids? This chic and modern high ponytail is a great option! Instead of a single chunky braid, separate your strands into three miniature french braids leading up and back to a high ponytail. Leave the rest of your mane sleek straight for a polished and refined appearance.
French Side Braided Ponytail with Extra Braid
Your chunky braid doesn't have to stop where the elastic hair band begins. Instead of breaking the braid, continue to braid your hair all the way to the tips after throwing it up into a mid-height ponytail. So cute!
Wild Wrap Around Mini Braided Low Ponytail
A whimsical style that's chic and edgy, this wild wrap around ponytail style includes a set of two miniature french braids, sweeping back and making a loop around the elastic that holds a mid-height ponytail. There's SO much going on in this hairstyle, and we're loving its crazy and hot attitude.
Intertwined French Braid Styled Ponytail
Why settle for just a single french braid when you can intertwine it with another cute braid style? This exotic yet incredibly classy and fab hairstyle starts off with a small braid at the front, looping back to the ponytail and continuing all the way to the tips of the hair. It's intertwined with a super loose and messy fishtail braid for a sexy hairstyle that's perfect for a party.
Duo Chunky French Braid  Low Ponytail
A gorgeous balayage blonde hairstyle is divided into two super chunky french side braids, both leading back to a low ponytail. The rest of the hair is left dangling coyly over the shoulder for a very enticing hairstyle. Keep it modern and casual with your favorite everyday wardrobe or take it to the next level with jewels, dark makeup, and lovely bodycon dresses.
French and Fishtail Braid Duo Ponytail
While french braids are undoubtedly the hottest braids among women of all ages, one braid style that's soaring to the top of the popularity charts with ease is the fishtail braid; and that's why we adore this ponytail hairstyle! An adorable french braid is placed at the side of the head, leading back to a mid-height ponytail. The rest of the french braid is transformed into a gorgeous fishtail braid, followed through to the end of the hair. We also HAVE to mention how we're loving the darker hair color underneath a light top half; it really makes the braids stand out with enticing colors!
Middle French Braid Ponytail
We've seen a ton of amazing ponytails featuring french side braids, but what about the classic middle french braid style!? This ponytail is super simple to put together and is great for students who want to stay chic and casual at school.
Cascading French Side Braid Ponytail
This lovely style starts with a french braid that pulls back the bangs near the top of the head, letting the rest of the braid cascade down the side of the head to meet up with a mid-height ponytail. Very fashionable and cute, it can be dazzled up with a set of pouty red lips or kept simple with a nude makeup style.
Super Loose French Side Braid Ponytail
We've seen a lot of chunky and miniature french braids, so now it's time to show off another unique style that's sure to be a hit: the super loose french side braid! That's right! This french braid is incredibly loose and relaxed, drawn back into a mid-height ponytail that's dazzled up with some really sweet and elegant curls. This look is so incredibly cute and can be easily done by girls of all ages, for any occasion.
Double French Side Braid Low Ponytail
Okay, so this style is totally cool and completely takes your average low ponytail to the next level. The double set of french side braids adds some serious dimension and modern style to the overall look, creating a style that looks deceivingly difficult. This simple style can be worn to softball practice or your best friends birthday party and goes great with your casual ensembles.
Top French Side Braid High Ponytail
There is so much to love about this french braid ponytail hairstyle we don't even know where to start! We love how she adds some volume to the top of her mane before starting the braid, giving her overall look some generous height. Then she starts the french braid as close to the front and top of her head as possible, tossing it to the side and leading it back to a high ponytail. Super cute and totally chic, this high ponytail is definitely one to keep in your 'must-try' book!
After seeing these gorgeous hairstyles, I'm sure you'll never knock a ponytail style as being "too boring"! Pophaircuts.com which one of these french braid ponytails are YOU going to sport?