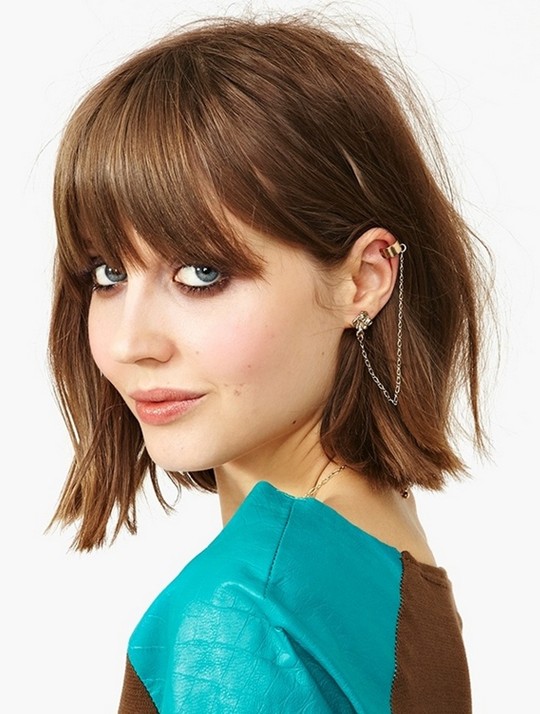 Cute Hairstyles for Girls: Beautiful and Easy Hair Styles
A suitable hairstyle can add more charm to your look. Some hairstyles can offer you a sexy look while some others may create you a cute effect.
There are a large number of cute hairstyles available. Whether your hair is a straight one, or wavy or curly, you can always find the most suitable one. You can choose the wonderful braids, lovely ponytail, or cool layered hairstyles or fashionable bobs. Now, we will recommend them in detail.
Braided hairstyles have a long history yet they are still in trend. Braids hairstyles look romantic and cute. It is quite simple to create and maintain on the long hair. There are a large number of braiding hairstyles that have evolved a lot to create you a cute and cool look. A side braid can add much grace to the whole hairstyle. French braids are stylish sign of femininity and they always offer people a trendy look and feel. You can choose the French braids according to your hair texture thickness and occasion.
The simplest, yet most classic and playful hairstyle is perhaps the ponytail that works wonderfully on straight and curly hair. Ponytail hairstyles are superbly popular among girls and they are ideal for women with many face shapes. The luscious ponytail hairstyle looks quite romantic and charming. You can comb your long hair into a pony and then place it high at the back of your head or at the back of the neck. Elastic bands can maintain your ponytail in place. In addition, to gain more special factors, you can wrap a wide section of hair around the tail to fix it well.
Layered hairstyle is very fashionable and stunning. The layered hairstyle works better on straight smooth long hair and curls may disrupt the layers thus you'd better not create layers on curly hair. The layered hairstyle is quite stylish and you can find considerable number of celebrities and models creating this hair. Proper layers can create much volume which can make your face tender and softer and can balance out your face shape. The cute layered hair always put more layers to the front and not to the back.
Bob hairstyle is a simple way to make your look fresher and cuter, so it has enjoyed a wide popularity recently. The classic bob hairstyle is a timeless lovely hairstyle which can be worn by everyone. There are a number of different kinds of cool bobs. The stylish curly bob hairstyles are the great option for women who own curly and thick hair. Blunt A-line Bobs can create you a stylish and cute effect day or night occasions. The inverted bob with layers at various levels is wonderful sleek hair. It is styled coolly to give an inverted angular fashion. Inverted bob hairstyles for oval faces and round faces can also create layers and bangs. A charming layered bob is perfect for round faces, angular faces. Choppy layered bobs are wonderful looking layers that are created using point cutting. The asymmetrical bob is quite fashionable and cool and looks better for women who have straight hair.
As for the bangs, nearly all hairstyles can match certain kind of bangs. You can pair your hairstyle with side sweeping bangs, side blunt bangs, or Cleopatra style bangs.
You can accessorize your hair with proper jeweled accessories or hair bands to add more lovely factors. Besides, you can also try out the suitable lowlights and highlights ideas to make hair more attractive. If you want the cute hairstyle to keep in style longer, you can apply it a bit good-quality hairspray. So do not wait any more just choose one and enjoy the lovely hairstyles.