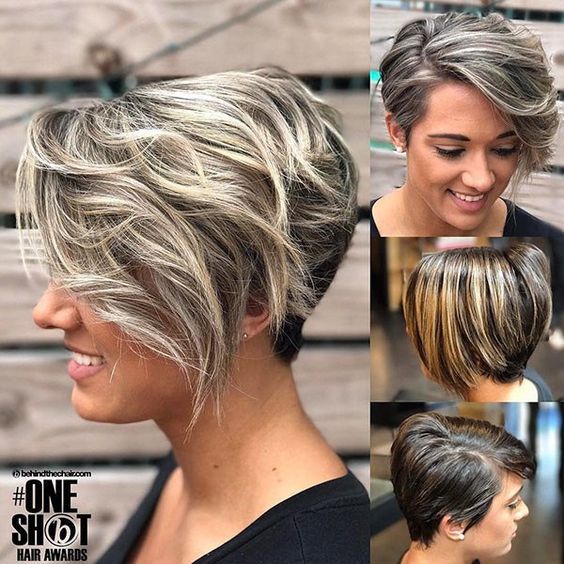 10 Balayage Short Hairstyles with Tons of Textures
Balayage short hairstyles are definitely one of the most popular trends we've ever seen in hair fashion. And that's because you can fix a load of beauty issues by using balayage color to make hair appear thicker or balance out a face shape. The new haircut and color ideas here are all designed to cover up our little faults and make us look our very best every day of the year!
Deep side part blonde & brunette balayage short hairstyles
This asymmetric haircut is perfect for balancing out a range of non-oval face shapes. For example, the deep side part and long side-swept bangs will take the symmetrical roundness out of a plump, round face. And this model's long face shape is 'hidden' by the strong diagonal bangs covering half of her forehead, which breaks-up the long, thin lines. In addition, this lovely, fashionable neutral blonde shade is perfect for livening up dull, dark-blonde hair!
Medium bob balayage short hairstyles for fine hair
If you like to wear your hair long, but it's quite a fine texture, the best length is a medium bob.  And this keeps all of the natural density, because it isn't layered. But it's not long enough for the weight of the hair to make it lie flat to the head. Adding chunky-cut, blunt tips mixed with a few tapered tip sections adds fabulous texture which also makes the hair appear thicker. With gentle waves and strongly contrasting bright white-blonde balayage fine hair gain 3-D dimension and looks tons better!
Natural medium-blonde balayage short hairstyles for medium/fine hair
This trendy look is another flattering way to wear medium or fine hair. It's easy to care for and style, too! The basic short haircut is an inverted bob with long layers at the sides and a cute, layered nape. The waves add physical volume making plenty of attractive movement and texture, as well. And the subtle color blend mixes gentle shades of medium beige and honey blonde, plus a fashionable touch of ash-blonde around the front!
Nape length beige and caramel bob – balayage short hairstyles
As so many of us have dark-blonde or mousey-brown natural hair color, it makes sense that light-brown haircuts are a big new trend for this season.  And using balayage that combines several fashionable blonde and beige colors really transforms simple, straight haircuts into something far more sophisticated! This haircut has blunt-cut ends for added density and just a few shorter layers to create a trendy, tousled look.
Short pale golden-blonde bob with ash-blonde balayage
If you have brown, honey or hazel-colored eyes you may have warm undertones to your skin tone. And so instead of having an all-over, ash-blonde hair color design, you'll find this pretty pale golden color more flattering to your complexion. But you can still have high-fashion, ash-blonde or gray touches by adding them just to the tips as dainty, ombré-balayage! This youthful, tousled style is suitable for medium or fine hair, as it combines lots of different techniques for adding natural volume!
Light-brown & edgy steep inverted straight bob for thick hair
This is a modern classic style worn in the 1960's by a lot of trendy pop stars! And it never dates, because for some reason it always looks totally up-to-date! The colors are the key to achieving a completely contemporary look. And this blend of medium and light beige-brown shades, with delicate touches of beige-blonde is a very natural and trendy hair-color design.
Shaggy blonde bob with long tapered tips
If you prefer a truly edgy, short hairstyle that keeps your beauty image totally up-to-the-minute – this is a great idea! It's suitable for medium and fine hair textures and includes the latest techniques for adding texture and volume to straight hair. The balayage colors are exquisitely chosen with a strong contrast between the brown roots and ash-white/light-blue tapered tips. And softening the 3-D contrast, the honey and caramel shades in between for a fresh and exciting new hairstyle!
Simple straight bob for thick hair with blended blonde shades
Here's a lovely classic bob hairstyle cut shorter at the front to create a very attractive frame for the face. This is a super hairstyle for anyone with an oval face, as it has a centre-part which lets thick hair fall nicely to emphasise a symmetrical face. The expert colorist has updated this to be a super-trendy version with medium-blonde shades highlighted with blue-white-blonde layers around the top and gray tips around the bottom edge!
Cute swirly waves on curvy neutral-blonde inverted bob
We tend to only associate romantic with long hairstyles, but I think this is a very feminine and 'romantic' short hairstyle! It's an authentic steep inverted bob look from the 60's, brought into the 21st century with gorgeous, tousled waves and trendy, soft blonde colors. It would make a lovely hairstyle for a bride, bridesmaid or wedding guest who likes a trendy, 'Mod' look. The gentle, mid-blonde ash and beige shades are especially flattering for women over 25!
Fab surface texture on dark-blonde bob with blonde highlights
This wave pattern produces a superb balayage hairstyle that is perfect for a special date or event, without being too formal. And you can best achieve this hairstyle on medium to thick hair texture. Hair with natural wave or volume will hold the lovely, rounded shape around the crown. And this creates a fabulous shape-contrast with the graduated back moving down to the nape. Disconnected layers and defined, waves with expertly applied balayage finishes off this artistic look perfectly!
We all dream of having the perfect, easy-care, short hairstyle that brings out our best features and hides our little failings! And an experienced stylist and colorist, who can flatter your face with shape and color, will amaze you with how much younger and cuter you can look!