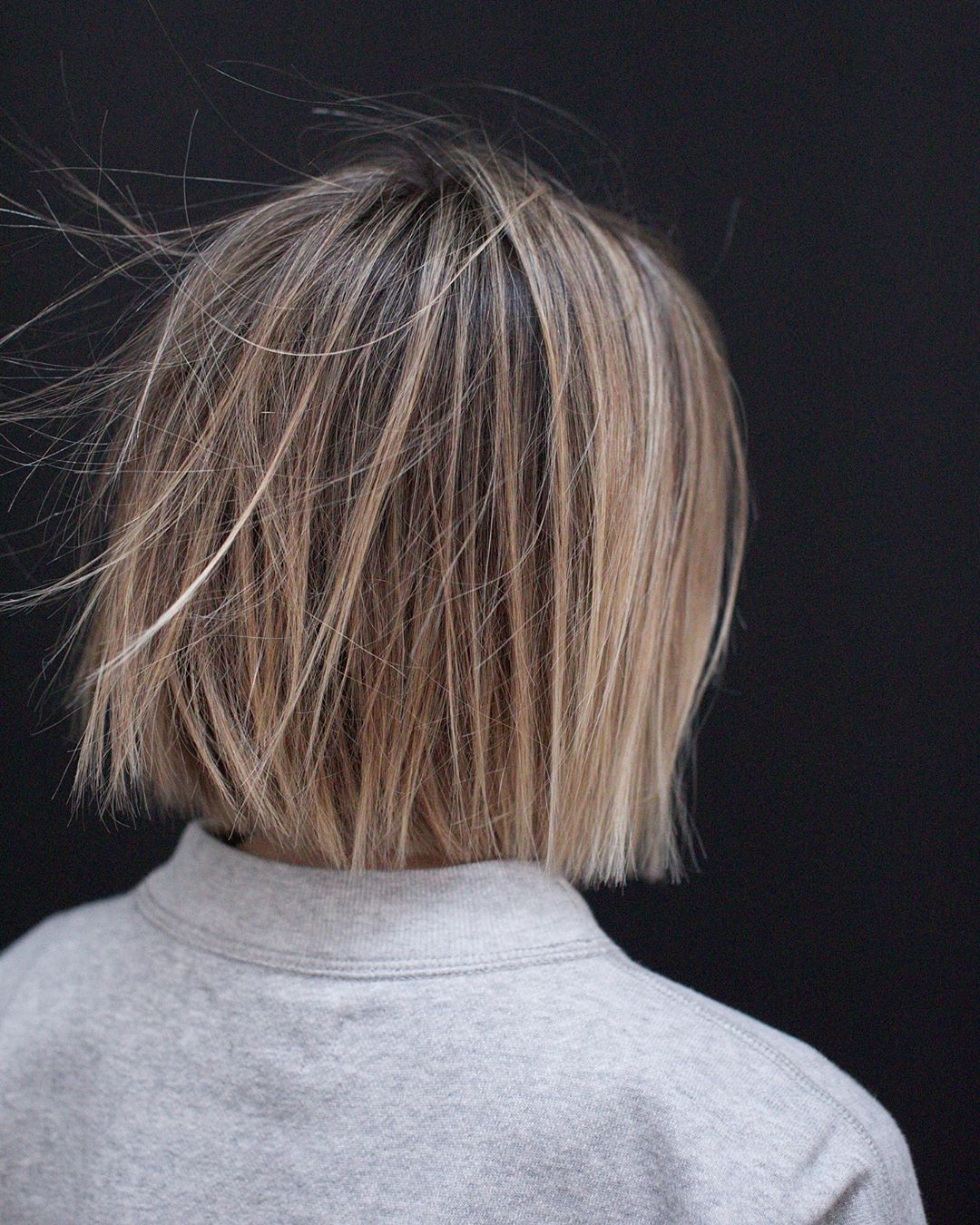 10 Casual Medium Bob Hair Cuts – Female Bob Hairstyles
These appealing, modern haircuts are designed to be easy to maintain! And no current style is more feminine than these casual medium bob hair cuts. So if you like a little length to swish around, combined with chic blonde balayage and impeccable style – for all age groups – here they are!
Shaggy medium bob hair cuts with balayage ombré
Oval faces look great framed by casual waves from a center parting. You get a nice contrast between the perfect symmetry of an oval face shape and the shaggy, untidy finish of the bob. They stylist has cut this model's hair in long layers, with plenty of shaggy texturing at the tips. This creates tapered tips that can be flipped out for extra volume and movement. And dark-blonde/mousey hair looks fabulous with two blonde shades applied as balayage in the lower lengths!
Medium bob haircuts for fine hair
This medium bob has a slight angle down from the back and ends above the shoulders. This is a very good length for fine hair, as the proportion keeps the density of longish layers, without being so long your hair falls flat and looks thin. And to add more volume to this classy hairstyle, you just need fine balayage in subtle mid-blonde to create a 3-D effect. Casual, defined flat waves part the hair to show this off and the brighter blonde balayage around the face reflects light in a very flattering way!
Untidy blonde bob with dark roots – medium bob haircuts
There are so many things in life to keep us busy and unable to have a perfectly groomed look! But there are just as many tousled, high-fashion hairstyles, to keep you looking stylish and cute throughout the day. This blonde with dark roots look echoes edgy street style, but is longer and has a softer, beige blonde color. It's a more, 'grown-up' look for former teen-rebels who realize that fashionable beige-blonde is now more flattering than cold, platinum-blonde.
Soft blonde colors for over-50's medium bob haircuts
With today's natural blonde shades so popular right now, it's easy for women over-50 to keep their hair a youthful blonde. Especially if you always choose a colorist with plenty of experience.  Our skin tends to lose it's natural color and be lighter as the years pass by. Therefore, a very natural looking hair color design, in neutral- and beige-blonde shades could be the perfect complement to your skin tone. And backward-angled waves help balance a strong nose shape, too!
Terrific texture on fine hair in straight bob hairstyle
One thing that fine, straight hair does is to lie flat and neat! And if you choose this cute, shortish medium bob you'll never waste hours styling it before work. It's a simple cut given a very stylish finish from the expertly applied vertical highlighting. The colors are not too far from the model's natural light brown tone, so the 3 or 4 beige-blonde tones in the balayage blend together very well. And the colorist has varied the width of the highlights to create lots of light reflecting texture and movement all around the head!
Wild shag-cut bob on thick hair in ash shades
Thick hair needs to be well controlled, especially if you want a modern, casual look! And good stylists use sliced layers on thick hair to remove the bulk you hate. Vertical-cut layers leave a shape that's naturally tapered at the tips, so your style will fall into place after washing.  The density of this model's hair is perfect for sculpted layering and a youthful, shaggy texture. The hair color design has gray roots heavily balayaged in ash-blonde and wispy, textured tips to complete a lively, mature look!
Contrasting highlights for texture on short straight haircut
Here's another high-fashion look that's great for adding texture and density to fine, straight hair. The cut is an easy-style, straight bob with layers cut just above the lower edge. This keeps the density of the hair, but adds texture and interest around the ends. And this makes it easier to just flip-out the ends for a quick, party-style makeover. The colorist has created a trendy, blonde look with cool, white-blonde highlights, softened by warm, light-brown balayage!
Over-30's same-length bob in ash-blonde
Actually, this shorter version of the medium bob suits most face shapes and all age ranges! But it's also a popular length for women starting to move away from life-long, long hairstyles. The point is – it's a very chic look – especially when you have a high-fashion hair color design like the one above. Graying roots don't have to be a problem in today's hair-fashion world. And naturally graying roots are the perfect base for ash-beige-blonde highlights, accentuated at the tips in eye-catching white balayage!
Cute natural golden-blonde mid-length haircuts
This asymmetrical bob haircut suits lots of different face-shapes, just ask your stylist to set the part to flatter your particular face. It gives the feeling of long hair, with the trendier style impact of shorter haircuts. The little quiff adds interest, texture and movement above the forehead. And the swept-over bangs drape sexily down over one eye! The stylist has layered fine hair lightly to help it fluff up for more volume. And wispy, textured tips add tons of texture at the tips. Casually pushed behind one ear completes this adorable, young  look.
Gently angled bob in beige-blonde
This classic, medium bob haircut gets a modern makeover from gorgeous, light-beige blonde highlights. The model's natural dark-blonde shade serves as a base, creating a nice contrast with two, beige-blonde highlight shades. Keeping the highlights no more than one or two tones apart, always keeps the finished look very natural. And natural blonde balayage is once again this seasons most popular look!
The time for formal, perfectly smooth hairstyles is gone and women of all ages prefer to project a relaxed image. So choosing one of these attractive, medium bob hair cuts will allow you to be trendy, without needing hours of complicated styling!