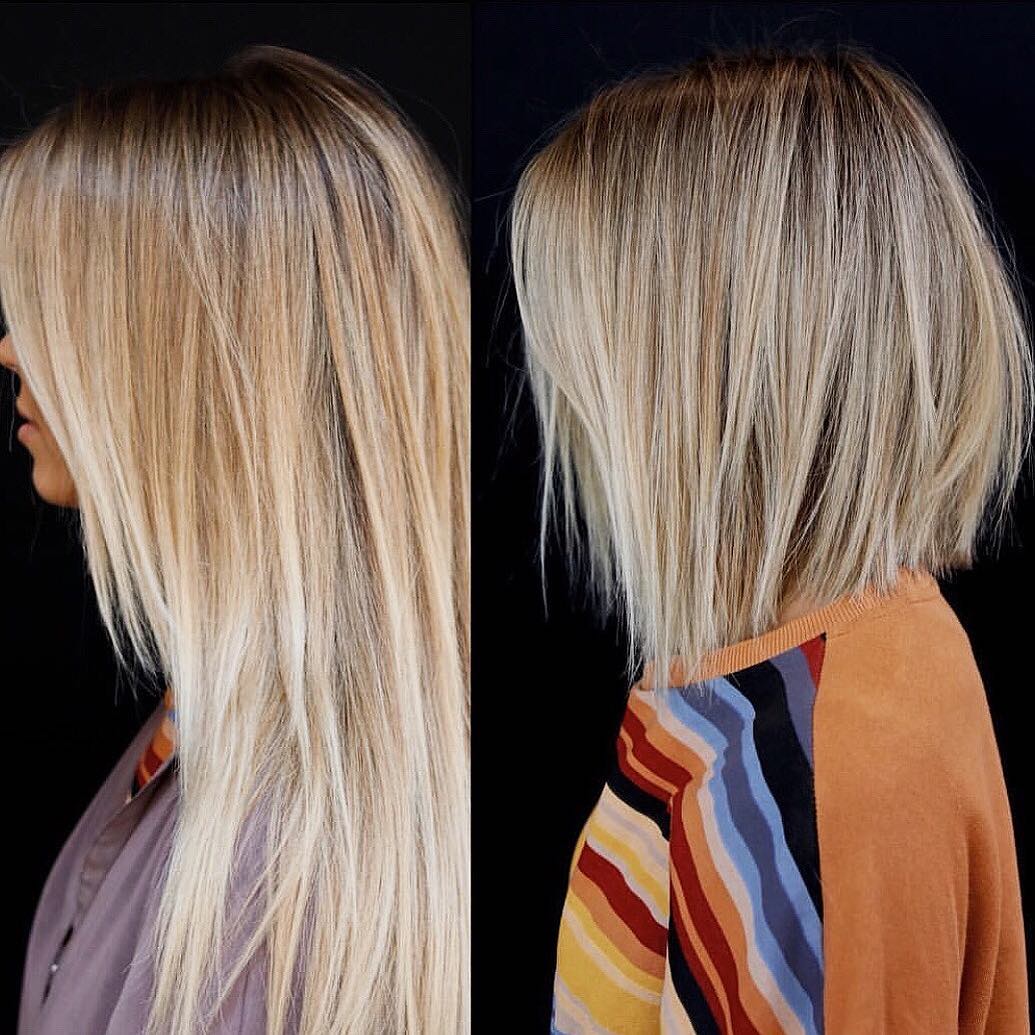 10 Easy Short Bob Haircuts for Thick Hair
This season's exciting new short bob haircuts for thick hair are chunky, tousled, and bright with natural blonde highlights! Many of the simple cuts have an 'unfinished' vibe that's very appealing. And chopped-off ends at chin-length, or just below, always focus attention of your pretty eyes, lips or chin. So if you want to get more style into your image, take a look at these fabulous short bob haircuts for thick hair!
Long to short bob haircuts for thick hair makeover
Long blonde hair can be expensive to maintain and need a lot of your time. So maybe it's time you had a trendy update like this slightly angled bob.  It's a fashionable new style and has beautiful, natural blonde highlights! The 'sliced layers' remove bulk from the tips, which are also textured for a modern, uneven finish. And it's so easy to wash and wear, too.
Black long hair makeover to gray & purple – short bob haircuts for thick hair
Long hair can be lovely, but it's not always the most stylish look you can have. So if you're ready to project a younger, more modern image consider the fashion impact of this gray and purple bob. Sliced layers create cute tapered strands on the surface and plenty of attractive texture. The last inch or so is deep pink-brown, with blonde balayage, completing a totally trendsetting makeover!
Messy blonde short bob haircuts for thick hair
Oval faces have attractive symmetry that can be highlighted with a center part. And when you contrast this with a messy, chopped-off short bob you draw even more attention to the face's regular features. This casual, everyday style is easy-care and very fashionable, with a neutral blonde ombré and mid-beige roots.
Honey-blonde short bob haircuts for thick hair
This chin-length bob is easy to maintain and will stay looking good all day or evening. It's a length that flatters almost all face shapes and shows off thick hair with sliced layers and trendy textured tips. The best feature is the gorgeous blend of honey-blonde, golden beige and white shades highlighting the attractive texture and shape of this trendy bob haircut.
Center part medium-length mid-brown bob
Mid-length A-line bobs are changing from being cut to curve under, towards a flipped-out tip twist. And we think this is the first move towards the popular 1950's/60's flipped out hairstyles. This modern version has gentle waves on the surface and a casual, tousled finish. Medium-brown hair is highlighted with flattering mid-blonde to emphasise the movement.
Chic neutral-blonde messy short hairstyle
Along with a smart, little black dress, this short blonde bob is a classic hairstyle. The twist that makes it perfect for this season is the beautiful blend of neutral blonde and beige shades. The thick and thin lines of vertical highlights create lots of extra color-depth. And the tousled finish displays the lovely color-layers for a relaxed and fashionable look!
Flipped-tip chin-length bob with black roots
You can make medium-textured hair appear a lot thicker with this chin-length bob haircut. It changes the proportions and makes the long layers lighter, so they are easier to fluff up in a tousled finish. And if you leave naturally dark roots, but add two or three shades of neutral/beige blonde to the rest, you get a wonderful 3-D effect and a denser look.
Smart silver-gray inverted bob haircut
If you're hair is going gray, lucky you! You can wear high-fashion, youthful hairstyles that will do wonders for your beauty image. Leave your roots dark and add various shades of gray with gorgeous silvery-blonde framing your face! It's a subtly glamorous look that reflects lots of flattering light onto the face. And a super-trendy twist on the classic, inverted bob!
Messy yellow-blonde short haircut with neutral beige & white balayage
The windswept finish and lovely neutral beige tones show this is a new season haircut! The medium-blonde shades are very flattering for mature complexions and create a natural look. Twisty waves separate to show the 3-D color dimension and slightly flipped-out tips make a change from last season's under-curve. Yellow blonde on the bangs frames the face and highlights brown or honey-colored eyes.
Heavy-textured layers on honey blonde short hairstyle
Heavily graduated long layers create a definite outward curve at the ends of this casual bob haircut. Dark roots show through the defined, tousled strands adding color-depth and a trendy, messy look. This short hairstyle frames the face with curvy waves and has a lovely, honey- and natural-blonde haircolor design!
Messy, tousled or totally windswept short bob hairstyles for thick hair solve all our worries about hair losing its shape or style. They are very easy to maintain and always project an attractive, relaxed image!