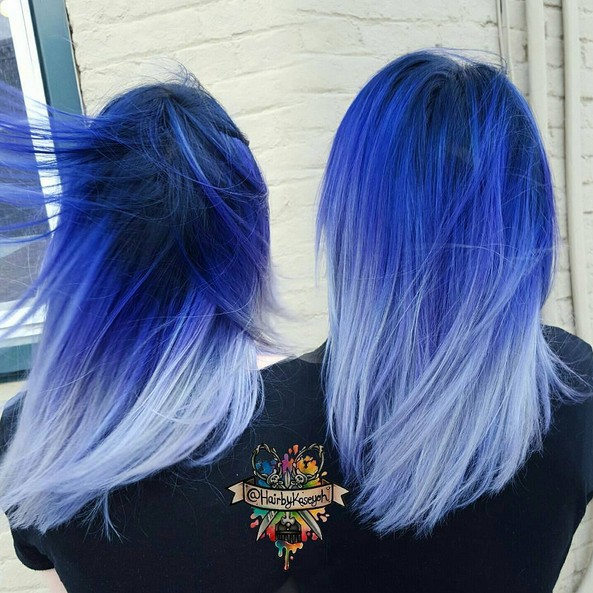 Best Fresh Hair Colour Ideas for Dark Hair
Multi-colour hair, whether subtle or striking can transform your image, so read on and discover the freshest hair colour ideas for dark hair!
In the past, blondes and mousy-brown hair colours were the ones that received mo
st attention in terms of highlights and other colouring techniques. However, we brunettes are finally getting the attention we deserve in the fabulous, new hair colour ideas for dark hair that will bring any modern hairdo to life!
Light Blue Denim Silver
Skin tone check
Skin tone is a big consideration when choosing from the many new hair colour ideas for dark hair, so make sure your colourist has the experience to find the perfect range of shades for your natural colouring.
Dark brown hair that is a naturally cool, coffee shade will look livelier with some glinting warm highlights or a trendy ombré/sombré if you have long hair.
Dark Brown Hair
Copper and gold metallic shades
If you want a softer and more flattering frame for your face, look at this year's favourite shades of copper, coppery-red, old-gold and rose-gold as balayage highlights. These are a good choice if your natural hair shade is a dark-brown or black, asthey will show up well.
Silver lavender hair color with dark base and layered bob haircut
Edgy hair color ideas
For an edgy colour contrast, there are some fantastic black and blonde hair colour ideas for dark hair this year. So you can have one of the super-trendy hair colour ideas for dark hair shown below, or design your own!
The latest black and blonde colour ideas for dark hair have some exciting innovations, such as horizontal stripes on long hair, or dark hair with a margin of blonde around the whole outline!
Rainbow colours
Rainbow colours are getting more popular every year and that means all shades of pink, blue, purple, green and whatever shade you fancy!
Fresh Hair Colour Ideas
Softer hair colour ideas for dark hair
If you prefer something softer and more natural-looking, take a look at the wonderful shades of caramel and honey that are on offer this season. And while we're talking about the 'delicious' colours, you can easily 'warm up' dark hair by dyeing it a rich, chocolate shade that will be flattering to most faces.
Rules forchoosing all-over hair colour shades
If you plan to use a home-hair colour kit, remember that the colours shown on the box are not necessarily how it will look on your hair. Be careful when selecting the shade, because if your hair is already dark, you may end up with it looking much darker or actually black!
Pink and Gray
The worst offender is Chestnut-brown home-colour kits, which often make dark hair go black. So go for a lighter shade than the one you would normally choose – it won't bleach or lighten your natural shade – but you will get the copper, red or golden glints, without ending up with black hair!
So if I've whetted your appetite, why not take a look at pophaircuts.com fabulous gallery of innovative and fresh hair colour ideas for dark hair!
Hair Color Trends
Hair Colour Ideas for Dark Hair
Pink Hair
Metallic Rose
Somked Out Silver Ombre
Amazing Hair Colour Ideas
Most Popular Hair Color