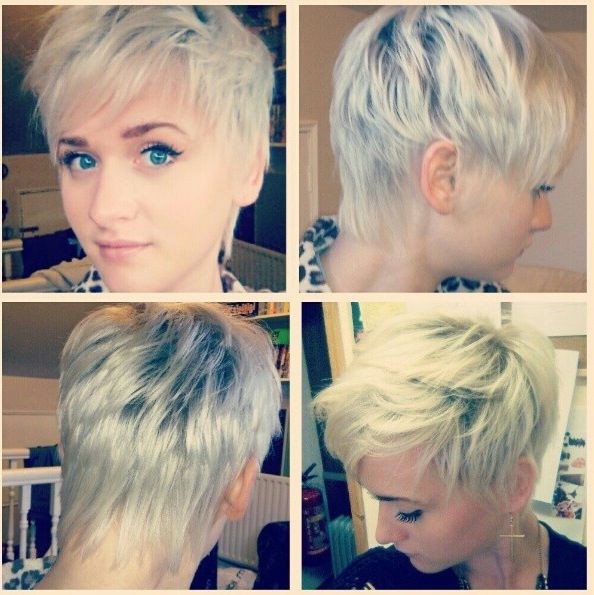 7 Stylish Messy Hairstyles for Short Hair
Short hair is quite popular among people. There are a lot of stylish and luscious short hairstyles. Short hair is very simple to create and maintain. In addition, it can make your hair fuller so it is quite splendid and fabulous. If you have thin hair, you can go on reading since in text, we will introduce you some messy short hairstyles for thin hair.
The buzz cuts are quite simple to create and maintain and they also make your hair quite fuller. To create such hairstyle, razor cut the hair quite short. Side cuts or back cuts can bring you more charm and style to the haircut.
The stacked bob is both suitable for mature women and younger girls. Such hairstyle is ideal for people with thin hair and round face. To create it, you need to create the back hair shorter and side hair slightly longer. Some side sweeping bangs, or blunt Cleopatra style bangs can pair the hairdo better and more beautifully.
The short shaggy cut is perfect for women with round faces and people with thinner hair. Such hair can bring the creator quite an edgy look. To create the hairdo, cut the hair deep choppy. A lot of women also pair it with choppy bangs to make them more chic. In addition, such shaggy cuts can make you more charming and much younger.
The above mentioned are the different ideas on messy short hairstyles for thinner hair. If you want a messy look, you can apply some root volumizer and tousle it with the help of your fingers. If you want the fabulous hairdo to keep in style and shape for a longer period, you can get it trimmed every 6-8 weeks. Lastly, use some cute and dainty hair accessories to enhance the styles if you hold they appear too simple. Choose the suitable one and enjoy it.
Messy Hairstyles for Short Wavy Hair: Short Hair with Braids /Via
If you bear naturally wavy or curly hair, messy styles can be ideal option for you. Messy styles can give you a charming look, and they are quite simple to manage. To create such a style, cut your short or medium hair into different layers. Next, use some wavy hair serum on your wet hair and mess your hair, keeping some bangs on the forehead.
Kaley Cuoco Gets Dramatic Pixie Haircut: Messy Hairstyles /Via
Messy Short Hairstyles for Fine Hair: Best Pixie Cut /Via
The pixies look quite cute and charming, and they are effortless to maintain. To create the short hairdos for people with fine thin hair, you need to cut the back and side hair into deep crops, and the crown hair slightly longer. Then pair it with side sweeping bangs, which can add more style to the haircut.
Jennifer Lawrence Short Haircut: Messy Pixie Hairstyles /Tumblr
Messy Hairstyles for Short Hair: Side and Back View /Via
Short Haircut with Choppy Layers /Via
Stylish Messy Short Hairstyles for Women and Girls /Via