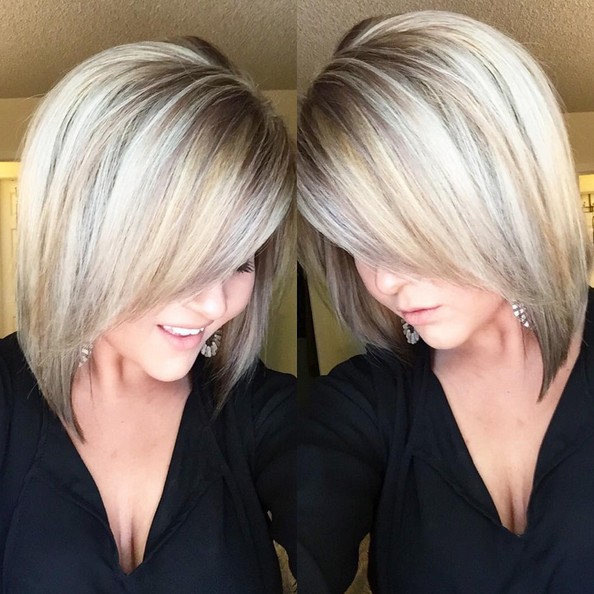 18 Hot Angled Bob Hairstyles: Shoulder Length Hair, Short Hair Cut Ideas
An angled bob is a super easy and chic way to add some dimension and life to your locks. Alone, angled bobs are ridiculously sleek and cute; but when you add a touch of style and flair, you end up with a textured 'do that's hip and fabulous. Try out one of these 18 hot and flawless angled bob hairstyles that will really take your bob to the next level.
Volumized with Simple Flipped Bangs
We'll start with the flawless blonde coloring on these locks: bright and shiny, perfect for spring or summer! She takes her luminescent locks and adds plenty of volume on top, adding just a touch of flip to her bangs for some perky attitude while the rest is left sexy, slick straight.
Messy Voluminous Curls
A hairstyle that's perfect for casual summer nights, these messy and voluminous curls are nothing short of fabulous! They're super flirty and fun and can go with a cute pink summer dress or even your fanciest red body-con number for the party.
Simple Hollywood Curls
When you indulge in 'Hollywood curls', you know you're automatically setting yourself up for a look that's downright classy. These simple Hollywood curls look great on her super-angled light blonde bob, creating a very dazzling finish that can be dressed up or down with ease.
Stacked Bob
A rather simple haircut, this stacked bob is brought to life with tons of layers in all shapes and sizes as well as a fabulous blend of lowlights and highlights.
Sleek Straight Major Angle
Why settle for a simple angle when you can make your locks more extreme with an intense, sharp angle like this? She cuts it short in the back, leading to a very lengthy front that surrounds her face beautifully. Leaving her dark brown mane sleek straight, she creates a modern and chic finish.
Lovely Loose Curls
We are ADORING this look, and think this is one major hair makeover you'll want to remember! She goes from long and boring to angled and cute, adding some very coquettish lovely loose curls.
Short Waves and Blunt Bangs
Starting with a super short angled bob, she revs up her look with plenty of bouncy volume by use of messy waves. These lovely waves make her highlights stand out like no other, a great option for girls who really want to take over the room. She finishes off her look with some chic blunt bangs for an all around awesome appearance.
Super Loose Red Curls
Want to take your locks from cute to sexy in an hour? Then consider switching up your color to a bright, seductive red like this! She adds some seriously hot volume to her look with just a hint of curl, leaving them extra loose and unkempt.
Trendy Colored Angled Bob
For women who crave the latest trends, we highly recommend this hairstyle. In this look, you transform your regular locks into a stylish masterpiece with a simple ombre from dark purple to auburn. Leave them straight and sweep bangs to the side for a casual yet on-trend look.
Extreme Angle with Blunt Bangs
She looks like she stepped right off the runway- right? Absolutely! Her jet black mane is a show-stopper as it is, but she takes her locks to the next level with an extreme angled bob haircut and polished blunt bangs to match. Add dark eyeliner and red hot lips for a very enticing look.
Lengthy Angled Bob with Curl
Perfect for women over 50 who want to keep their locks on the short side while still maintaining some body, this lengthy angled bob allows you to keep plenty of length, great for curling like we see here. Very classy for mature women!
Textured Angle Bob
Her angle is kept very soft and delicate, which in itself is an adorable hairstyle. But she decides to take her bayalage blonde tresses to the next level by adding a bit of messy texture, a casual yet charming style that's perfect for any time of day.
Super Lengthy Bob with Waves: Long Bob Hairstyles
Leaving the front of this bob extra lengthy, just below the shoulder, this particular cut barely passes for a bob- but it does, and we do LOVE it! She brightens up her complexion with stunning light blonde coloring, while her incredibly lengthy locks come to life with some delicate waves.
Loose Waves with Peek-a-Boo Purple
Purple, purple, purple. I said it once and I'll say it again- PURPLE! It's one of- if not THE- hottest hair color trends for 2016. But if you don't want to be TOO extreme with your hair color, consider some simple yet stunning peek-a-boo purple highlights in your mane. Hot!
Volumptuous Curls
There's no denying it: volumptuous curls are sexy and romantic all at once, making it the ideal style for homecoming or for any formal occasion. And just because your hairs cut short doesn't mean you can't rock those luscious curls!
Ombre with Curls
Love ombre? Of course you do! Super trendy and chic, this hairstyle includes the on-trend purple hair color at the roots, leading to some very light brown ends for an all around enticing style. Don't forget some simple curls to bring some fun body.
Ombre Half Curls
Another interesting yet totally cool take on the classic ombre hair coloring, she leaves her roots naturally dark brown while the bottom half of her mane is brightened up with some intense dark green hues. With a toss of curls to the green area, this look is totally fab.
Blonde Bouncy Curls
LOVING the bounce of these curls! So flirty and fun, it's a great choice for summer nights when you want to be the talk of the pool party.
There's so many lovely hairstyles that work wonders with an angled bob! Pophaircuts.com which angled bob hairstyle will you rock next? Some messy waves, or some luscious volumptuous curls?