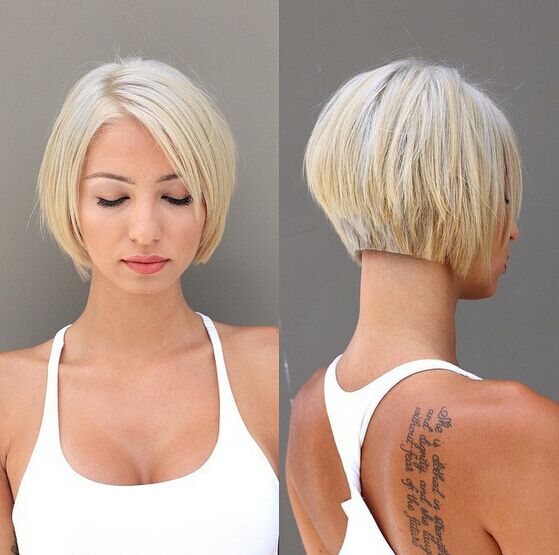 20 Newest Bob Hairstyles for Women: Easy Short Haircut Ideas
Bobs are definitely the major trend for this year and fortunately it's a cut that flatters most face shapes and all ages. The Burberry models showed us how to wear a bowl cut with style and panache, with their no-fringe bobs matched with white sunglasses and gorgeous lavender coats!
Ragged chic
Even so, they were emphasising the fact that choppy layers are set to be the biggest trend in bob hairstyles for women this year. However, on normal hair the 'ragged' finish of a shiny fringe and uneven layers is a super-trendy and attractive bob hairstyle for the ultimate in contemporary-casual chic.
Newest Short Straight Bob Hairstyles for Women /Via
Karlie Klass
And if a rounded basin cut isn't for you, follow the lead of Karlie Klass, whose runway bob hairstyle, for women who like to be right up-to-the minute, shows a very appealing alternative way of styling short hair this season.
With a side-swept long fringe and the finish looking slightly windswept, this is the ultimate easy-style hairdo for which you don't even need a hairbrush!
Huge choice
In addition to these runway examples of bob hairstyles for women, here are some of the other super-flattering looks you have to choose from this year!
Asymmetrical, A-line Bob Haircut – Easy Everyday Hairstyles for Women Short Hair /Via
Reverse bobs are really hot this year and a medium reverse bob hairstyle, for women with a long face, can be very flattering if you add plenty of round volume at the sides with rollers. This is a super-attractive 1960's retro look and adds the width you need to balance out the length of the face perfectly.
A smooth, straight blunt-cut bob ending just above the chin, on thick hair, produces a low maintenance look that softly frames the face. The choppy, asymmetric styles are great for slimming a round face, too!
And the profile you get with a reverse, angled or stacked bob looks super-modern!
Brown Short Bob Haircut Side, Back View /Via
Hair accessories
The new bob hairstyles for women also fit perfectly with the other big trend for hair accessories. Bows, slides, barrettes, scarves and headbands are selling like crazy.
All shades of purple are a major fashion colour for this year, so wearing a lavender silk scarfas a hairband around your bob or pretty bow on a clip,will give you lots of contemporary-casual style – without you having to buy new fashion clothes!
I love it when we get a real sea-change in hair fashions, don't you?
If you're as excited as I am about this year's fabulous range of bob hairstyles for women – take a few minutes to browse our gallery and prepare to look more gorgeous than ever!
Cute Blunt Short Bob Hairstyle – Stylish Short Haircut for Summer /Via
Classy Short Bob Haircuts for Women Over 40 /Via
Short Haircut Ideas for Women Over 40 – 50 /Via
Bob Hair Cut with Long Bangs /Via
Choppy, Layered Bob Haircuts for Short Thick Hair /Via
Stacked, Medium Bob Hairstyles /Via
Newest Bob Hairstyles for Women Short Hair /Via
Different Bob Hairstyles /Via
Bob Hairstyles with Highlights /Via
Cute, Easy Bob Hairstyles /Via
Layered Bob Hairstyles for Short Hair: Summer Haircuts /Via
Bob Hairstyles with Side Bangs /Via
Stacked Bob Hairstyle /Via
Bob Hairstyles with Long Bangs /Via
Bob Haircut Side, Back View /Via
Amazing Layered Short Haircut /Via
Blonde Short Bob Haircut: Blonde with Black Underneath Hair Ideas /Via