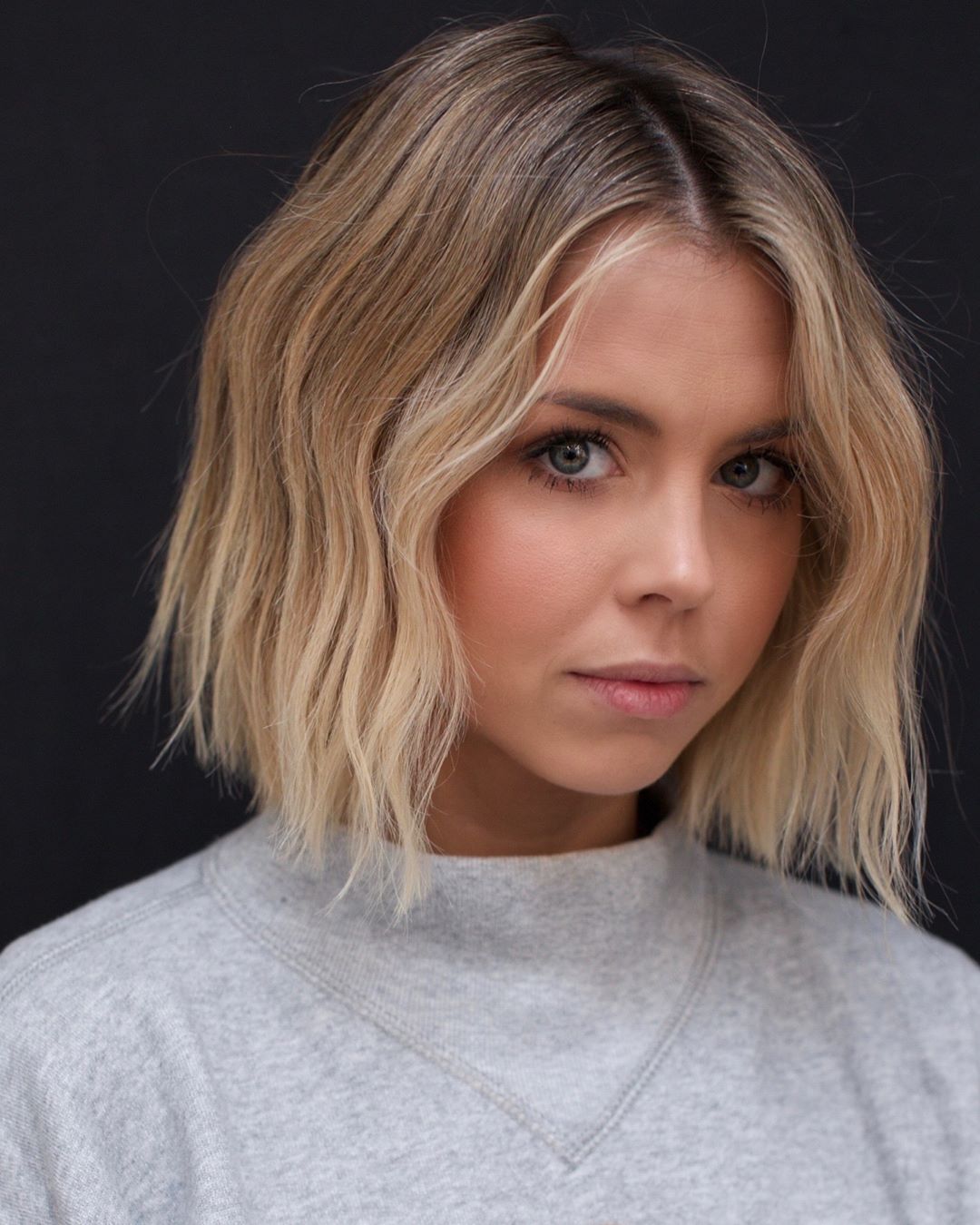 10 Easy Wavy Bob Hairstyles with Balayage
Looking for a flattering, easy wavy bob hairstyle to update your new season look? Try one of these little beauties! They're all easy care, trendy and designed to suit lots of different face shapes and hair textures. So save yourself a load of browsing time and pick your perfect wavy bob in five minutes right here!
Uneven edge center part bob for oval faces – easy wavy bob hairstyle ideas
Cut your long blonde hair into a more chic, chunky bob and get a modern and stylish image. This chopped-off look uses raggy tips and soft waves to create a lovely creative contrast. So you get lots of eye emphasis and a trendier look than the conventional long blonde hairstyle. If you want to be taken seriously at work, a shorter chic-er look will help you a lot, without sacrificing your natural feminity!
Chic taupe with ice-blue balayage for heart face – easy wavy bob hairstyle ideas
Sophisticated and sexy, this peek-a-boo medium bob haircut uses color to really accentuate a pair of ice-blue eyes.  The base is a light taupe shade, to which the colorist has added ice-blue blonde balayage highlights. This style suits heart faces and narrow chins, as the side part and long wave draped over most of the forehead reduce a wide forehead. And those lightly flipped-out tips around the chin, create a wider shape that balances out a pointed chin.
Honey-blonde with balayage – easy wavy bob hairstyle ideas
The blunt-cut straight-across edge along the back contrasts with the previous trend for stacked layers at the back. And this twist shows you're wearing the latest wavy bob haircut. Soft honey blonde base is a very flattering, mid-blonde shade. But with those gorgeous white-blonde and light gold-blonde balayage highlights, you still get a very glamorous hair color design. And with darker roots, this is another great 3-D bob hairstyle for medium and fine hair types.
Brunette with subtle ombré balayage – easy wavy bob hairstyle ideas
Liven up your brunette hair with this modern twist on the wavy, medium bob haircut. It's suitable for medium and fine textured hair that has a silky texture and plenty of swishy movement. The subtle highlights in caramel, honey, copper and white blonde are expertly applied in fine balayage lines. So as the hair moves you get a constantly changing texture and plenty of 3-D color depth to make fine hair appear thicker.
Shaggy blonde balayaged bob with tousled finish
And here's a shorter, brighter version of the mid-length bob, with a distinctly shaggy texture in the lower lengths.  This is a great way to lift dark-blonde hair, without going too artificial with an all-over blonde hairdo. Balayage in 3 or 4 shades is far more sophisticated and fashionable right now. And with dark roots being a major part of the style, this wavy bob hairstyle stays looking great for months as it grows!
Stunning deep purple with lavender-blonde tips angled bob
Can a rainbow color hairstyle be stunning and subtle at the same time? Well this look in aubergine-purple certainly seems to fit the bill! The chunky, graduated bob is bang up-to-date and the deep, neutral purple-brown base is only a few shades away from natural brown. Vertical highlights in varying widths and shades creates wonderful texture. And those cute lavender-blonde balayage tips reflect lots of light for a very pretty finish!
Steep angled ash-blonde bob cut with textured finish
This classic ash-blonde hair color design looks perfect on a modernised angled bob.  Instead of a stacked-layer back, the latest look is a longer, thicker back styled into a bouffant, curved shape. This contrasts nicely with the flat top and beautifully draped long layers with soft waves framing the face. So altogether you get a fabulous profile view. And with a tousled surface, the finished look is more casual than the original, smooth angled bob. And can you see that hint of lavender toner on the top that brings out the model's brown eyes?
Mid-blonde 'bed-head' chunky medium bob haircut
Medium length bobs in medium blonde colors are a very flattering look for many women. Mid blonde shades look softer on mature faces and this mid-length wavy bob is totally trendy in its style features. For instance, the carefully thinned out layers near the tips creates a choppy/shaggy bottom edge. And the waves vary between twists, bends and flipped-out tips in a modern, windswept look you can wear all day, every day!
Balayaged light-brown bob for thick hair
Thick hair needs special 'sliced' layers to create this lovely curved silhouette, with sleek tapered tips falling in naturally to hug the neck.  You already be familiar with vertical blonde highlights on angled bob cuts. But these balayage highlights are specially placed half-way between roots and tips to emphasise the curved shape with blonde, light-reflecting color.
'Special date' wavy chin-length bob in golden shades
Want to make a great impression on a dinner date? Try this chic, short angled bob with volume, texture and tons of lively movement! It's casual enough for any type of date, so you can look fabulous without looking as if you'd made a lot of effort! Clever! And this bob has a side parting your stylist can adjust to suit your face shape perfectly. It works well on medium or fine textured hair, as the twisty waves add tousled volume. And those gorgeous, beige, gold and ash-blonde highlights are subtle, but very classy!
The benefits of wearing a short to medium angled bob are obvious. And they include being easy to style and maintain, looking modern and up-to-date, and creating a very feminine image. So if you like a youthful look with a casual vibe, ask your stylist to tailor one of these gorgeous styles to your face shape and skin tone. You'll love your chic new hairstyle!