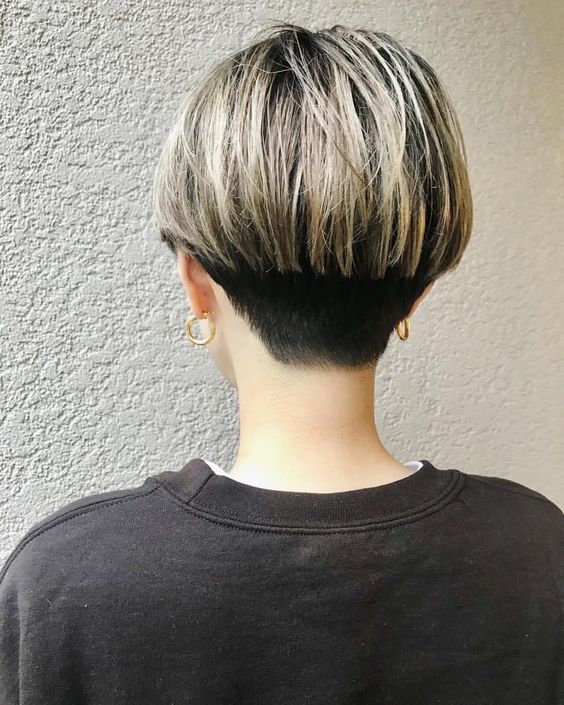 10 Trendy Short Hairstyles for Women
Cutting your hair short can be stressful and intimidating. Make sure you do it right to avoid regrets and awkward in-between phases.
If you're thinking of committing to a drastic length change for your hair, check out these trendy short hairstyles for women before you head to your local salon.
1. Curly Pixie Cut with Shaved Sides
This curly pixie cut is a super flattering style for women with naturally curly or wavy hair or women who are growing out their hair from a shorter cut. It serves as a perfect example of an in-between style that doesn't look awkward.
If you're growing out your hair, consider using this pixie as a transition cut that looks natural and intentional. The longer layers and shaved sides of this pixie cut give it an edgy, feminine style. Its shaved sides balance out its longer, curly layers and make this cut more manageable and easy to style as you grow out your top layers.
2. Rose Gold Straight Blunt Bob
At first glance, the color of this straight short bob looks completely natural. As you look closer, however, you can see that its blonde layers have a very subtle rose gold hue that adds warmth and on-trend style to this cropped bob.
The blunt ends of this straight bob fall an inch or two below your jawline to frame and flatter your face and perfectly balance out the multi-dimensionality of its color.
3. Straight Blunt Undercut Platinum Pixie Cut
This platinum pixie cut puts a twist on a classic undercut pixie style. It features longer, straight layers on top that have blunt, straight-across ends above the undercut of this pixie.
A shaved back and brunette roots prevent this platinum pixie cut's longer top layers from looking too boxy or heavy, and its blunt-cut ends give it a bold, unique finishing touch that stands out from other similar short hairstyle.
4. Curly Pixie Cut with Deep Side Part and Asymmetrical Shaved Side
Pixie cuts aren't just for women with pin-straight hair! Women with hair that is naturally abundantly curly can rock a cropped pixie, too.
This asymmetrical pixie cut features one side with full-volume curls and another side that is completely shaved down to the root. These asymmetrical sides create the perfect balance for this flattering, one-of-a-kind pixie cut.
5. Cool Gray Side-Swept Pixie Cut
Cool gray is still very much on-trend in the world of women's hair colors and styles, but it can be tough to pull off.
This side-swept pixie cut features all-over cool gray layers that are in line with the current hottest hair trends for women and complement the bold, edgy vibe of this cut.
6. Curly Cool Blonde Long Bob with Balayage
This cool blonde long bob–otherwise known as a lob–features flattering balayage and fades from a cool medium shadow root to a cool, almost-white blonde at the ends. Its ends barely skim your shoulders, offering you a wealth of styling options but still remaining squarely within the bounds of shorter hairstyles.
Get the relaxed, curly style of this lob by using a thin curling rod or flat iron to create loose curls in your hair, starting from the middle of the hair shaft and curling down to the ends. Let the curls relax before you spray them to get the carefree, natural-looking style in the above picture of this stylish lob.
7. Tousled Brunette Pixie Cut with Long Feathered Layers
This tousled brunette cropped cut is somewhere in between a long-layered pixie cut and a super short bob. It doesn't quite reach the bottom of the earlobes though, so it better fits the definition of a long pixie cut than a bob.
A messy-on-purpose style and long feathered layers add dimension and plenty of volume for this pixie cut. It is the perfect cropped cut for women with fine, thin, and unmanageable hair types who are looking to go shorter but aren't sure how well their hair will react to the change.
8. Cropped Chin-Length White Blonde Bob with Shadow Root
This white blonde bob is the picture of sleek elegance and on-trend style. Its pin-straight ends are cut at a slight angle, falling at the nape of your neck in the back and following the shape of your jawline to reach the bottom of your chin in front.
The all-over white blonde color adds trendy style to this bob, while its darker brown shadow root lends this cropped cut a natural-looking finish.
9. Curly Warm Blonde Bob
This warm blonde bob is a straightforward bob style. Its blunt ends fall an inch or two below your chin and are heavily textured for a lightweight finishing touch.
Achieve the natural-looking curly style of this bob by using a flat iron or curling rod to create loose, relaxed curls. Let your curls relax before you spray them to maintain a natural-looking finish. Depending on your hair type, you can also achieve a similar style without using heated styling tools by scrunching your hair by hand with the help of some scrunching or texturizing hair product.
10. White Blonde Pixie Cut with Long Side Bangs
If you want to go all out with a super short, super bold cropped cut, look no further than this long-layered pixie cut.
Its long top layers, side-swept bangs, and all-over white blonde color contribute to the bold style of this cropped pixie cut. As an added bonus, this cut is super easy to manage. It takes only a few minutes out of your morning routine to style.