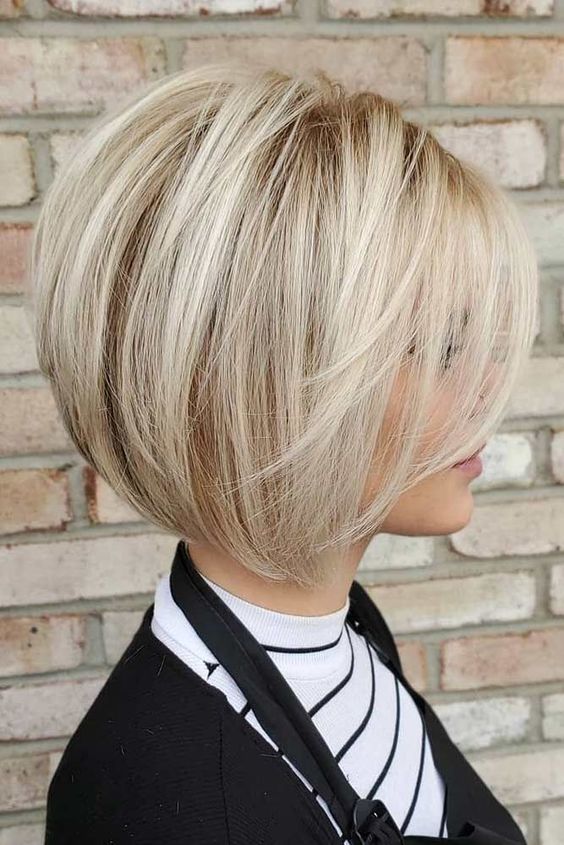 10 Trendy Straight Bob Hairstyles for Women
Straight bob hairstyles are both stylish and practical. They are timelessly trendy, super easy to manage, and help you look put together with very little time or effort on your end.
These straightforward cuts frame your face and are naturally flattering for a wide range of face shapes. If you're considering committing to a cropped cut–or are interested in exploring new ways to style the bob you already have–keep reading to check out these 10 ultra-trendy, easy-to-manage straight bob hairstyles for women.
1. Straight Platinum Layered Bob with Lowlights
This straight platinum bob falls just below your chin and features shorter layers in front to frame and flatter your face.
Lowlights add a welcome natural-looking finishing touch that prevents this platinum layered bob from looking fake or tacky.
2. Straight A-Line Dirty Blonde Bob with Balayage
If you're looking for an A-line cut that stands out, this is it. The ends of this dirty blonde bob fall to the nape of your neck in back but reach all the way down to your shoulders in front to frame and flatter your face.
Subtle balayage adds warmth and dimension to this cut without taking away its sleek, elegant, natural-looking finish.
3. Straight Blunt Brunette Bob
Ideal for women who have naturally straight, almost straight, or wavy hair, this simple bob is super manageable and flatters your face even when it is not styled to be perfectly pin straight.
The shoulder-length ends of this cut put it strictly within long bob–or lob, as they say–territory. This lob offers the best of both worlds, allowing you to enjoy a shorter cut while still giving you the freedom of being able to pull your hair back into a ponytail when you just want it out of your way.
4. Straight Blunt White Blonde Bob with Shadow Root
This white blonde, shoulder-length lob is in line with current women's hair trends with its cool blonde hue, dark shadow root, blunt shoulder-length ends, and pin-straight style.
It's manageable and fresh, but it keeps your layers long enough that you'll still have the option of a ponytail when you want it.
5. Short Straight Feathered A-Line Bob
This super short bob is stylish no matter what, but it's also an ideal cut to help women who are growing out their hair from an even shorter cut avoid that inevitable in-between awkward stage.
The slightly angled ends of this chin-length cut follow your jawline forward from the nape of your neck to highlight your bone structure for an elegant, flattering finish. Feathered ends add volume and dimension and prevent this cut from laying too flat against your head.
6. Straight Brunette Bob with Deep Side Part
This straight brunette bob is perfect for women with finer, thinner hair types–although it is flattering for normal to thick hair types as well.
Its deep side part, wispy ends, and shorter face-framing layers in front give this cut plenty of volume and dimension. Even if you have very fine hair, this cut ensures that your cropped locks won't look limp and will maintain a good amount of body and volume throughout the day without going flat.
7. Straight Chin-Length Brunette Bob with Bangs
Simultaneously cute and elegant, this unique straight bob features long, textured bangs that add interest to this straightforward cut.
The blunt ends of this cropped brunette bob follow your jawline and fall right at your chin to frame and flatter your beautiful face no matter what shape it is.
8. Short Straight A-Line Bob with Black and Pink Ombré
The ends of this cropped A-line are cut at an angle, falling just below the nape of your neck in back and reaching a few inches below your chin in front.
This colorful cut stands out with true black roots that transition seamlessly into hot pink ends for a simultaneously edgy and feminine finishing touch.
9. Straight Brunette Bob with Subtle Ombré
This straight brunette bob is super straightforward and stylish with a middle part and blunt ends that fall between your jawline and your shoulders.
It can be tough to pull off ombré on shorter cuts, but this bob defies expectations for cropped and ombré-d styles. This bob features dark brown roots that fade into rich, warm medium-brown ends. This subtle ombré adds interest and style to this cut while still maintaining a completely natural-looking finishing touch.
10. Straight Honey Blonde A-Line Layered Bob with Zig-Zag Part
Look put together all the time with this super sleek straight honey blonde bob. Its ends are cut at a very subtle angle. They fall a few inches below your chin in front for a slight A-line cut that frames and flatters your face without looking overly asymmetrical.
The warm honey blonde color of this bob warms up this cut for a bright and cheerful finish. Its zig-zag part and layers add dimension, interest, and trendy style to this straight bob.