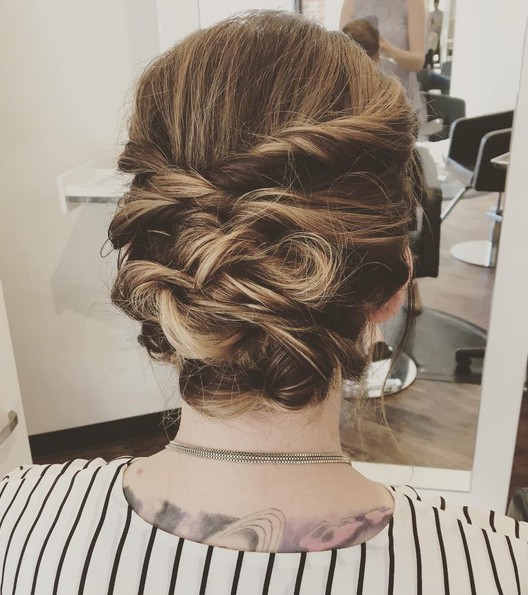 27 Trendy Updos for Medium Length Hair
Tired of the same updos? Then switch things up with one of these trendy updos for medium length hair. Here you will find everything from casual and effortless to ultra-glamorous and sophisticated- plus so much more.
Wrap-Around Braided Low Bun
Casual? Yes. Chic? Yes. Still beautiful enough for a high-end social event? Absolutely. A low bun is quick and easy, and by simply tossing a braid above your bun you can create a striking style that pairs well with any earrings and apparel.
Glamor Hawk: Chic Braid Updo Hairstyles
Faux Hawks aren't reserved for punk rock concerts and music festivals; they can easily be intertwined into an updo that's both charismatic and flashy. The flurry of curly volume down the center of the crown are instantly enhanced by a series of polished fishtail braids, making one knockout style that's sure to be the talk of the party.
Bun Hawk: Cute, Loose Updos
A series of bold, voluptuous buns rolled up in single file order down the middle of the crown makes for one enchanting style that's definitely set apart from the crowd. This look works best with lighter hair colors and those with dimensional highlights and lowlights to really show off the spacing and design of the bun hawk.
Unicorn Messy Fishtail Updo: Pastel Hair Styles
Glistening with a multitude of exotic colors and an insurmountable level of dimension, this intriguing 'do takes on the ever-popular unicorn style of hair coloring with a luscious blend of pastel pinks yellows and greens, all wrapped up into one heavily disheveled and ultimately voluminous fishtail braid.
Bridal Big Bun Updo Hairstyles
Buns are our go-to for everyday casual wear, but they can also be glammed up for our big day. This gorgeous bridal bun is looped with tons of volume for a very standout finish with plenty of height, the stunning white and silver wrap-around headpiece polishing up the style while drawing more attention to that posh, extra-large bun.
Messy Twisted Updo: Chic Office Hairstyles for Women
Sometimes becoming a beauteous princess is as easy as messing up your tresses and twisting them into perfection! This messy look is all twisted up into a fabulous updo, perfect for every occasion that comes your way. Get this look done in a matter of minutes- even though it looks like you've spent hours on it.
Princess Braid
It's called the 'princess braid' for a reason- it's suitable for the most beautiful princesses' out there! Stunning- nay, breathtaking- this is a hairstyle that's sure to steal the hearts of everyone who sees it.
Lavender Ash Gray Double Braided Upstyle
A glamorous Upstyle like this includes two romantic braids twisting back into a low textured bun. Make your look pop with extra trendy style by choosing a ash gray hair color that's highlighted with a hint of lavender on the sides.
Twisty Bun Updos for Medium Length Hair
Loaded with twists and turns at every corner, this lovely bun is given loads of dimension and layers of volume that's sweet and subtle. A great look for any high-end occasion, but works best with shorter hair as too long of hair may be overwhelming and unmanageable for this do.
Bold Braided Low Side Bun
Side buns are always effortlessly chic and glamorous, but you can quickly enhance this updo style for prom or for a wedding by tossing a bold braid on top. It adds a touch of femininity that's robust yet soft!
Crazy Braided Updo
We simply can't get enough of braids- they are easy to pull together, but they add so much feminine class and sass to hairstyles. Not only that, but they are a super quick way to add an extra dose of femininity to your look. Here we see a more 'crazy' and out-of-the-box braided updo, with braids flowing in every direction for some serious depth and personality.
Upside Down French Braid Bun
You may add a braid to the top of the crown or on the sides, but what about underneath? Don't let those locks underneath your bun go unnoticed; instead make them the star of the show by twisting in a cute French braid before pulling everything together into a topknot.
Braided Twisted Low Side Bun
The key here is contrast; and this look has plenty. A Dutch braid on one side is swept down to intertwine with a very flashy and uniquely twisted low side bun. There's loads of volume in this style, and it can quickly be dressed up or down for all your events.
Wavy Low Bun for Medium or Short Hair
The quickest way to add some lovely volume to your locks is to simply wave them up! Waves don't take very long to add to your locks, and the result is very gratifying. Tie your waves back into a sexy low bun, a run a few strands above the bun to add an extra element of feminine appeal.
Accenting Mini Braid Messy Bun Updos
You gotta love messy buns- they are the go-to on school mornings when you're short on time, but they can also be glammed up to take to the prom. This messy bun is styled with an accenting side braid, miniature sized to achieve that peek of cuteness.
Braided and Twisted Updo
If you're tired of the 'same old same old' even when it comes to elegant hairstyles, then you should try out this unique number. One side is boasting a loosely braided French plait, while the other side is looped to perfection. With a few accenting pink roses, it's the ideal style for a wedding- especially if you're the flower girl or another member of the wedding.
Mermaid Curly Bun
Buns are always a great option for days when you're rushing, but they can also be the ideal candidate when it comes to uber-elegant occasions. You can take your bun from boring to BEAUTIFUL by simply curling before you tie up those locks. Even when you have some mystically hued locks with a mermaid effect, you can still achieve the epitome of grace with a hairstyle such as this.
Chic Hair Roll
The best part about this hair roll is it resembles a chignon, but with a chic and messy twist. A hair roll is a super-easy and super-stylish hairstyle that can be dressed up or down with ease.
Fishtail Wrap-Around Braid Updos
Normally we would see a fishtail braid accenting another updo, but in this particular style it's the main event. If you have shorter locks and still want to engage in a sensuous hairstyle that has a bit of a romantic renaissance appeal, try this lovely fishtail wrap-around braid. If you have some cute bangs, even better!
Braided Low Bun with Headpiece
There's something so classic about this style, as if it came right out of an 18th century wedding. A beautiful halo braid around the back of the crown is folded into a gorgeous low bun that's intertwined with a multitude of feminine plaits. With a headpiece to tie the look together, this is certainly a sultry look that should be reserved for your most refined yet low key events.
Romantic Soft Halo Braid: Low, Updos
A halo braid is notoriously feminine, with a soft effect that's downright beauteous. To add even more delicate appeal to this Updo style, leave a few strands loose and curl them into glorious ringlets.
Voluminous Topknot: Easy, Everyday Updo Hairstyle for Summer
Forget your boring mundane topknot; add some spice and flavor to your look by heavily teasing and volumizing your mane before twisting it up into a ravishing topknot. The height here is unbelievable, while still maintaining its elegance.
Horizontal Twisted Updo: Easy, Bun Updos for Women
Twists are typically found straight-and-narrow, normally found on the bottom of the crown. But you can shake things up a bit and stand out from the crowd by wrapping your locks into a unique and highly sophisticated horizontal twist such as this.
Braided Messy Bun
In love with this style; why? Because it's so chic, so cute, and ridiculously trendy. This style has 'beach babe' written all over it, and is the perfect choice for days spent by the pool. However, it can also quickly go with your finest apparel for a wedding or other fancy night. Braids galore- even with a side braid leading back to this messy, textured bun. Loving this!
Pin Up Side French Braid
So charming on a young gal, but women of all ages can certainly pull off this look! This lovely little number rolls all her strands up into one fabulous side French braid, a very polished finish that's undeniably striking.
Fishtail Braided Mohawk Bun
Buns can be oh-so-boring, right? Forget about the same old style, and switch things up in a flash with this unique and super trendy fishtail braided Mohawk bun! Seriously ladies- it takes like, 5 minutes to make this fishtail braid, and the results are flawless. Add some dimension to your locks!
French Halo Braid to Chignon
Chignons are typically reserved for special events, but by simply adding in a halo braid to this style, it's casual and effortless enough for school days. Such a fabulous and ultimately delicate style that will look lovely on women of all ages.