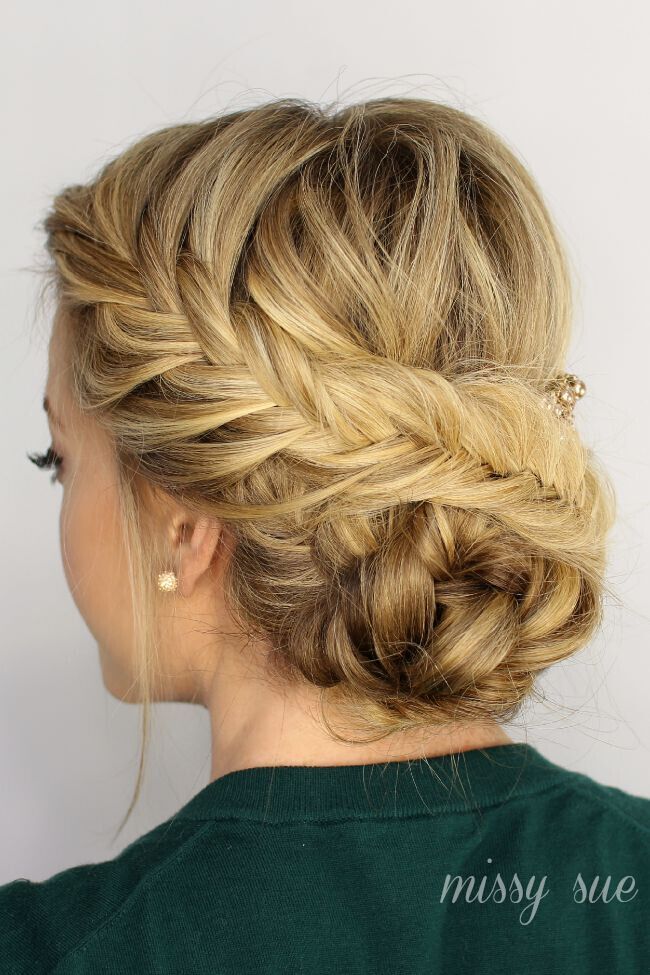 20 Exciting New Intricate Braid Updo Hairstyles
Think you've seen all the intricate braid updo hairstyles already? No way! These are the new season's intricate braid updo hairstyles – freshly invented by fabulously creative young hair stylists!
The braid fashion has proved its popularity over and over again and the continued demand for plaited styles is owed to the imaginative hair designers who keep on surprising us with fresh, 21st century braided styles!
Ultra-modern twists
The traditional braiding techniques have been built on by talented hair fashion designers to include the very latest hair styling trends and colouring techniques. And the results are intricate braid updo hairstyles that you've never seen before, full of original and ultra-modern twists.
Textured French Twist Hairstyles: Cute Braid Updo for short hair /Via
Time to change
So if you're always looking for new and different ways to style your hair, you must see these fabulous new ideas. Forget the simple topknot, the elegant low bun that's been done to death and the fluffy asymmetric bun, and start wearing these new, sophisticated or casual braid updo hairstyles that are totally stunning!
Get noticed
There's no better way to get noticed than to wear a flattering and super-trendy new hair design. And although these styles are more intricate than a dull bun, they are quite easy to learn and well worth the effort for those who dress their hair to impress.
Eye-catching colour patterns
We're accustomed to seeing the lovely, wood-grain effect of the fine, blonde highlights in mousy hair, but with the upsurge in trendier highlighting styles like balayage, ombré and subtle sombré, braids have taken on a more eye-catching look.
Urban-chic highlighting
For example, brown or black hair with glimmering copper balayage colour accents looks fantastic in a braid updo hairstyle! And the edgy,urban chic trend for black hair with bold, platinum-blonde streaks transforms the traditional image of the neat or messybraided updo into a dramaticnew 'street' look!
Summer Hairstyle Ideas for Long Hair /Via
Intricate braid updo hairstyles for parties
And for a fun party look, try an intricate braid updo hairstyle with temporary, cute highlights like pink, purple, red or blue to create something wholly original and trendy. You can colour even dark hair with Hair Chalk and when the pink or purple strands are braided, the colour and texture patterning looks amazing!
Messy Braided Bun Updos: Cute Prom Wedding Hairstyle /Via
Formal braid updo hairstyles
And for brides, wedding guests and other formal gatherings wear one of these smooth or tousled braid updo hairstyles, for comfort, originality, staying power and effortless style!
Super Easy and Cute, Fishtail Braided Updo /Via
Choose your favorite looks from the intricate braid updo hairstyles shown below – and keep your image totally up-to-the-minute!
Loose Dutch Braids Messy Bun Updos /Via
Easy Braided Hairstyles for Wedding or Prom /Via
Easy Gorgeous Updo Hairstyle Tutorial, Perfect for the Holiday Season /Via
Easy Twisty Bun: Summer Hairstyle Ideas for Long Hair /Via
Pretty Simple Updos: Braided Chignon Hairstyle Tutorial /Via
Cool Updo Ideas for Women with Shoulder Length Hair /Via
Low Dutch Twisted Braid Updo: Easy Loose Updos Tutorial /Via
Braided Slightly Messy Updos: Updo hairstyle for wedding formal dance date night /Via
Cute Updo /Via
French Side Braid Updo: Chic Everyday Hairstyles /Via
Updo Hair Styles for Long Hair: Prom, Wedding Hairstyle Ideas /Via
Loose, Side Braid Updo Hairstyle: Everyday Hair Styles for Women /Via
Video Tutorial for An Easy Fishtail Braid Updo Hair Style: Super Easy to Follow Tutorial /Via
Flawless Travel Hairstyles: High Bun Updo /Via
Flower Bun Updo Tutorial: Cute, fast, and easy hairdo! /Via