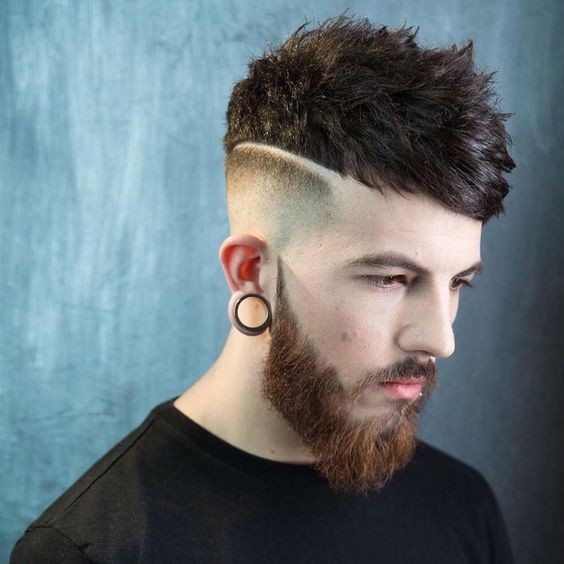 10 Trendiest Male Haircuts of the Year
Switching up your style, as a man, can be a rather tough decision. Should you keep your hair longer to let your waves shine through, or should you rock a shorter style? And what about those trendy fades? Buzz it, or keep it a little longer? To help you choose your next trendy haircut, you've gotta check out these trendiest male haircuts of the year. There's something for everyone on this list, whether you want casual and relaxed or sexy and precise.
Lengthy Waves and Side Fade: Curly Hairstyles for Men
Leaving a little extra length on top means you can show off those sexy, heart-stopping waves with ease. Throw on some styling gel and tousle them up a bit for some extra sex appeal, keeping the sides buzzed short to enhance the upper body. Toss in a subtle, slick design to your Fade for some rugged attitude.
Tousled Top with Shave Fade: Stylish Men Haircut
For the man who likes a bit more of a rugged, relaxed style, you're sure to appreciate this. The extra hair on top is lightly tousled for that intriguing bedhesd look, the sides buzzed down to a full shave for some manly styling. This looks pairs phenomenally well with rugged facial hair.
Slicked Back with Shaved Sides:  Men Short Haircut
It doesn't get more polished, refined, or downright sexy than this. For the man craving a style that's ooozing with fashion sense and high-style, this is the look. Leave some length on top and use some styling gel to pull it back in a very precise manner. Don't leave any strands loose to complete your structured, well put together hairstyle.
Platinum Toss Back with Shaved SIDes
Create some "wow" factor in your look by dousing your strands in an icy white platinum hue that contrasts your tantalizing dark brown facial hair. Leave plenty of length on top and toss it back with some styling gel, tousling it up generously for a seductive yet cool and calm finish.
Everyday Fade: Chic Short Hair Styles
Some guys just like to sit back relax and enjoy the day. If you're a Guy with a cool personality and want something casual but still trendy, then leave just enough length on top to tousle up and leave your Fade from buzz to Shave in a relaxed, everyday format. Lookin good!
Medium Length Waves
Create a style that's flowing with depth and high-class personality with this sophisticated 'do. Not overdone but not too casual, it's the ideal hairstyle for the man who likes to take it easy but can work hard when he needs to. Such a handsome look.
Natural Curl with Designed, Strict Fade: Curly Short Hairstyle for Men
With awesome natural curls like these, it would be a shame to hide them. Put them on display by leaving some extra length on top, and for a precise look that's fresh and clean, shave down the sides into a sexy fade.
Highlighted, Tousled Length with Side Fade: Cool Men Haircuts for Short Hair
Plain dark brown hair can be a bit mundane; if you want to stand out and add striking contrast, toss in some light blonde highlights into your mane. To create a very exotic and unique look, tousle up the top but add a distinct fade to the sides. A shaved down strike down the side adds some personality to this enticing style.
Short Sides, Lengthy Top: Men Haircut Ideas for Summer
The best thing about leaving extra length on top is you can style it to suit your occasion. Slick it back to wear with your business suit, or tousle it up heavily for a beach-ready look in seconds.
Short Messy Top with Fade
Don't like too much length and don't like bothering with styling? This look is for you. Keep it shorter on top and toss it forward, tousling it gently for an everyday look that's trendy but appealing. Don't forget the ever-popular fade on both sides.