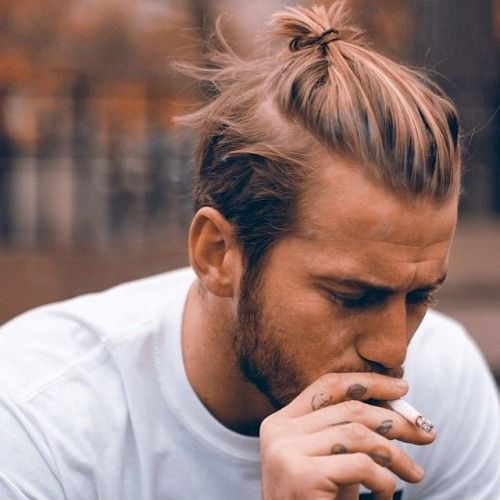 36 Best Haircuts for Men: Top Trends from Milan, USA & UK
At the recent Milano ModaUomo show, they declared they were styling men to look boyish and boys to look 'manly'! The hair trends were dynamic and versatile – an important point these days when you may need to look professionally groomed at work, but prefer a high-fashion look for your leisure-time.
Sophisticated and sporty, the best haircuts for men also project an image of casual elegance which many believe will be a major trend in men's hairstyles during this year!
Styled Faux Hawk with Fade – Shaved Hair Styles
This side fade is rockin': shaved down to the crown on the bottom with a little extra hair above. On the top you will find plenty of length for light styling. The subtle texturing of this faux hawk ensures an everyday, casual feel that's made ultimately sexy and handsome with a thick beard.
Messy Layered Hair Styles for Men
Calling all skater boys! Here's a look you will love: it's super quick and casual, great for the guy who loves to chill on his skateboard or hit the waves. His natural blonde locks are perfect for summertime, combined with the ease of styling in this messy faux hawk for a cool everyday look.
Flipped Hairstyle for Men Short Hair – Fine Hair Cuts
Shave off the sides and leave extra length on top. Flip it, twist, and turn it for tons of body that's very appealing to the eye.
Stick Straight Height Faux Hawk with Fade
His fade is sharp and clean, but what really makes this hairstyle incredibly polished is that heightened faux hawk up top. It's slicked perfectly straight up, a great style for rounder faces who wish to elongate their appearance.
Spiky Short Hair Style
Spikes are HOT, right? You can't go wrong with a super spiky faux hawk, s style it up and let it rock.
Short Curly Hairstyle for Men
Curls don't have to be left out of the faux hawk scene; in fact, they create a really interesting and unique texture that won't be found on everyone. Loaded with body and sexy texture, leave your natural curls to be the star of the show with an awesome faux hawk such as this.
Simple Short Faux Hawk
Short spiky hair like this looks awesome in a faux hawk design! Simply keep a little extra length on top and spike it all over for a casual, cool style.
Slicked Faux Hawk with Designed Fade
Slick and rugged- this hairstyle is undoubtedly the best of both worlds. For this sexy 'do, you'll want to leave some extra length on top and slick to the side with some heavy product. The sides won't need any extra care thanks to the awesome designed fade.
Cool Summer Haircut for Men
Best haircuts for men – The 1960's Side Parting
As women's hairstyles will be featuring lots of cool retro-1960's looks, it's no surprise that the 1960's side-parting is a major trend in the best haircuts for men.
And if you're still not convinced, take a look at other fashion trends right now. The latest trendy spectacle frames are totally 1960's in style, so that's another strong pointer to the best haircuts.
Curly Long Hair Styles with Beard
For men with contemporary style, the side parting confers a modern look. It can be gelled for a classic, glossy finish, or worn matte adding a touch of grunge to this totally cool retro vibe!
Best haircutsfor men – beards?
Along with the best haircuts for men, the question of facial hair is another hot topic! Hair fashion pundits say the beard, in whatever style you choose, is definitely going to be an essential part of the best haircuts for men.
So it seems that the stubbly-chin look, which has never been out of fashion, is moving up to a more important role as a manly full beard or a fine moustache for 2017!
Beard Styles with Short Hair
Jared Leto's long hair look
In popular demand as one of the best haircuts, is the Jared Leto long-haired look. It's a rebelliousstyle with the hair worn down to shoulder-length with a centre-parting. Remember that the centre-parting only suits men with oval-shaped faces, as it can look awful on the wrong face shape.
The Jared Leto look only works on thick, clean, healthy hair, so if your hair is receding or thinning avoid this haircut. Consult your stylist for advice about this cut and how to keep it in good shape.
Tousled curl boyish look
If the 60's side-parting and a full beard is going to make boys look like men, then how can men look more boyish? Simple, choose a casual medium-length cut and tousle-up your curls into an adorable messy schoolboy look, complete with a straight across fringe at the front!
Tousled Curl Boyish Look
It's another of the best haircuts for men coming to a hair-salon near you soon!
Now take a look at our Pophaircuts.com gallery of the full range of best haircuts, for men who like to stay stylish!
Best Haircuts for Men