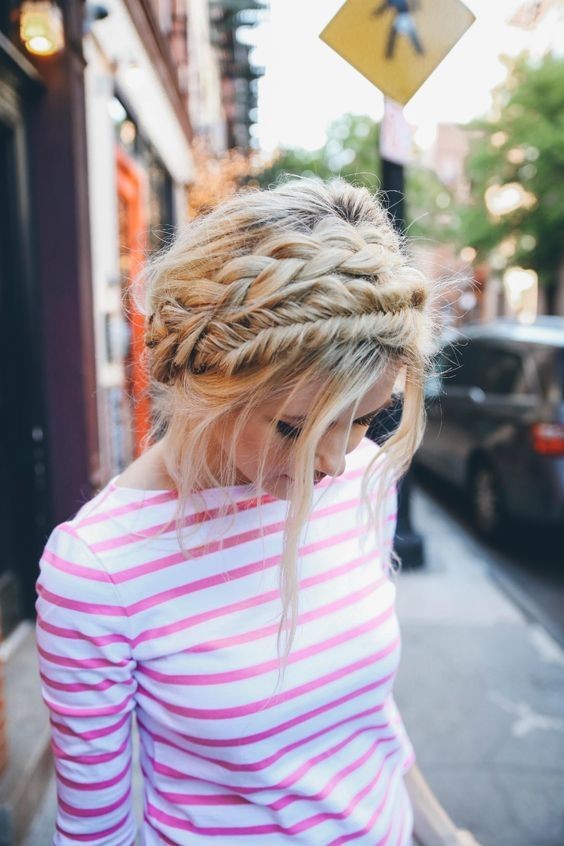 18 Cute And Comfortable Milkmaid Braid Designs
Women are lovers of braids. Why? Because they are the epitome of daintiness, a feminine look that adds gorgeous volume and dimension to locks. One of the most favored braids among women is undoubtedly the milkmaid braid, and these lovely designs will have you running to style!
Accenting Flower
Milkmaid braids are super cute and feminine, but one way to add an extra dose of cutesy attitude is to simply throw in some accenting flowers. Her light, delicate white flowers are the perfect way to complete her lovely milkmaid braid hairstyle design.
Fishtail Milkmaid Design
A fishtail and milkmaid braid combination is a stunning, glamorous hairstyle that can both accompany you to work as well as prom. Just look at this beautiful look!
Crowd Milkmaid Braid
With a bit of a 'cowgirl' feel, this milkmaid braid wraps around the crown near the face for a very cute look! Almost resembling a headband, it's a unique way to style your hair. Leave a few strands loose around the face to soften your style. Looks awesome with flannels and deep red lips.
Combo Braided Milkmaid
This divine style combines a unique assortment of braids, from miniature traditional three-strands braids to lovely chunky fishtail pieces. The combo is full of dimension and creates a funky, vibrant style that's trendy and cute.
Super Chunky Milkmaid
Adding VOLUME to your locks is ALWAYS an excellent idea! Make your milkmaid braid stand out by making it super chunky and voluminous, and toss it on top of your head for an outstanding updo you can wear just about anywhere.
Simple Wraparound Milkmaid
Her chunky milkmaid braid wraps around her head for a 'halo' inspired look that's angelic and delicate. She leaves a bit of hair loose by her face, curling it gently to add to the dainty appeal of this angel style.
Twisted Milkmaid Braid
Forget traditional braids and consider a twisted braid instead! Wrapped around the crown, it adds a touch of quirkiness to her style. We love how she leaves her bangs hanging out, tossed to the side and skimming over her left eye beautifully for a touch of extra trend and style.
Mid Milkmaid Braid
How lovely is this look! She has placed her milkmaid braids in the top middle part of her crown, creating a stunning look that really looks like a CROWN. Her high class style leaves some hair loose towards the front of her face to soften her look a bit.
Twists and Traditional Milkmaid Braid
Combining a combination of differently styled braids is an awesome way to add texture and dimension to your locks. Her uniquely styled milkmaid braid features a traditional three-strand number as well as a fishtail and twisted braid for one exotic finish.
Wavy Milkmaid
About as dainty as it could possibly get, her lovely hairstyle starts with slightly waved locks for a beauteous style with flirty bounce. She tosses her waves into a gorgeous middle milkmaid, leaving strands loose around her face for a soft and delicate appearance. Works well with softer makeup shades.
Traditional and Fishtail
This look is downright superb, combining two of our favorite braid styles! She has a chunky traditional braid down the middle with an accenting fishtail near the front of her face. She also leaves some loose locks with a touch of girl for one incredibly feminine style.
Side Milkmaid Updo
An updo can go from 0 to 10 in an instant with a gorgeous milkmaid braid! Her side braid leads back to an elegant updo, which looks beautiful with a pair of dangling, dazzling earrings and deep purple lips.
Two-in-One Milkmaid
This look is super casual and looks great on any women! Forget sticking with just one braid style when you can combine two! She starts with a super chunky traditional braid, leading down to a fishtail side braid. The end result? A chic look with plenty of sassy attitude!
Traditional Milkmaid
A rather traditional style, this look is ANYTHING but subtle! A hairstyle fit for a queen, she simply tosses her mane up into a delightful bulky milkmaid braid, leaving just a few strands u front to soften her appearance. Looks amazing with a dark pout and simple eye makeup!
Lower Milkmaid Braid
Instead of leaving your hair stick straight for the day, consider throwing your locks up into a lower milkmaid braid for a divine, feminine style that can be thrown together in a matter of minutes.
Wrap Around Milkmaid
An awesome take on a classic updo hairstyle, this trendy and delicate look features a wrap around milkmaid braid that adds both femininity and volume to her mane.
Milkmaid Half Updo
If you're a fan of half updos, you're going to instantly fall in love with this style! Instead of using a clip or a ponytail, use parts of your locks to create a milkmaid braid that separates the top half of your mane to the lower half. Such a stunning style!
Accenting Rope
Add a dash of color to your adorable milkmaid braid by simply intermingling a rope to your locks! Choose any color and enjoy!
In love with milkmaid braids yet? Pophaircuts.com which one is your favorite?