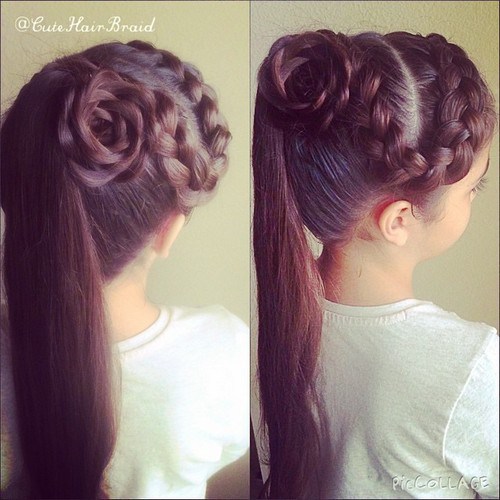 20 Adorable Braided Hairstyles for Girls
Nothing says 'dainty' quite like braids. They're beautiful and add such a gorgeous look to hair, whether you opt for something simple like a typical three strand braid or spice it up with a trendy fishtail. There's so many unique and lovely styles to choose from, and while we're in love with hundreds of stunning styles, we've come up with a list of  20 wonderful braided hairstyles for girls you have to see.
Four Strand Bow Braid
What are two things every girl adores? Braids, of course; and BOWS! This hairstyle combines the two things girls love the most, creating a charming and cute style that looks a LOT tougher than it is. Pick her favorite bow color and go to town creating this fascinating four strand braid with bow intertwined.
Waterfall Braid with Curled Ponytails
Tons of texture, and such a cute design for a young girl! Those darling little ponytails are lined up and curled for some added cute texture, while the waterfall braid works as an adorable headband.
Lace Braided Bun
Fancy occasion coming up? Perhaps your little girl is going to shine as flower girl at your sister's wedding? Then consider this charming and intricate updo. The bouncy center is given a hint of glamorous texture with side braids, pulling the look together with a flawless 'lace' appearance.
Dual Texture Braid
Why settle for just ONE braid, when you can combine two styles for a really exotic and interesting 'do? Her lovely ponytail is dazzled up with a voluminous braid and a smaller, simpler braid in the middle. So amazing.
Knotted Side Braid
Every little girl loves a braid in their hair, but they probably haven't seen a braid like this one! This knotted side braid may take a little bit of effort to create, but the flawless results are worth the wait. She's going to LOVE this one!
Four Strand Ribbon Dual Texture Braid
There's so much going on in this glamorous and dainty hairstyle, and we couldn't be any more pleased. The top is tight, leading down to a voluminous four strand braid with ribbon intertwined. A cute little flower separates the textures and adds some seriously adorable appeal.
Flower Braid
A charming little flower, braided right into a ponytail; can you think of anything girlier than that? It's such a cute hairstyle, your girl will want to wear it every day!
 Side Braid with Ponytails
This is a rather unique hairstyle, with a funky arrangement of ponytails tight t the head with cute colored hair bands of blue and pink. The side braid adds a bit of beautiful texture that complements the ponytail updo perfectly. An excellent choice for girls with extra long locks.
Lace Rolled Updo
Fascinating. Simply fascinating. And, of course, stunning. Two words we would certainly describe about this gorgeous lacy number. The lace rolled updo is quite a sight, with a vintage flair we can't ignore.
Corn Row Braided Updo
You can't go wrong with a braided updo, and this corn row braided updo is exactly what your daughter's looking for! A stunning design of corn rows lead up to a cute ponytail nearing the top of the head, with some kinky curls for some extra pretty volume.
Double Diagonal Braided Updo
This trendy and fresh updo features a set of two beautifully crafted french braids in a diagonal pattern that's funky yet adorable at the same time. It leads to a super-girly side ponytail, dolled up with an extra large pink bow.
Ladder Braid Updo
A ladder braid? Have you ever HEARD of this sensational braid? It's a rather unique style you don't see often, but when you do, it certainly catches your attention! It takes quite a bit of practice, but it's worth the time and commitment for such an awesome look.
Side French Braid  Updo
This is a simple, yet REALLY cute hairstyle that's perfect for students rushing in the morning! A simple chunky side french braid leads back to a mid-height ponytail, wrapping itself around the hairband for a really polished finished.
Side French Braid with Bands Updo
This adorable side french braid is given some beautiful hints of color with intertwining pink bands, leading back to a mid-height ponytail that's cute and bouncy.
Double Braids
Why settle for a headband, when you can create a stunning headband using your own hair? These double braids are simply stunning and every little girl will be dying to copy it.
Wrap Around Flower Braid
Unmistakably charming, this gorgeous little number features a wrap around braid which leads to a delightful little flower, the perfect accent to this subtly curled mid-height ponytail.
French Braid Turned Ballerina Bun
Take your trendy ballerina bun to the next level by adding in a french braid underneath! So many lovely textures hiding in this updo, and we love the accenting small white bow for a little extra girly flare.
French Braid Heart Bun
Every little girl loves a heart, so why not use two braids to form an adorable heart shape? This gorgeous updo is made up of some chunky braids for a full, spectacular finish that's given some girly attitude with a big pink bow.
Dutch Side Braid
Thick, voluminous, and downright elegant, this dutch side braid has it all. A great choice for girls who are hurrying out of the house in the morning and want a magnificent hairstyle at school!
After seeing Pophaircuts.com all these lavish styles, we're even MORE in love with braids; and your girl is going to LOVE these dazzling looks!