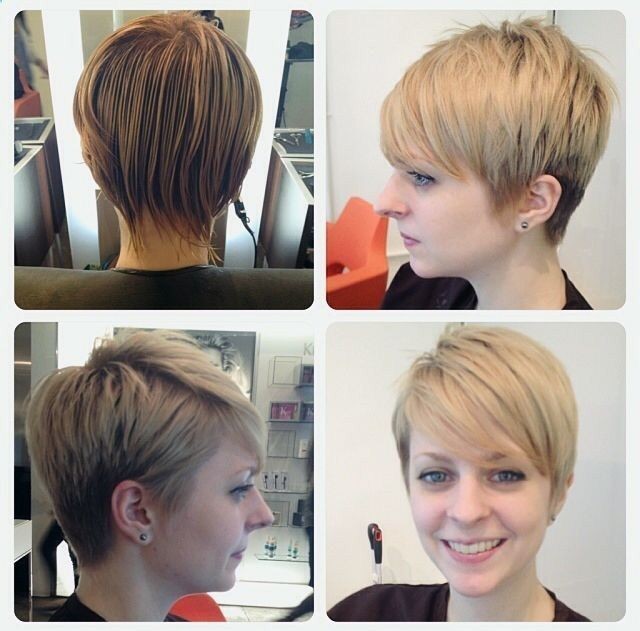 10 Short Blonde Hair Ideas: Best Short Haircuts
Many a celebrity agree that a blonde hair has more fun. fashion magazines and entertainment shows have proved up a lot of superstars who choose blonde hairstyle. In fact, nearly every woman has the irresistible wish in her life to dye her hair blonde which looks fashionable and luscious. There are a great number of shades of blond from which every woman, regardless of natural hair color, can find the most suitable one. When choosing the shades, it is advisable to take full considerations of your skin tone. Usually a warmer color can help lift your overall look.
Here we will recommend some popular blonde short hairstyle. You can check them and find the most suitable one according to your skin tone. Besides, you can make full use your inspissation and hairstylist's suggestion when choosing and doing the highlight and shades.
Short Blonde Hair Ideas /Via
The bright blonde short hair and red highlights totally complement the skin tone. The richhair color frame the face in the most gorgeous way.The perfect multi-coloring highlights and low lights make the whole hairstyle wonderful and exciting.
Sandy Short Blonde Hairstyle for Women /Via
This sandy blonde short hairstyle enhances the face structure in a flattering way. The side part exposes the forehead. It is suitable for nearly all skin tones. The warm hair tone is quite versatile to match the dress and make-up.
Blonde Curly Hairstyle /Via
The short blonde curly hairstyle looks super trendy and impressive. It works better on thin hair. Some hairspray can help maintain the curls soft and bouncy all day.
Straight Bob Haircuts for Braid Bangs /Via
The short hairstyle is featured by lighter blonde on the surface and the layers underneath darker. Besides, the front small braid also add much cuteness. The teased up top make the whole hairstyle bouncy and full of vigor.
Light Blonde Pixie Haircuts with Side Long Bangs /Via
This short hairstyle looks quite cool and luscious thanks to the angelic, blonde shade. this fairy-inspired hairstyle can suit many skin tones. It is mostly one color and has tons of sheen.
Easy Bob Haircut /Via
The short bob is featured with layers in back. The pale blonde hair looks great against fair skin.there's something about the sunny shade which is superbly magical.
Blonde Bob with Black Underneath Hair: Short Hair Ideas /Via
The highlighted, sandy blonde smooth shot hair is quite popular and awesome. It is suitable for formal and informal events.
Short Haircuts Trends: Pixie Hairstyle /Via
While it doesn't have many highlights, it feels modern because the ends are slightly lighter than the roots. The pixie hairstyle appears cool and admiring.
Short Cropped Hairstyles for Fine Hair /Via
This blonde super hairstyle looks rocker chic with the platinum-colored cropped cut. The sides are trimmed just close to the scales and the middle section is left longer. This splendid hairstyle is a cool option for bad hair days.
Short Hairstyles for Thick Hair /Via
This is a splendid and wonderful hairstyle for people with oval face shape. The side swept bangs pair the blonde hair in a flattering way. The lighter tone can enhance and light many face tones.