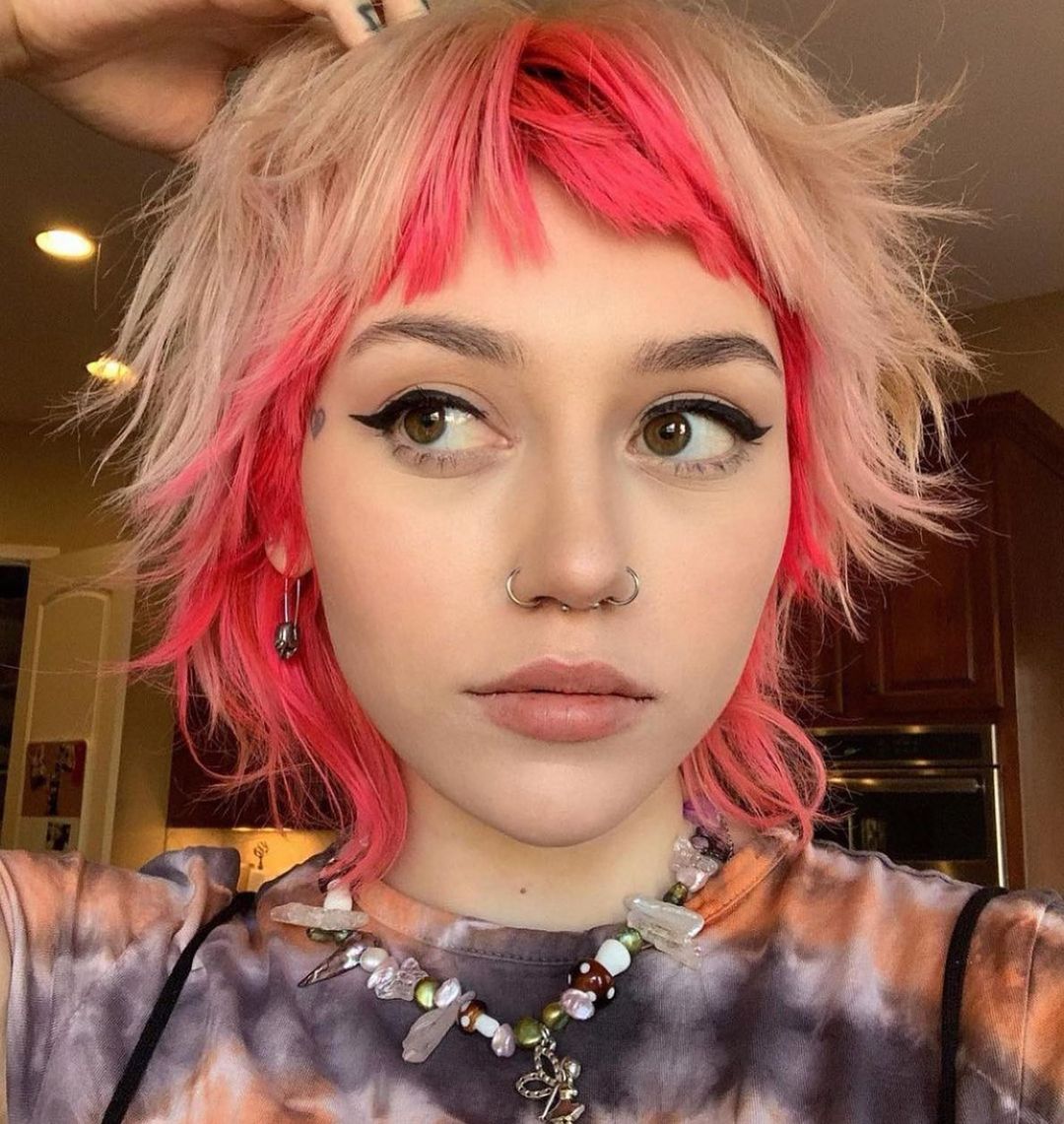 10 Stylish Short Haircuts & Short Hair Styles for Women
Ready for a change? Tidy up your hairstyle for the new season with one of these fabulous short haircuts! Short hairstyles for women are the trendsetters each season and create an ultra-stylish, new vibe to match the latest fashion clothes. So whether you need a complete makeover or just want to update last year's look, you'll find the latest short haircuts right here!
1. Updated curly brunette hairstyle – stylish short haircuts & short hair styles for women
Balance out your silhouette in wider jeans with a more voluminous hairstyle. And you can also disguise a broad forehead by ditching the side-parting and opting for a full fringe. Notice that although the lovely, curly fringe is quite thick, it's also cut in an arched shape above the bridge of the nose. This helps add length and mirrors the shape of the chin, for attractive symmetry. And with height on top to balance the volume at the sides, this symmetrical short hairstyle creates a great, casual hairstyle that matches the model's trendy outfit perfectly!
2. Beige-ash-blonde high hair with side fade – stylish short haircuts & short hair styles for women
This high-impact, blonde short hairstyle is a softer substitute color for platinum-blonde. It's a cool color, which harmonizes with the model's fair skin and icy-blue eyes. But there's a subtle touch of beige on the top, and a hint of pink, to soften the effect. And the stylist has styled the straight hair to create lots of interesting textures. Deep ridges above the forehead, and buzzed/shaved 'fade' sides, create lots of movement. And finally, the back is arranged in tousled, light waves for a boyish haircut that balances the model's well-defined chin.
3. Short spiky white pixie cut – stylish short haircuts & short hair styles for women
Wow – this blue-white blonde haircut is an eye-catching look! And a good choice for women with naturally fair – blonde, fine hair, as the bleaching process thickens fine hair and gives the illusion of more volume. So your stylist will be able to get a layered look, with heavily textured tips, which will stay in place well all day. There's just a hint of a side part on this pixie-cut, and the long, spiky fringe frames the eyes beautifully!
4. Centre-part lob with vertical dark & blonde highlights – stylish short haircuts & short hair styles for women
The colorist has given this lob-cut a very attractive look by mixing subtle, dark-brown lowlights, with more obvious, blonde highlights framing the face. Beige-blonde reflects light onto the face, which softens any little lines and creates a flattering frame. And the darker lowlights emphasize the vertical texture that the stylist has created in the sides. These colors are a good choice for women with warm or neutral undertones to their skin. And it's a highly stylish twist on an easy-care style!
5.  Chic short asymmetric blonde bob with shadow roots
Short, stack-cut bobs always look contemporary and the stylist has done a great job in this fashionable new twist. Instead of dark roots, the colorist has softened the contrast by using a grayish shade for the roots. And this will match the current trend for gray fashion clothes. It creates a shadow effect that makes the hair seem thicker, too, without being over-the-top. The top layer is a delicate shade of neutral-blonde with hints of gold and silver. And with an attractive V-shape at the nape, and lots of fabulous texture around the head – it's a great way to blend in gray!
6. Stunning coral margin highlights on messy blonde short cut for fine hair
Now we've got fashion tops in new tie-dye colors and designs, we need our hair color to match that contemporary look. This model has a cute, heart-shaped face and so the stylist has covered some of the forehead with a short, arched fringe. The fringe's shape echoes the nicely-shaped chin and helps add symmetry to the face. And to harmonize with the tee-shirt, the colorist has blended hot-pink and orange for margin highlighting that colors the ends all around the head! The layers and messy finish are great for adding volume to fine hair, and giving a super, 'scene' look for individualists!
7. Short pixie haircut on cool blonde straight hair
For a chic, no-nonsense look that virtually styles itself, try this ultra-short pixie-cut. It focusses all the attention on your facial features, especially your eyes, lips and complexion. And that can be a very attractive look! The colorist has expertly combined beige and gray tones for a lovely, neutral-blonde shade. The style is suitable for fine hair, and the short, asymmetrical fringe softens the forehead, showing off well-groomed brows. The hair is lightly layered and combed into a smooth, minimalist style with barely-there, side-points. Trendy silver earrings finish off this youthful, natural-blonde style!
8. Brunette short pixie cut with edgy glamor
Easy-style hair that always look edgy and glamorous is something lots of us dream about! And if you have fine to medium hair, this is a great new season style-choice. The full fringe combed forwards from the crown creates volume and movement that leads the eye down to admire your eyes. And the fringe has an edgy disconnected layer in front of the short, sharp side-points. The style has plenty of trendy texture on top and the clean, strong lines allow you to wear high-fashion, statement earrings!
9. Curly topped brunette pixie with straight sections
Loose feminine curls make a lovely creative contrast with straight, boyish sides and nape, in this fashionable short haircut. And that's the essence of current fashion trends – clever contrasts that add interest and work well together! This style is suitable for curly hair, or you can get a loose perm to create these loose pin-curls, without adding frizz. The height and volume on the top, contrast with the closely cropped sides and back, creating a lovely profile silhouette. And the curls add lots of fabulous texture and movement on a flattering pixie cut with bangs, for all ages.
10. Neon-orange lob plus ultra-violet roots & white blonde surface
Here's the work of a highly talented and experienced colorist, created for a show-stopping, short hairstyle! This is the style to choose for a special event where you want to be the centre of attention. The inverted lob haircut is minimalist, which is a strong trend this year, but the color embellishment is definitely 'alternative scene' in its fashion tribe. And the futuristic mix of neon orange, with white blonde vertical surface highlights is intentionally artificial in its vibe. The touch of lavender at the roots is a very cute look and of course, you would look perfect wearing this hair color idea with a simple LBD!