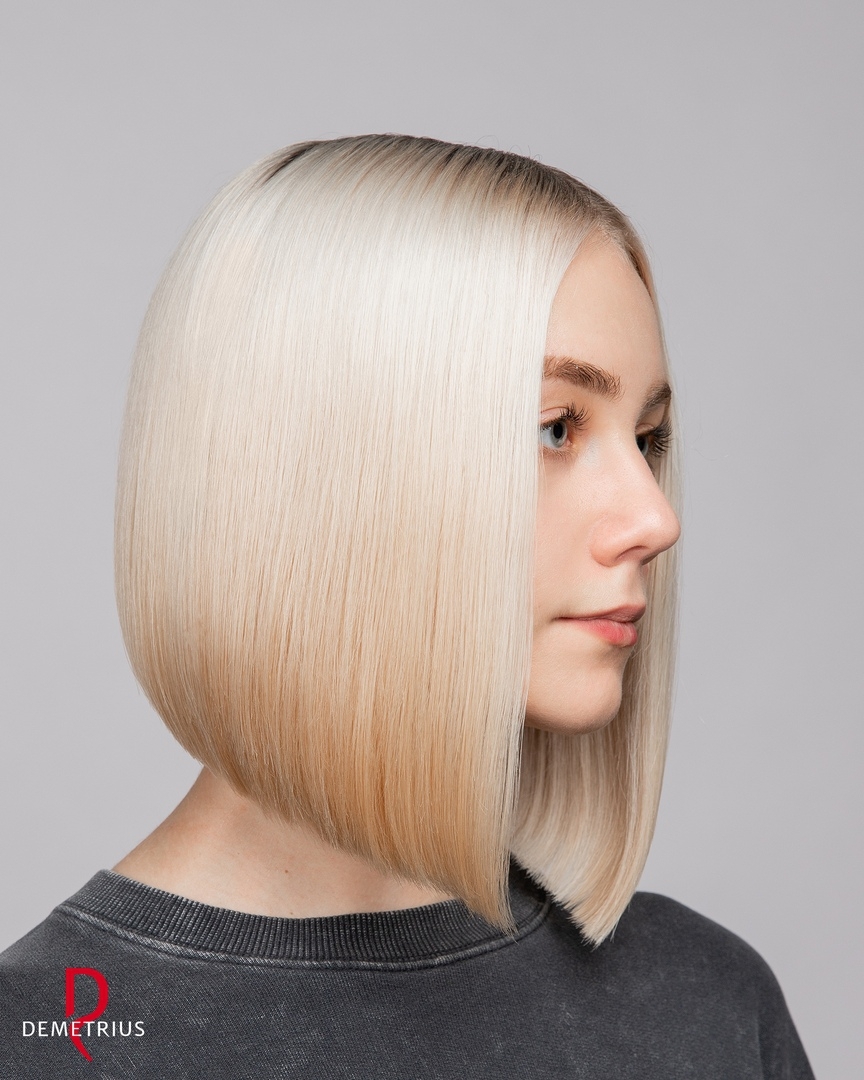 10 Lob Hairstyles & Haircuts with Radical Color Designs
Today's fabulous hair fashion gallery for lob hairstyles & haircuts introduces some exciting new color patterns for this season. Straight lob haircuts are always livened up with special hair color designs, but the new ideas really have never been seen before. Fabulous contrasting color borders around the face and along the bottom edge are totally fresh. And I think you're going to love the new patterns and color-combos just as much as we do – for their attractive, trend-setting originality!
1. Inverted lob hairstyles and haircuts in medium-blonde
Medium and fine hair types may not be suitable for wearing long, but they look great in a steep inverted bob. This version of the popular lob is a soft, medium golden-blonde shade with gorgeous lighter blonde balayage. And it has an attractive twist in the waves which continue into the tips, making the look gentle and feminine. And defined waves, with balayage, are an excellent way to add volume, texture and movement!
2. Gray-blonde with turquoise & purple balayage on high-fashion lob hairstyles and haircuts
Here's a super, easy-care lob hairstyle that just brushes the shoulders. The hair is all one length, with blunt ends, which have been heavily textured for a shattered effect. And this is a good haircut for medium to fine hair, as it keeps the natural thickness of the hair, with just a little bit of shaping at the lightly flipped-out tips. The hair color design is fabulously high-fashion, in eye-catching pale gray- and beige-blonde, decorated with gorgeous turquoise and purple balayage.
3. Shoulder-length lavender-pink & white-blonde lob hairstyles and haircuts
Green eyes are beautifully accentuated when you match them with a pale-gray and pink blonde hair design. The look is romantic and feminine, with a center-part that always flatters a perfectly oval face shape. This long bob hairstyle has a new twist in the flipped out side-strands and the carefully tapered tips, which open up the lower part of the face to highlight the lips and a well-shaped chin. This is a great length for medium to fine hair, and with a little teasing at the crown and back, you can add attractive volume!
4. Black & gray – lob hairstyles and haircuts
This low maintenance long bob hairstyle is perfect for straight hair that's fine to medium in texture. The style keeps all of your natural volume, and the stylist just adds concave shaping at the ends to ensure your hair falls nicely into place after washing. This look relies on healthy, shiny hair with plenty of natural swing, so it doesn't suit coarse hair. And the main color feature is the 3-D vertical highlights in shades of light gray that add lots of interest and trendy style to a simple haircut!
5. Cute shaggy lavender long bob haircut for fine hair
Not only is this an adorable look, it's also incredibly chic! And it's unusual because you can usually only get a shaggy layered look on thick hair. However, this stylist has invented a fabulously shaggy lob hairstyle, by varying the lengths of the bottom edges and cutting tapered tips for a shattered line. And with an eye-lash length fringe, that has defined strands, you get a softly face-framing, lavender-blonde look that's youthful and charming!
6. Radical yellow & orange balayage on oat-blonde inverted medium hairstyle
This trend-setting, new season hair-color pattern is the latest in eye-catching hair color designs. Yellow and orange are both the fashion designer's favorite right now. And so you'll find it easy to match your fabulously fresh hairstyle with your fashion clothes. This slightly waved steep, inverted lob haircut has a base of neutral, oat-blonde with innovative yellow and orange highlights on the face-framing strands. And the blonde transitions gently to bright orange at the blunt, but textured tips!
7. Fabulous burnt-orange & coral-blonde bob
And here again we can see a new hair-color pattern emerging for the new season. The sides are colored in a triangular shape, that starts off a couple of inches wide and then tapers down to the tips. And the roots are also burnt-orange, which gives glorious depth when pearly, coral is added on top. And the edgy haircut has a futuristic, choppy look to set off the ultra-modern color scheme. Finally, a touch of retro crimped wave completes a gorgeous, high fashion lob hairstyle!
8. Straight white-blonde medium hairstyle with inky-black dip-dye tips
The dip-dye is back, but looking more rad and edgy on these shorter, edgier lob haircuts. This is not the cutesy pink tips teenagers added to their long hair, but an altogether more sophisticated look with strong colors and contrasts. And white-blonde works beautifully with this inky, blue-black ombré effect decorating the last couple of inches of an A-line bob. So instead of white-blonde with black roots, you need to switch to white blonde with a black 'hem' to be up with the latest fashion trend!
9. Precise straight medium hairstyle in ivory-blonde with mid-gold-blonde ends
This is a lovely natural-looking blonde lob hairstyle, with a slight gradient from back to front. The roots are slightly darker, giving a fashionable shadow-root effect. And the last couple of inches are tinted a warm, golden-blonde shade that emphasises the lovely inward curve below the chin. This an expertly executed, subtle ombré with the pearly, white-blonde reflecting lots of light for a healthy, shine finish. And then changing very gradually to gold tones below!
10. Face-framing white-blonde sides and ends on light taupe straight medium hairstyle
This completely new color combination works fantastically well and creates such a trendy look! I always loved 1960's vintage, plain-colored dresses with a contrasting hem and line up the front. And obviously so do some of the current hair colorists, because they have been inspired by that same idea! This simple, straight style has a center-part suitable for oval faces, but it's a versatile lob haircut can be adjusted to suit different face shapes. The unexpected pairing of cool white with soft, taupe creates a very attractive and stylish, new look!