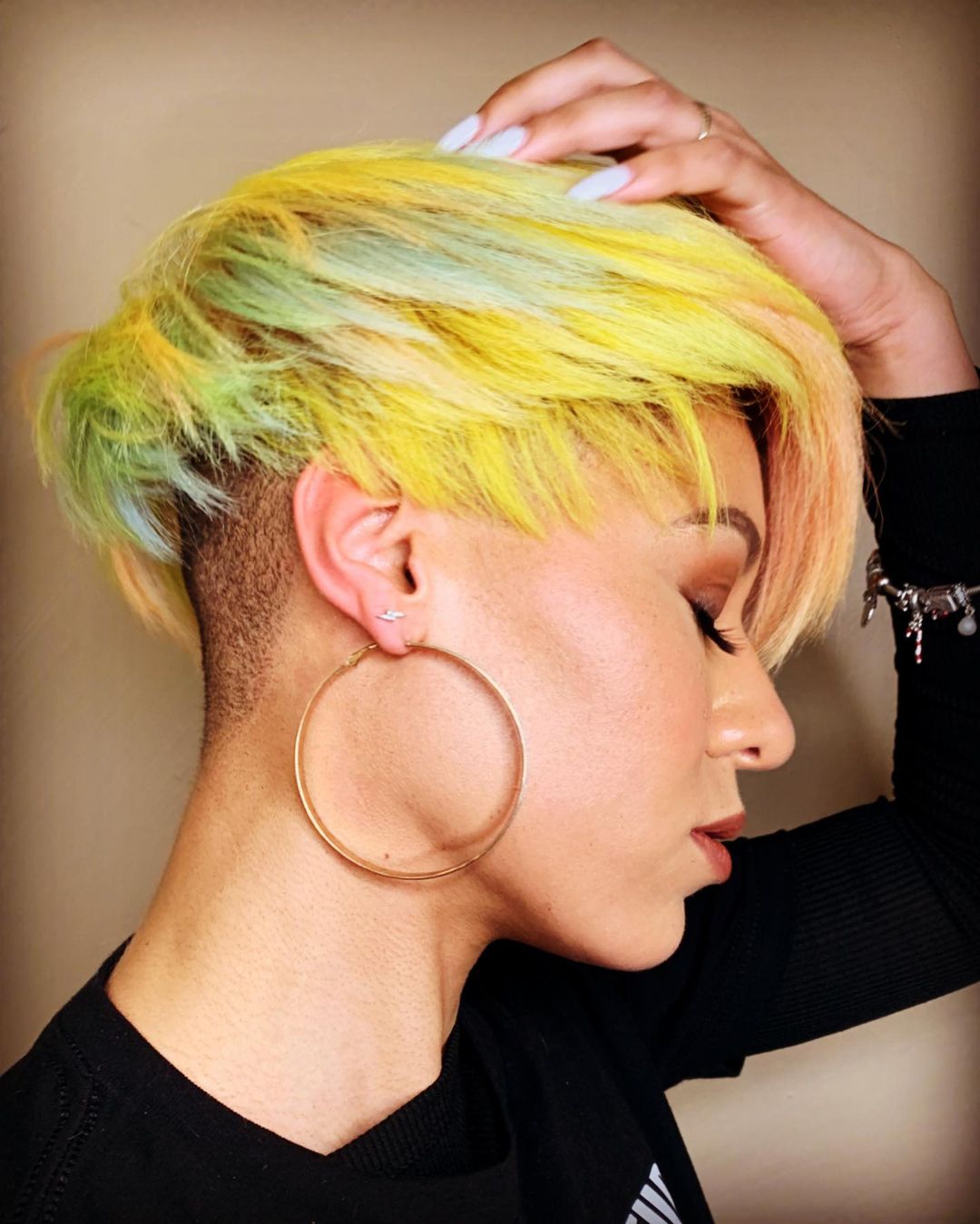 10 Trendy Pixie Haircuts & Color for Summer
Trendy pixie haircuts and color for summer are here again and full of amazing new hair color combos and classic favorites brought up to date. In hot weather, there's nothing as comfortable as a short haircut that leaves your nape bare and cool. Today's groovy gallery shows you how to look and feel your best, with easy-care haircuts that are high fashion favorites you'll love!
1. Natural tousled & trendy pixie haircuts & color for summer
These three views of a neat and youthful pixie cut make it easier to show your hair-stylist exactly how to cut this style. It's a modern twist on the pixie hairstyle with face flattering short side-points that accentuate cheekbones and eyes. The hair is heavily layered to add plenty of texture to soft, fine hair. And the forward styling finishes with a cute short fringe with textured tips to soften the line along the forehead.
2. Crisp upcombed pixie cut – trendy pixie haircuts & color for summer
This asymmetric and super-trendy short haircut is cut short enough to stand out from the head in a high-fashion upswept style. It's a soft, neutral blonde with shadow roots that add 3-D color depth and make the hair appear thicker. And the ends are blunt-cut to create crisp, clean lines. The side-points are quite short, showing the full ear and accentuating the eyes. And the deep side part has a blurred line with a fabulous swept-over blonde fringe draped over one eye.
3. Neon yellow basin-cut – trendy pixie haircuts & color for summer
This radical color blend of fluorescent yellow, with fine green balayage on top is an attention-grabbing look that is cleverly balanced by the model's plain gray dress and smart white color. This is a vital point to remember when you opt for fantasy colors, because you need to ensure you aren't wearing several bright colors together. This model's focal point is her short and super-trendy hair cut and color, plus tunnel earrings, and fashionable heavy eye-liner with green shadow. It's a super style for a long face shape.
4. Metallic silver trendy pixie haircuts & color for summer
Here's a fabulous metallic silver hair color design with charcoal-gray roots adding the look of thicker hair. This is a great color for skin with cool or neutral undertones. And as silver jewelry is trending for summer, it will look extra fashionable matched with cool, silver earrings and necklaces. There's a boyish look to this pixie hairstyle, with the back and side buzzed short beneath longer layers on top. And the profile view shows how sliced layers have been cut to create tapered silver pattern over the dark roots!
5. Gray short haircut with multi-colored neon highlights
Here's a fantastic new trend for summer, highlights placed on a side-swept fringe. And the choice of fluorescent colors against a soft gray background is really eye-catching and fun! Cool colors suits this model as she has blue-gray eyes and cool undertones to her skin. And the flash of scarlet, yellow, green and blue-green looks super with her natural make-up look and the simple style. Combed forward from the crown and tapered for soft, face flattering lines at the side make this a stunning easy-care high-fashion look!
6. Turquoise & aqua short quiff haircut
This shows another way to style a long fringe up into a fabulous quiff shape for nights 'on the town'. The back and sides are cut close to the head and the high silhouette lengthens the face and suits a regular or low forehead. This color needs careful attention to the make-up shades, so use one of the color-wheels on the 'net to check out complementary colors. Deep mauve eye-shadow and plum lip-color bring out the lovely blue-green hair color with aqua-blonde balayage and a touch of yellow!
7. Gorgeous forest-green on cute short haircut
This is the first time I've seen forest-green on a hair-color design and it looks fantastic on this model. Forest-green contains a certain amount of blue in the blend and that makes this a 'cool' color. The pretty hairstyle has cute curvy side-points and a full fringe that covers the forehead and eye-brows. It's a great style for heart-shaped faces with a wide forehead and narrow chin!
8. Brunette short cut with piercings & neck tattoo
This model has plenty of decoration on her skin, and as piercings and ear-cuffs, so she's chosen to balance out her look with a simple, chic hairstyle. The short haircut is perfect to show off a fabulous rose tattoo on her neck. And having the hair cut around the ears allows you to wear a variety of mismatched earrings, which is a hot trend right now! The natural color is rich brown all-over and the side-swept fringe curves back in a casual way that really flatters the face!
9. Stunning swept back haircut in pink, white & blue
This unusual short bob is a gorgeously new and attractive look! And you can see that the colorist has taken her color inspiration from the model's plaid dress. This bob shape is asymmetrical, with a side parting that has a side-swept long fringe making a cute curve in the profile view. The hair has been styled towards the back, which is a new twist, and the back is stack-cut to add shape and volume. The back is tousled to give even more texture and a rounder silhouette. And the blue highlights at the front really accentuate the model's blue eyes!
10. Yellow blue & beige short hairstyle with asymmetrical long fringe
This stunning 'street-style' cut is perfect for night-clubbing and any special event where you want to show off your individual, trendsetting style. It combines several of the top high-fashion twists that come together brilliantly to create an original, new look. Solid canary yellow is highlighted by 'washed-out' pale green-blonde. The other side profile shows delicate coral-beige in the long fringe and the closely buzzed back is black. Long layers are styled forwards from just below the crown, leaving a cute, fluffy section overhanging the 'edgy' nape!