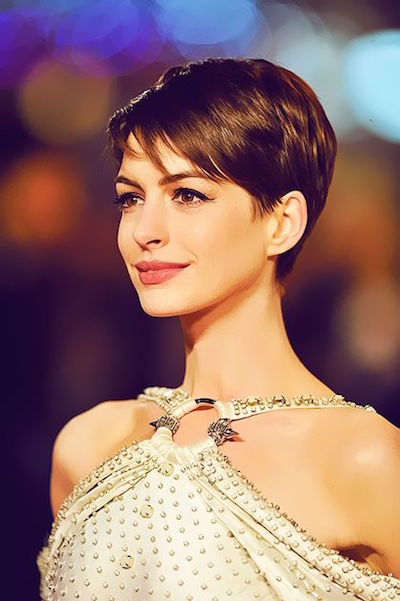 20 Easy Short Haircuts for Women: Everyday Hairstyles
For the past few years, women have been chopping off their locks in favour of shorter dos. From Emma Watson, to Jennifer Lawrence, this world wide phenomenon is not only refreshing, but stunning. As celebrities cut their hair, defying age old stereotypes, fans follow in their footsteps. Who said style can't be part of a revolution. If you are planning to join the masses, or just want to mix up your own look, here are the latest short haircuts.
1. Claire Underwood Pixie
If you haven't seen House of Cards, go watch it now. Robin Wright pulls off what may just be the most elegant pixie to ever grace the screens.
2. Angled Bob
Eva Longoria's sexy angled bob has inspired thousands of others to follow her footsteps. It's no wonder why.
3. Framed Bob
There is nothing more flattering that a cut that frames your face. This bob is no exception.
4. Super Short Bob
Anne Hathaway can do no wrong. She has rocked everything, from long hair, to her pixie after Les Miserables. This super short bob, proves that she can pull off anything.
5. Classic Pixie
Shailene Woodley is another that has opted to go for the ever so stylish pixie. Her classic cut is one we can all strive for.
6. Chic Vintage Pixie
But, perhaps a vintage look is more your style?
7. Side Part Bobs
A part can make or ruin your cut. Ashley Simpson expertly displays a stunning side part.
8. Long Pixie
Who says that growing your hair out has to be awkward? Style your long pixie accordingly and you will look amazing.
9. Uneven Bob
Get messy! Forget about precision and allow your hair to get a little wild. Trust me. It'll be worth it.
10. Feathered Bob
Soft and feathered, this cut is gorgeous for it's simplicity and sense of style .
11. Spiked Pixie
Add some volume and you're ready to go!
12. Subtle Undercut
Undercuts don't all need to be intense! This subtle one is classic and elegant.
13. Subtly Asymmetrical Bob
You barely even notice that this bob isn't even!
14. Soft Pixie
Soft and feminine, this is the perfect cut for those with a softer face.
15. Intense Parts
It's all about the part. This intense part is what sets this look off!
16. Thick Bangs
Add thick bangs to any look and they will add an extra dose of style.
17. Classic Bob
Who could forget the classic bob, from where all other bob came from?
18. Chin Length Bob
Gorgeous and short, this look is stunning on anyone.
19. Shaggy Pixie
No need to be neat. This shaggy pixie is what's hot about today.
20. Side Swept Pixie
See? I told you Anne Hathaway rocks a pixie. This sleek cut is bound to look good on anyone with a oval face.