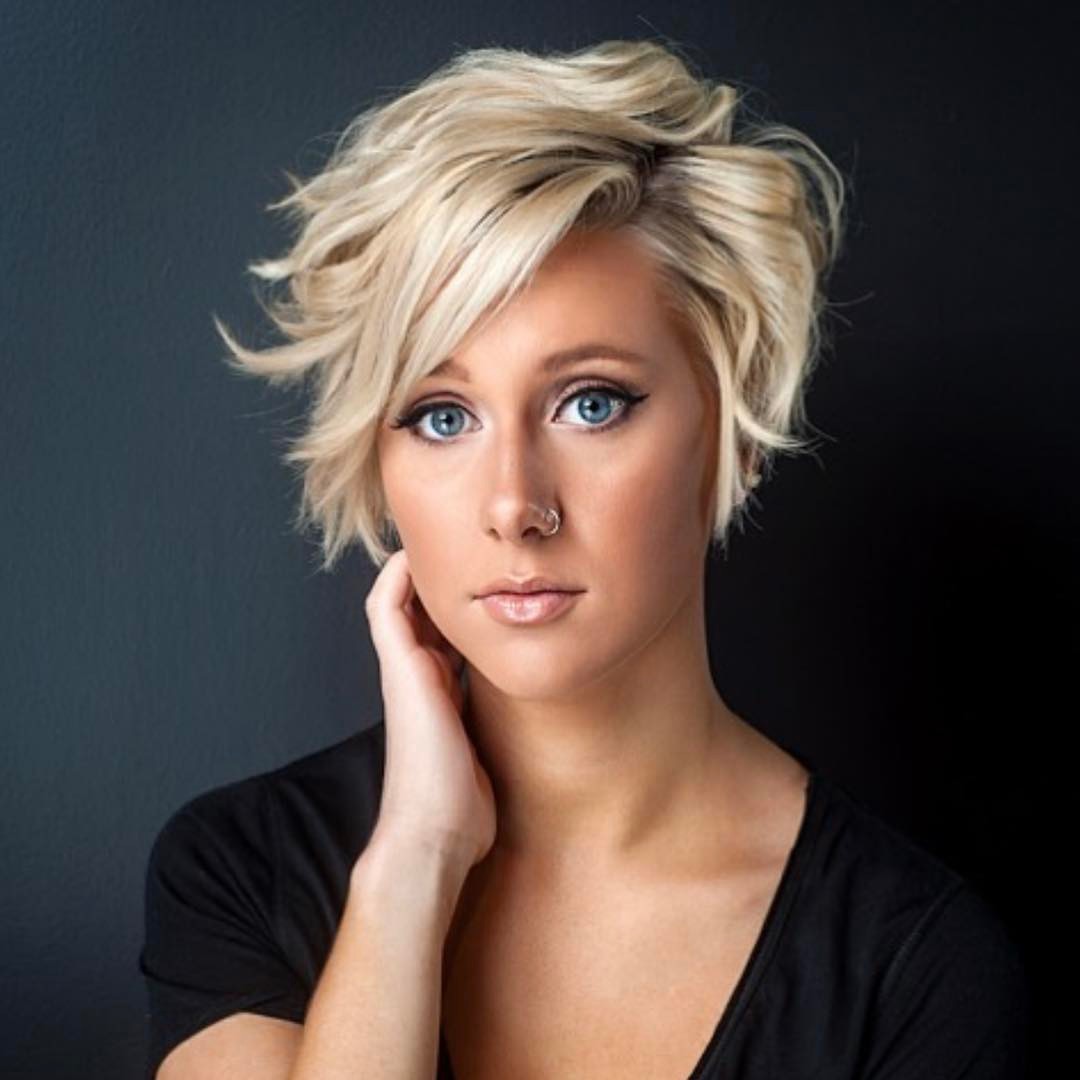 10 Trendy Layered Short Haircut Ideas – 'Extra Special' Inspiration
My theme for this cute gallery of layered short haircuts is styles and colors that really are extra-special!  These hair designs have new and attractive hair-color combos that nobody has seen before!  Most of these short haircuts display excellent taste in muted shades, enhanced by carefully harmonized balayage.  Even the 'rebel' messy look, an edgy, bed-head cut with contrasting roots, shows the influence that beige is having on this season's trendiest angled bobs!  If you're looking for a new twist on your short, blonde or brunette haircut, you'll find lots of guidance and inspiration here!
Flattering layered short haircut in blonde & beige balayage
Lots of women worry about their lovely, new blonde hair color looking equally good after our skin-tone goes a little darker in the summer.  If your colorist matches the shade to your complexion, with emphasis placed on suiting a cool or warm undertone, your blonde will still look great with a tan.  Blue- and green-eyes usually go indicate skin with cool undertones and can wear the lightest blondes.  This flattering layered short haircut has height around the top, tapering in to ear-tip length.  This combination suits oval, round faces and heart faces and is a beautifully soft, new look owing to gorgeous beige balayage.
Chic pearl-gray & beige short layered – Balayage asymmetric short hairstyle
There seems to be an endless supply of original and innovative hair color combinations this year!  And I must say I love the soft finish of beige and pearlized ash-blonde shades!  This trendy asymmetric layered cut can be achieved on any straight, hair-type.  Obviously, having some degree of natural movement in your hair will give you volume, without the need for much product or styling time.  This hair design has brunette roots and nape detail, medium-beige on top and beautiful pearl-gray framing the face!
Vintage vibe geometric short bob in warm-brown
This sleek and modern style is a new version of the amazingly popular Mary Quant, Swinging Sixties bob!  On thick hair it's a highly stylish, new look with long layers 'sliced' to lie flat at the tips.  There's no added height on the top in this style, which means it's a good shape for oval, long and square faces.  The front parting can be in the center or the side, depending on your face.  This model has a center part, without a fringe, and the hair drapes around the face in lightly curved section.  The special features of this cute, angled bob-cut are the back volume at ear-tip level, and the super shape of the lower line.  In warm brown, with subtle copper balayage, this is a 'hip', easy-care style in a flattering length for all age-groups!
Futurist beige, tangerine, lavender & white layered short haircut
This amazingly fashionable new haircut shows that disconnected layers weren't just last year's novelty!  This is one of several new ways to color and add texture to an angled-bob haircut I've been noticing recently.  What's interesting here is how the extravagant fantasy-color hairdo's, copied from Anime and other media sources, has been toned down and polished up!  And the result is wonderful and wearable looks, pushing the boundaries of fashion forward, but still acceptable in most workplaces.  You need thick or medium hair for this multi-layered technique. And with textured waves highlighted by lavender-white, soft tangerine and ash-blonde – plus feathery tips – it's definitely an extra-special short hairstyle!
Swishy ash-blonde highlighting on brunette short layered haircut
This lively new color option adds a highly contemporary edge to the brunette angled bob for medium/fine hair.  The style is all about sleek curves on straight hair created by sliced layering at the ends.  And the heavy ash-blonde highlighting does a great job of making the hair look denser, through the contrast between dark roots and the multi-toned white!  This is a flattering length for most face shapes and can be cut with or without bangs.  It's an easy style to wash and wear and you just need to keep lightened hair well conditioned, so the silky flexibility keeps those curves swishing around!
Messy street look in brown roots & beige blonde
Messy looks like this project a strong image of someone who doesn't follow the herd.  The basic idea is a 'bed-head', copying how plenty of us look the morning after a great night out!  And by keeping that look all day, you're showing that petty details, like hair-combing, aren't important to you.  This season's 'rebel' look of deep brown roots and ash-blonde is softer, with the addition of super beige shades. The straight-across fringe is cut unevenly, to look like you cut it yourself, and the tips have been tapered for a spiky look.  It's a confident look that's ironic and witty!
Ash-blonde with gray roots layered short haircut
I love the softening effect of dove-gray roots on this platinum-blonde short haircut.  But is the most flattering blonde shade for the model's skin-tone.  With obvious red blusher and red lipstick that's too dark, the make-up and hairstyle are very unflattering! Gray and ash-blonde hair colors look good on blue/green eyes, and pale skin with a cool undertone.  And cool undertones look best with pink shades on lips and blusher. With an angular jaw, thin lips and a sharp chin, you should choose a chin-length cut, with curvy/wavy volume around the sides and chin.  This softens the angles and adds 'width' in a flattering way.  Try to avoid sharp tips and straight lines – they just draw attention to the sharp angles in your face!
Youthful windswept beige-blonde ripple waves
I'm not surprised this model is looking happy with her trendy, blonde bombshell makeover! This is a well-tailored, flattering haircut. The pale-blonde has soft beige shades in it, which suit pale skin with a warm undertone, as you can see in the image.  Asymmetric, swept-over styling allows you to get super volume and texture on top, which flatters a round face perfectly.  And the deep side part and diagonal fringe are also a great way to minimize chubby cheeks, and accentuate eyes and mouth!
Ash-blonde twists with loose head-braid for fine hair
Here's another new effect made by mixing several styling techniques to get a contemporary 'fusion' fashion look!  With mixed media arts and crafts enjoying incredible popularity right now, creative minds are freer than ever before to experiment.  And experimentation is the only way to discover all of the groovy, new fashion styles we love!  This is a very cute look for a teen or twenty-something, in a muted ash-blonde with balayage. Uneven, spiky tips and awkward-looking, side-twists give-out a 'naive vibe'.  But the chic touch of gray and head braid on one side add style and maturity!  It's the perfect look for flirting and disconcerting guys at a party! LOL!
Asymmetric short stacked bob in mid ash-blonde
Medium ash-blonde hair color suits complexions with a warm undertone. And this photo shows natural pink lips, with a touch of pink cheeks, expertly complimented by ash-blonde with a hint of pink toner.  This style works best on thick or medium hair, with sufficient density for a layered, stacked back, creating crown volume.  A broken-up diagonal fringe minimizes the length of the face, and the extended head shape also balances well.  The roots are a little darker, but don't break the softness, as they are not a contrast color.  With lots of lovely texture and movement on the top and side, this chic hair design is perfect for a contemporary fashion style!