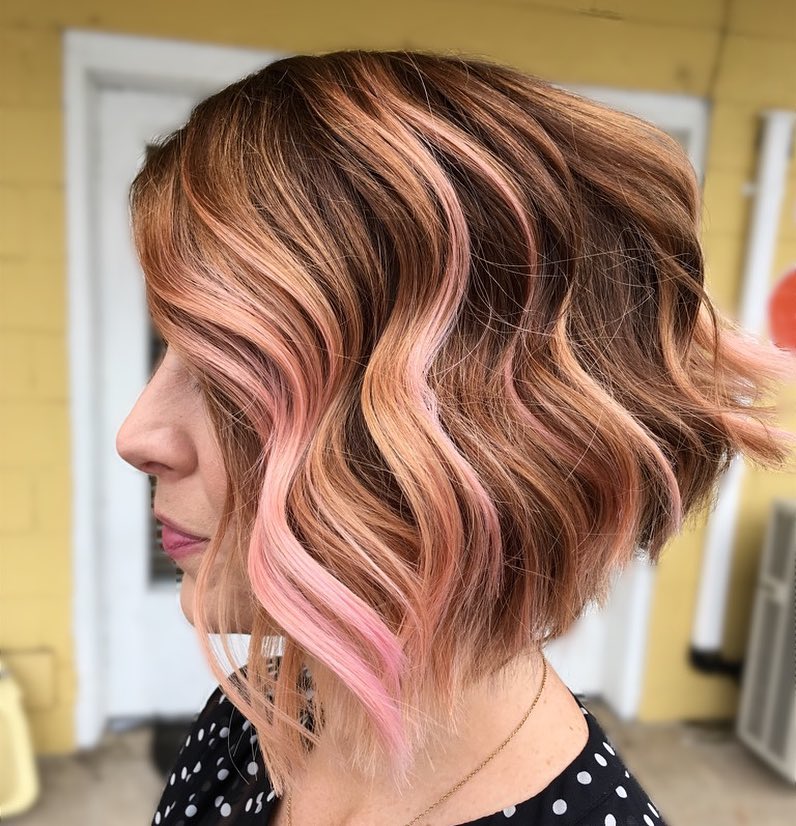 10 Latest Short Hairstyle for Women Over 40 – 50
Don't worry about your age – get a modern short hairstyle for women over 40 – 50 and show off your confident style!  Getting older may mean our priorities change, but it doesn't mean you stop making the best of yourself. And these days, the flattering short hair styles for women of a certain age are just as trendy as any other new hair inspiration. These stylish short hairstyles for women over 40 are full of the latest cut and color innovations, so you can stay looking good for ever!
Playful twist on classic bob – stylish short hairstyles for women over 40 – 50
The angled bob cut is a classic that has endured for many decades because it's so flattering to different face shapes.  It's also an excellent choice for anyone with medium – thick hair and a strong sense of fashion.  This brand-new hair-color idea highlights an elegant waved cut with a trendy mix of brown, copper, blonde and pretty pink balayage!
Modern makeover – stylish short hairstyle for women over 40 – 50
Most of us move from long hair to a shorter hairstyle at some time, because we want a more flattering hairstyle.  Letting go of your long locks just means you know how to be an attractive and fashionable woman!  This strongly angled bob takes years off any mature woman's age, because it's a completely new twist on the classic cut.  Showing you're up-to-date on the latest wave styles and edgy features, like the textured straight-across fringe, always projects a youthful image!
Beige-blonde short hairstyle for women over 40 – 50
If your hair color is fading, don't fight it – get a great hair-color design that takes advantage of your lighter shade!  This A-line bob is a fabulous hairstyle for mature women, as it ends at a face-flattering length just below the chin.  The top layer is a trendy beige-blonde shade, which suits mature skin tones. And you get a fashionable two-tone effect, if the layers underneath are a contrast color like brown or gray!
Sexy peek-a-boo fringe – stylish short hairstyle for women over 40 – 50
There's an alluring touch of 'bed-head' about this cute chin-length bob, which has a very natural color, too!  This is a gorgeous short, layered bob for medium – fine hair.  Short layered cuts take away the weight, so you can easily get a relaxed wave for added texture and volume.  When you team a casual, tousled bob with ruby-red lips, that's definitely a sexy, youthful vibe!
Trendy ash-blonde curls – stylish pixie hairstyles for mature women
Here's another super hairstyle for fine or thinning hair types!  Forward combed styles are the height of hair-fashion right now, and you'll find it's easier to get curls and volume when you style against the natural flow.  Instead of finding your hair has gone flat half-way through the day, these youthful, random waves will last well with just a light spritz of spray.  Light ash-blonde is a huge trend this year, so nobody has to dread their hair going 'white' any more! Hurray!
Messy flat waves & summery beige ombré
If you choose a strongly angled bob, like the one above, you can still have hair brushing your shoulders.  This takes the drama out of shifting from a long hairstyle, to something shorter that's more face-flattering!  Keeping up with hair fashions is one of the key elements to maintaining a youthful image and this messy bob is bang up-to-date.  The flat, wide waves are tousled for a relaxed finish and the neutral beige-blonde ombré still adds a touch of golden warmth to flat-brown or gray hair!
Proud to be a red-head – short trendy hairstyle for women over 40
What a fantastic image showcasing this year's other major hair-color trend for bright auburn hair!  Shades of auburn, copper and red are all recommended for women with paler skin and warm undertones.  This fashionable cut has a wide cut fringe, just covering the eye-brows, which keeps the focus on a pair of pretty, green eyes.  Suitable for fine – medium hair, the back and sides are cut to one-length with a blunt, choppy finish.  Just add bendy defined waves for lively movement and texture!
Amazing artistic balayage on brunette bob hairstyle
Black or dark coffee hair are the natural colors that show gray hairs most.  But you can look extra-stylish with this new balayage hair-color idea that adds warmth in golden- and coral-blonde highlights.  It's a lot more flattering than adding cool blonde highlights on dark hair, because warm colors create a softer look.  This super-stylish bob features disconnected layers, too, in a fabulously modern short haircut!
Fashionable & fun blonde & lavender short wavy bob
Here's another clever way to add volume and density to fine or thinning hair.  This layered bob has darker roots and pale-blonde waves, with delicate strands of beige adding to the effect.  Tousled waves and 3-D colors are excellent for creating the illusion of thicker hair.  And adding a little extra fun to this adorable look, there's a pretty touch of lavender on one side of a modern, angled bob!
Try a modern color makeover in beige & ash blonde
Thick hair looks fab in any version of the latest angled bob hairstyles!  It's easy to style and always adds modernity to your overall fashion look.  This is one of the latest hair-color twists adding variety to a favorite short hairstyle for women over 40/50.  Disconnected layers over straight tips show a youthful, unconventional approach to fashion.  But the real star of this hair design is the expert blending of soft beige and grayge in a totally new way!