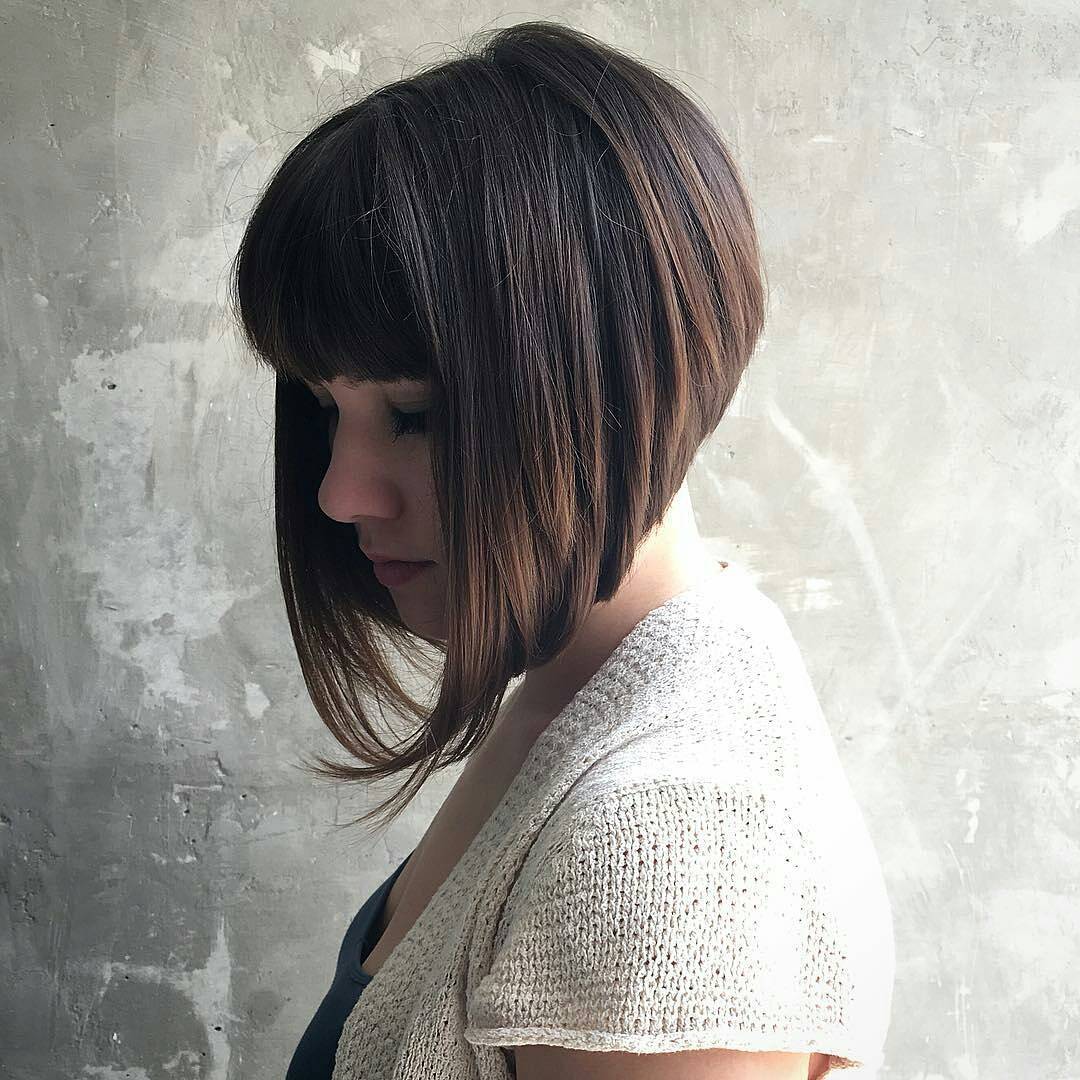 10 Modern Bob Haircuts for Well-Groomed Women
Looking well-groomed is far more important than just having a 'pretty face' or the latest haircut!  We can't all lay claim to being beautiful, but presenting yourself well through good grooming is something any woman can achieve!  And it matters because your look silently gives lots of important information about you to everyone you meet.  The key to looking well-groomed is a simple, expertly-cut hairstyle on healthy hair, along with co-ordinated clothes and subtle make-up.  Almost any color or style can look, 'well-groomed', if it's a carefully balanced blend of style, finish and color! So if you need a professional image for work, or simply enjoy making the best of yourself, these trendy bob haircuts have been chosen especially for you!
Deep brunette bob enhanced with rich plum tones
Truly elegant women prefer a look that's reasonably 'natural', with fashionable color enhancements, rather than obvious streaks.  This image shows how you can achieve this with a carefully layered bob haircut for medium hair.  Instead of a trendy 'stacked-back', the stylist has created a sophisticated full, round volume with a lightly tousled finish above the softly textured line hugging the nape.  By contrast, the front has a smooth, side-swept fringe finishing at a disconnected layer, and a casual 'tucked back' vibe on the shorter side.
Versatile angled bobs for thick hair
Thick hair has plenty of natural volume and that means completely smooth, 'well-groomed' hairstyles are always available to you.  For a professional finish and on formal occasions, the smooth bob ending just under the chin is a classic look.  The style is simple and the angle looks gentle, to avoid looking extreme or 'high-fashion'.  The medium blonde highlights are not too much of a contrast with the coppery-brown base. But you can also rock a trendy tousled look, with 'dropped-out' wave pattern and spiky tips twisted out at the ends!  The angle looks steeper and defined twists show off high- and low-lights!
Extreme angled bob with full straight bangs
For the well-groomed woman, the expert 'cut' of her hair is everything! This angled bob keeps its 'well-groomed' credentials, despite the extremely high-fashion steep angle, by limiting the style to one statement 'trendy feature'.  The whole hairdo depends on a superior cutting technique that makes the steep line appear to fall naturally from long 'sliced' layers ending above the tips.  And concave texturing coaxes the ends to curve under and soften the line.  The straight-across fringe and flat sides make this a good style to balance a round face.
Quirky highlighted brunette bob & straight-across bangs
We love this cute cut showing off the latest trend in asymmetric medium-blonde highlights!  This vintage-fashion fan qualifies as 'well-groomed' for her perfectly co-ordinated look with 1950's make-up, vintage clothing and highlights.  Lots of women added a medium-blonde section to brunette hair in the 50's, often just bleaching a fringe or other section at home.  This simple bob has modern, textured tips softening the straight fringe and eye-catching asymmetric blonde brightening her dark hair!
Perky precision-cut bob with buzzed nape
'Well-groomed' styles tend to avoid extremes that will quickly 'date', and choose conservative classics.  But I think this modern twist on the short, angled bob qualifies by adding just one extreme feature.  The trendy buzzed undercut at the nape matches the overall hair color and subtle vertical highlights add texture.  This is a fabulous way to add shape and interesting texture to the back of fine hair that isn't thick enough for a stacked cut.  The angle is accentuated by textured tips along the side.  Finishing at chin-length, this updated version of the short bob is very stylish without looking, 'overdone'!
Pretty pearlized ash- & beige-blonde bob haircut
Although this model is sporting extremely light blonde hair, suggesting artificial 'lightening', the neutral shade – neither platinum nor gold ensure it qualifies as a 'well-groomed' look!  The hair is a beautiful blend of beige, ash and pearl blonde highlights applied with a delicate touch. The stylist created a chin-length style, expertly cut to fall naturally into a simple bob that suits her face shape perfectly.  The profile shows a softly rounded back and a gently angled slope moving down to the jawbone and then up to join the extra-long fringe.
Choppy bob on faded lavender with gray roots
Can a choppy bob with purple ombré ever be a 'well-groomed' look?  Yes, it can and here's why!  The roots are graphite-gray, which is a fashionable shade and a 'natural' color for hair.  The middle-section is a faded lavender-pink that gently changes to a soft deeper ombré shade.  So how does this fit-in with the demands of  classic, 'simple and natural grooming'.  The style is choppy, but not 'untidy' and flat wavy sections decorate the hair in a subtle way.  It's a quirky look, but it succeeds – because the cut, styling and colors have all been done to a high standard!
Contemporary clean lines on honey-blonde with nape detail
Here's a perfect example of a trendy, well-groomed cut.  It suits the model's fine, silky hair, is a soft, honey color that matches her skin-tone – plus it has one extra fashion feature.  Fine or medium hair looks healthy, shiny and swishy in a chin-length bob in long layers.  Fine hair keeps it's thickness in this style, with just a little layering near the tips.  Instead of a stacked-back detail, the latest bob haircuts often have a fashionable curved line at the nape.  But this snazzy version goes further than that with a very attractive curved layer at the back, which frames a cute toffee-brown section beneath!
Yummy toffee-top bob melts into messy caramel ombré
The soft shades of rich, warm brown with fabulous coppery-caramel balayage and ombré are extremely 'good taste' colors.  So although this bedraggled look isn't really 'face-flattering' or 'well-groomed', the colors definitely qualify for today's gallery.  The stylist has 'permed' a long bob to create hair-strands with a 'bend' and straight, shaggy tips.  To succeed, messy cuts must be tailored to flatter the wearer's face. But this model has been left looking like she just got caught in the rain!  The profile view hides her pretty face and accentuates a sharp nose and the back just looks ugly and shapeless.  So we all need to remember that stylists aren't always the best judge!
Rich deep chestnut angled bob with disconnected layers
If you've ever used a 'chestnut-brown' home hair color, you'll know it dyes your hair a horrible black!  I've done it and frightened my poor hubby as I emerged from the bathroom looking like a Hallowe'en witch!  So the new, 'saturated' colors, like the beautiful dark-chestnut/auburn color above are a very welcome improvement.  The new colors don't rely on adding black (!) to supposedly 'get the correct depth of color'. These are 'high-pigment' dyes, (like high-quality cosmetics), creating intense red colors that look gorgeous and natural!  So this messy bob with spiky tips and shaggy layers is definitely included in my 'trendy, well-groomed bob' file!