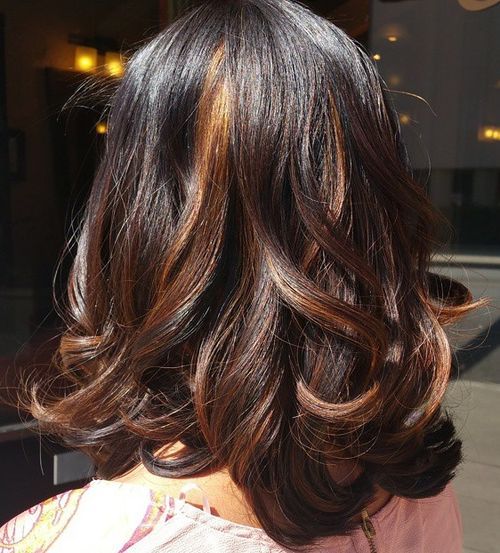 20 Stylish Highlighted Hairstyles for Women
When it comes to your hairstyle, are you sick of the same ole, same ole? You can instantly switch up your look by simply tossing in some highlights to your mane. Go bold with a deep electric blue shade, or keep things tame with some subtle blonde highlights on your brunette base.
There's lots of ways to switch it up with highlights, and you can feel free to work with different colors until you find one you really enjoy. Enjoy a few peekaboo highlights underneath or go bold with highlights sewn all over your head from root to tip.
Pinch of Pink: Easy Short Hair Style
Adding just a pinch of pink to your bangs is a quick way to take your look from simple blonde to colorful and magical. This hot pink shade is a great match for dirty blonde locks, a pairing that's dainty and subtle but still popping with color.
Colorful Peekaboos
Standing out from the crowd may seem impossible with all the highlight combinations out there, but by simply diving into your creativity you can come up with something unique and totally awesome! She opts for a duo of dark denim blue and mahogany peekaboo highlights to spice up her dark blonde roots.
Dark Lowlights
Thin, fine hair can lack bulk and fullness, but you can portray a fuller head of hair by tossing in a few darker pieces into your lighter-shaded base. Great for gals of any age, but this particular combo and haircut works best for older women who want something youthful and full.
Chunky Violet Streak
Purple is a hot color trend right now, and you can manage this hue in a way that's subtle but still magnificent. A lighter toned purple like this lovely violet shade mixes swiftly with creamy blonde hair, a smooth and feminine blend that would work well on any hair length.
Edgy Red and Purple: Stylish Pixie Haircut for Thick Hair
When you decide on an extreme and edgy cut like this, you need saucy colors to match! Amp up your attitude with some fierce highlights of red and purple. Totally on-trend and totally ROCKING!
Purple Undertones: Shoulder Length Hair Styles
Platinum hair can be very mundane, not lacking it brightness but certainly lacking in diversity. Give your locks some trendy depth and contrast by adding some electric purple undertones. Take this fiery pairing to the next level with some very glamorous, voluminous waves.
Caramel and Light Purple: Balayage, Wavy Medium Hairstyles
Keeping your look on the subtler side of the spectrum is a cinch when you pair up golden brown tresses with some subtle light purple highlights. It's a blend that's soft and sweet, mixing together in a dainty yet beautiful manner. Toss in some rich curls for an extra touch of femininity and volume.
Caramel Highlights: Shoulder Length Hairstyle
Highlights don't have to be extreme colors or neon shades; they can also be subtle and natural-looking! Caramel highlights throughout her dark chocolate base add a lighter hue to brighten her overall look without going overboard. The pops of caramel look natural and alluring, a great pick for fall weather.
Peekaboo Dark Pink
Playing around with your hair and exploring color combinations is gun and a great way to show off your own unique style. Her dark pink peekaboo highlights are the perfect match for dark blonde roots, and when they're curled in this way, the pink comes to life in a way it wouldn't have been seen before.
Blonde Highlights on Red Hair
Redheads wouldn't trade their sassy red strands for the world, but that doesn't mean they too don't want a little bit of that girly, cute blonde! Some cute blonde highlights around the face brightens your style and gives it some of that blonde attitude to take down those fiery red hues.
Neon Yellow Undertones
Why settle for simple blonde when you can do something more extreme? This neon yellow shade is BOLD and exciting, an easy way to make YOUR hair the talk of the party. Such a vivid shade that will capture everyone's attention in a second!
Electric Blue Chunky Peekaboos
Blue is one of the hottest trends happening in the hair world right now, and it looks extra ferocious against jet black strands. This spicy color instantly adds some edge and fierceness to your look without any additional styling on your part.
Mahogany Undertones: Red, Blonde Balayage Bob Haircut
Mahogany and blonde is truly a match made in heaven, and when placing the darker hues underneath the lighter ones, you create some gorgeous, rich contrast that brings loads of depth to your hair. Looks extra lovely on a stacked bob haircut such as this.
Strawberry Blonde Chunk: Half-up Half-down Hair Style
A simple strand of strawberry blonde coloring can set off the harsh and one-noted copper color (which of course is extremely beautiful, especially in fall). Show off this lovely strands of hair by pinning it back into a very feminine half updo with subtle loose curls.
Violet and Lowlights
It seems violet works well with just about any color, but when you softly include it into your gray hair with a couple of lowlights, you create a really mystical effect that's downright gorgeous.
Black Peekaboos
Create a bit of vampiric mystery to your locks by adding in a few jet black peekaboo pieces under wine-colored strands. This look is loaded with refinement and a touch of mystery, an exotic blend that would look extra devious with some dark makeup.
Wine Highlights: Easy Short Haircuts for Women Thick Hair
When you want a look that's decadent, with a refined sense of beauty and richness, wine hues on a jet black base is your best option. This look has a dignified sense about it that can accompany women from the office to the dinner party ease.
Hints of Red, Purple, & Grey: Low, Braided Updo
Brace yourself for a colorful combination that's bold, trendy, and super hot! Her jet black hair is bursting with exciting hues of red, purple, and grey, perfectly weaved into dark locks for a bright enhancement that is showcased beautifully with a French braided updo.
Mahogany Wine Peekaboos: Long Hairstyles with Short, Blunt Bangs
Love wine? Of course you do! Adding some mahogany-wine colors underneath your blonde strands gives your hair a splash of rich color that's very appealing to the eye.
Natural Caramel Blomde Highlights
There's nothing wrong with natural beauty, but if you want to lighten up your strands a bit while still maintaining an all natural appearance, some caramely blonde highlights against rich dark brunette strands is the perfect choice. Looks extra enticing and silky with some gorgeous ringlets like these!