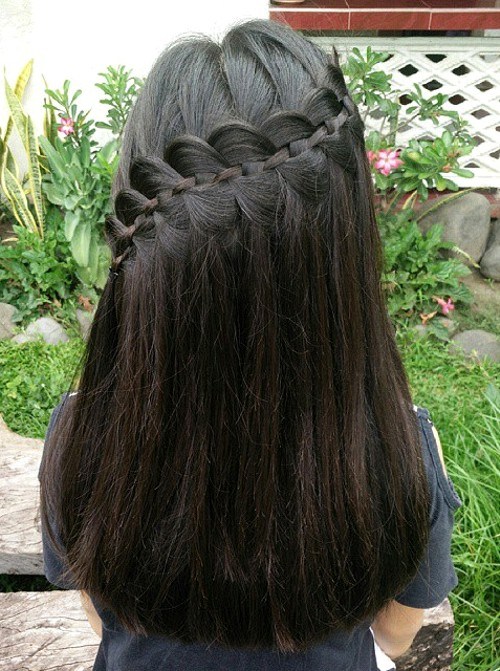 20 Lovely Brunette Hairstyles
Brunette hair– whether it's dark, light, or a mix of the two- is always stunning. But if you're getting tired of the same old hairstyles, you might be looking for ways to shake things up a bit. On this list you'll find some of the most lovely hairstyles known to man. These brunette hairstyles will give you plenty of inspiration whether you're going to work or going to prom.
Braided Balayage
When you're dealing with ultra-rich and dark brunette hair coloring, you may find it hard to find a break in the monotony. To shake things up a bit and add some brightness to your look, throw on some lighter shades of brown below. Create a delicate style that's loaded with depth and flirty personality by adding in a braid right around your crown.
'Jasmine' Braid
We all know (and adore) Princess Jasmine, and now you can, too, look like this lavish Disney princess in just a few minutes. All you need to do is volumize, volumize, volumize! Add loads of height up top before swinging your ultra-dark brown locks into a voluminous, chunky braid. Will only work on gals with super lengthy locks!
Floral French Twist
If there's one hairstyle that can't be surpassed in terms of pure elegance and sophistication, it's certainly the french twist. It looks incredibly ravishing on a dark chocolate brunette mane, and by simply putting a few small accenting flowers, this mature and alluring look is bright and spunky enough for any summer wedding.
Highlighted Messy Curls
For gals who enjoy their dark brunette hair and don't want to lose too much of their natural beauty, this is a great decision. Subtle balayage highlights are strategically placed at the ends of this mane, which will have all eyes going lower- make sure you're free of split ends at all times, and curl it up with plenty of messy attitude for a carefree finish.
Fancy Low Bun
Taking your low side bun from casual and calm to chic and spectacular is as simple as throwing in a few extra twists and turns, and ensuring your lovely dark brown strands are curled to perfection.
Highlighted Curly Pixie
Pixie haircuts don't always have to be chopped down to the roots; here we see a flawless, artsy 'do that's bursting with layers, curls, and plenty of variety. She adds an extra dose of depth and contrast to these ultra-dark strands by simply tickling the ends with a hint of orangy-blonde highlights.
Ringlet Updo with Accenting Rose
Take your updo from boring and mundane to simply fabulous by introducing precise ringlets to your strands BEFORE tossing it up into an updo. This look is oozing with romance and grace, and that big white rose truly brings the entire look together.
Braided Side Updo
When it comes to looking glamorous as ever, there's only one way to look: braids! Braids have a way of instantly adding a splash of femininity and romance to your look, and when you toss up an influx of braids in all sizes, you get a glamorous updo that's loaded with sensuous body.
Voluminous Braid
There's something so elegant and glorious about a woman with a voluminous braid such as this, especially when it's placed on deep dark chocolate strands. Before you start your braid, ensure you apply some product to your locks so they gleam and glisten, and run a straightener through them to ensure utmost slickness and posture.
Dark Double Dutch Braids
LOVE dutch braids! They're SUPER cute and ultra stylish, the perfect look for school or everyday wear when you're just out and about. They have that 'innocent' appeal that many women find enjoyable, yet they're sexy enough to pair with your darkest lipstick shades.
Voluminous Low Updo
A low bun is always a great choice for any occasion, but when you're attending a wedding you really want to amp it up a notch. Add some extra volume and dimension to your updo by trying a low updo such as this.
Heightened Updo with Braids
Want sass, but in a classy manor? Then you need to try out this incredibly intriguing updo. She teases the top for some beauteous volume before pulling her locks back into a low bun- that of course is loaded with body. But to ensure there's a break between the voluminous pieces, she adds a cute braid that wraps around the head and bun. Love this!
Wavy High Ponytail
High ponytails are the sassiest-of-sassy when it comes to hairstyles, but you can tame the edgy look by throwing in some adorable waves.
Side Pinned Curls
Curls are always lovely and very appealing to the eye, but to add an elegant balance to your appearance, throw them to the side and pin them back.
Pinned Back Kinky Curls
It's always a great idea to let your natural beauty shine through! But if your kinky curls tend to overcrowd your face, simply pin some strands back and let your eyes shine bright.
Edgy Faux Hawk
Mohawk styles are really trendy- yes, for females! This edgy 'do has enough sass to accompany you to work or school, but enough elegance to be glammed up for a big event.
Halo Braid Half Updo with Ringlets
When you have rich locks like these, there's only one thing to do: make them shine! Her shiny, look-at-me black base is given a romantic makeover by using a halo braid as a half updo; but she doesn't stop there. Ringlets add a glorious bounce that's both glamorous and striking.
Waterfall Lace Braid
Such a fascinating hairstyle to see, isn't it? Instead of roaming around with your locks stick straight and mundane, put together a lovely lace braid in a waterfall style down the back.
Highlighted Braided Updo
The neat thing about adding some highlights to your chocolate brown mane is that they really come to life when you opt for an updo! This braided updo is loaded from root to tip with a flurry or sexy, romantic braids of all shapes and sizes. But to ensure those strands stick out with ease, those highlights really come into play well here.
Rose Braid
Sticking out from the crowd in a sea of elegant women can be a tricky thing when you're attending high-end events, but you're sure to be the talk of the party with this fascinating number. Her rose braid looks like the most intriguing, succulent hairstyle on the planet, and thanks to some highlighted ends, it looks as though her hair is truly a rosy masterpiece.