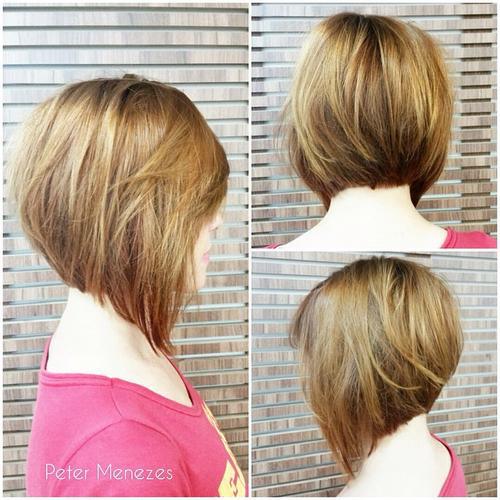 26 Lovely Bob Hairstyles: Short, Medium and Long Bob Haircut Ideas
Think just because your hair is short you can't glam it up with some lovely hairstyles? Think again! Short bob hairstyles can easily rock a set of sultry loose curls, adorable braids, or cute waves with ease. Check out this collection of beautiful short bob hairstyles– you're sure to find something that fits your style!
Wrap Around Braid and Loose Curls: Short Hairstyles for Prom
With her dazzling white locks and set of loose curls, she looks like an angel peering out from the sky. We're especially in love with her unique wrap around braid, adding lots of bulk and texture to her style. Braids are a hit trend for 2016, so definitely give this style a try.
Flippy Layers: Short, Straight Bob Hair Cut
Take your short bob hairstyle and make it bounce with tons of layers throughout. The bangs are kepy lengthy and swept to the side while the back is slightly tousled. Adding light flips at the ends gives this hairstyle a youthful and fun finish that works anywhere.
Lightly Flipped Forward: Straight Long Bob
Laving your locks perfectly straight can be a bit plain, but if you're short on time and looking for an easy way to add some bounce, consider lightly flipping the tips forward. It creates some subtle coquettish bounce that's great for all-day wear.
Messy Loose Curls – Layered Hairstyle for Short Hair
Casual and super cute, messy loose curls are the only option for days with your girlfriends on the beach!
Tousled Waves
Let your hair run wild and have some coy volume with tousled waves like these.
The Bedhead Look
There's something about the bedhead look that is so enticing. This look is simple: wake up, get dressed, and go. It doesn't get any easier than that!
Ombre Waves
Waves are cute, but when you throw ombre hair coloring into the mix, it gets a super trendy makeover that's sure to turn heads. We're adoring her black and honey blonde ombre combination, brightening her overall complexion while lovely waves add some sultry volume.
Hollywood Curls
Hollywood curls aren't reserved for ladies with longer locks; they work on short bob haircuts too! Her curls are rich and fabulous, and would be the perfect hairstyle for finer occasions with a set of red lips and smokey eyes.
Ombre! – Shoulder Length Hairstyle
When you want to keep your length but want to switch up your look, think OMBRE! Ombre keeps the hair darker up top and lighter on the bottom, and there's so many colors to choose from- there's no limits! We especially love this subtle dark and light brown combo, great for anytime of the year.
Messy Back Volume
Tease it up, mess it up, and look like a red hot diva. Can you think of anything easier? Great for an everyday style!
All Natural
A perfect choice for women over 50 or even women over 60, this look is lovely and all-natural. A few subtle highlights add some contrast and the bangs are lightly lifted with some curl for youthful body.
Tousled Curls – Short Bob
Curls don't have to be reserved for prom or other fancy nights; they can work wonders for everyday activities, too! To give your curls a more 'casual' appearance, simply tousle them up a bit. Don't forget to use a bit of flexible hairspray to keep everything in order no matter what you're doing.
Lengthy Flipped Tips
When you want to look cute and add some style to your mane, but you're short on time or simply don't feel like spending hours on your hair, we recommend this adorable style. The ends are slightly curled inward, creating some youthful and flirty bounce.
Laidback Waves – Shaggy Hairstyle
Cool and casual hairstyle, these laidback waves are perfect for spring or for summer! The blonde hue is fabulous and will look dazzling against the sunlight, and the messy tresses are a great beach style.
Lightly Grown Out – Ombre Bob Haircut
Ah, platinum blonde; so fab! Letting the roots grow out just a tad adds some color to your locks and gets rid of that 'washed out' look that's so common with platinum hair.
Polished Straight Highlights
Want to take your straight locks from dull to fabulous in an instant? Simply spray on some gloss for a shiny finish. And if you really want to add some contrast to your stick straight mane, consider some beautiful highlights like you see here.
Mismatched Layers and Thick Fringes – Cute Short Haircut
For girls who prefer a super short cut that's flirty and unique, this is a great choice. There's tons of layers of all different lengths throughout the mane, especially noted in the thick fringes. This creates some lovely texture that brings the locks to life. Framing the face beautifully, it's an awesome choice for round faces.
Subtle Curls and Wispy Bangs
We LOVE wispy bangs; they're so delicate and cute! She amplifies her softer style with a set of subtle curls and just a touch of highlights to the ends of her locks. A highly feminine style that looks great with pink lips and little eye makeup.
Tons of Color
Her rigid style is edgy and unique, sporting a collection of vibrant and funky colors from blonde to gray while the extreme angled cut is intense and sexy.
Shaved Back and Framing Bangs – Short Hairstyles for Thick Hair
Shaving your head is a super hot trend for 2016, but if you're not daring enough to take the plunge and shave half the side of your head, consider a subtle shaved back, letting the lengthy bob cut fall gracefully above. Frame the face with some fab fringes!
Thick Fringes – Cute, Easy Hairstyle for Short Hair
Side swept bangs may be trendy (and will always be trendy, right?), but if you wanna switch it up while still looking modern and fashion-forward, consider some stylish thick fringes like these.
Slick and Straight: Blunt Long Bob Cut
For casual days where being free and easy is a must, consider this polished hairstyle. She simply runs a straightener through her mane for some dazzling slick straight tresses. It's relaxed enough for a hiking trip, yet can be elegant enough for a sophisticated dinner- just add pearls!
Teased Up! – Casual, Everyday Hairstyles
Flat hair? No thanks! A great idea for women struggling with fine hair or thin hair, she seriously teases her mane from front to back. This instantly adds loads of sexy volume and the side swept bangs are a trendy touch we love.
Teased Back! – Chic Short Bob Cut
Only adding volume to the back of the head is a fun way to get some seriously lift. A great idea for girls who have thick hair, the front half is left alone and swept to the side while the back is given some light teasing for a very full-bodied finish. Loving the collection of contrasting colors in this mane as well!
Romantic Curls – Ombre Hairstyles
When there's a night of glitz and glamour right around the corner, there's only one hairstyle to turn to: romantic curls. This sultry hairstyle is nothing short of elegant and would look perfect with your favorite dress and pair of jewels. Flawless style that is really brought to life with hints of light blonde on the ends.
Curled In
We can't get over how flirty and flawless these locks are; wow! Her dazzling light brown tips are curled inward, framing the face beautifully.
Short bob hairstyles can easily go from short and boring to adorable and dazzling! Pophaircuts.com which one of these lovely hairstyles are you going to try next?