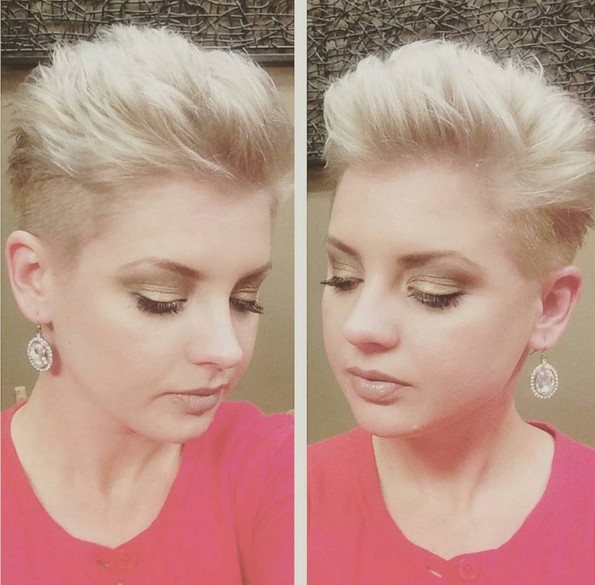 16 Cute, Easy Short Haircut Ideas for Round Faces
Excited about the latest trendy cuts – but not sure how to get flattering, short haircuts for round faces? Read on to discover the hairdressers' rules on tailoring short haircuts for round faces and choose a fabulous makeover style!
What to avoid
Curls will only add to the round, symmetrical look of a circular or chubby face, so go for texture rather than curliness. Waves are a good option, as long as they are casual, random twists with some layers hanging over the outer edges of the face, to reduce the width.
Generally speaking, short hairstyles for women with round faces should add height on top, to lengthen the proportions of the face. And you should avoid all extra volume at the sides, as this would make your cheeks look wider.
Straight Bob Haircut with Bangs
Make the most of what you have!
Asymmetry
Asymmetric bobs are one of the most fashionable and suitable contemporary styles for women with round faces. An Inverted Bob is cut very short at the back and glides down in carefully graduated layers to end at chin-level.
A-line Short Haircut
Highlights
If you have a short or plump neck, a short haircut will make your neck appear longer and well-placed highlights are perfect way to slim down a full face. Highlights woven around the face in a 'halo'also create a fabulous visual illusion making a round face appear thinner!
Fun Pink, Purplish, Yellow Hair Color with Bob Haircut
Best shapes
The overall shape of the cut should be designed to balance out the extra width at cheek level, so short hairstyles with the sides tapered in to end with finely textured tips at the chin are one of the best shapes for a short bob.
Recommended short haircuts for round faces this season:
The angled bob, shaggy short haircuts, a layered pixie cut with spikiness on top, are just a few of the great options you have this season. So get yourself a new style to keep you looking hot and slim your round face beautifully!
And to inspire you, here are lots of amazing 21st century short haircuts for round faces just waiting to give you a fabulously flattering new look!
Easy Short Pixie Haircut for Round Faces
Wavy Hairstyle for Short Hair
Cute, Easy Pixie Hairstyles
Medium, Straight Bob Haircut
Stylish Short Hairstyle
Short Hairstyle Ideas
Blonde Bob Cut
Edgy HairCut for Short Hair
Messy Short Haircut
Blue Pixie Cut
Purple and Lilac Hair Color and Beautiful Short Hairstyle Design
Layered, Short Pixie Haircut
Great Cut and Color for Short Hair