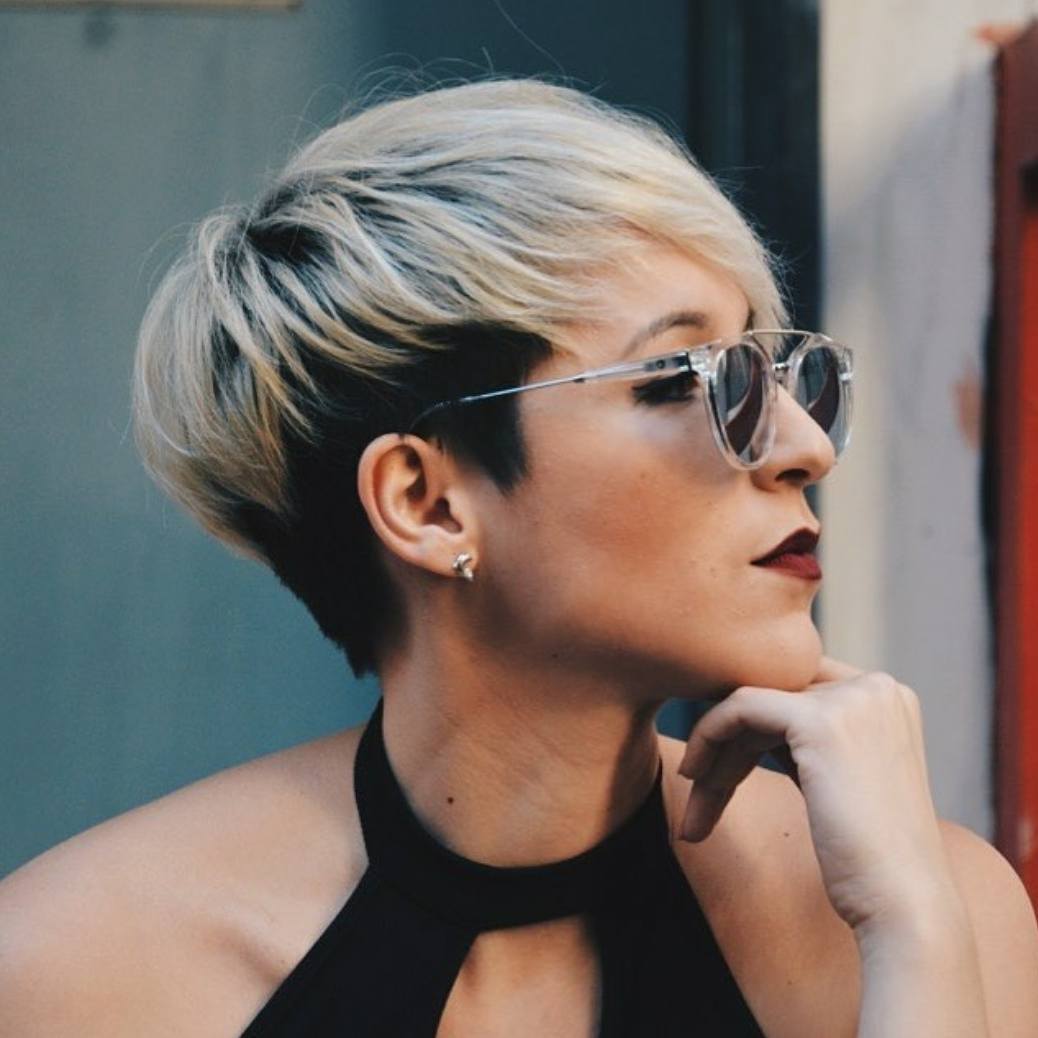 10 Short Hairstyles for Women Over 40
If you're in the over-40's age-group, remember that a short, trendy haircut tailored to your face can take years off you!  Yes, really!  Maybe we can't avoid gaining a few wrinkles and lines, but we can present ourselves as modern, fashion-conscious women!  These modern looks are the best short hairstyles for women of any age, but look particularly attractive on trendy women over 40!
Trendy two-tone – best short hairstyles for women who look 'cool'
The two-toned, black and white color designs are always present in the latest short hairstyles, showing how much we love this contrast.  This cut creates a 'hip' urban chic image with strong lines in the black section and a feathery vibe above.  The shape of the head is shown by short, close layers at the nape, beneath the crown's longer, blonde section. The forward styling creates movement and texture ending in a casual, side-swept fringe.  The overall impression created here is a stylish woman, with effortless Boho elegance!
Fashionable black tips on brunette – best short hairstyles for women with thick hair
This well-groomed short hairstyle is also full of trendy features that mark it out from the rest!  Adding black ombré to brunette hair is a new hair color idea which isn't yet a mainstream look.  But we love the way it has been added to this swept-over short-cut to make it fresh and different. There's attractive texture on top which the black ombré accentuates. And another edgy detail in the extra-long, side-point, finishing the smoothly-curved bangs with a contrasting spiky tip.
White blonde basin-cut & shaved detail – best short hairstyles for women over-40
You may not be quite as young as the model for this easy-care, short haircut, but age is not a barrier to wearing the latest short hairstyles!  The short-back-and-sides haircut with 'undercut' sides crossed over from punk to mainstream a while ago.  And white hair with dark roots is a fashionable, new, color idea for all women – over-40, under-30 or any age at all.  The barriers are breaking down and we no longer have to pick a style that society feels is suitable for a certain age.  So this updated basin-cut, with textured tips softening the line of deep, straight-across bangs could well be your flattering, new look!
Roaring red – best short hairstyles for women with glamor
If you've always been a lively person with an eye-catching fashion style, don't feel you have to follow the trend for gray, white and ash-blonde short haircuts!  Medium skin tones with a warm undertone need warmer colors to look good anyway.  This season's trend for intense red shades is perfect for adding instant glamor to any short haircuts, whether you happen to be over-40, over-60 or over-80 for that matter!  This fabulous cut is easy to maintain, owing to the short back and sides.  But you can go to town with the long, red and sexy bangs in a face-framing wave, or flirty peek-a-boo bangs draped seductively over one eye!
Edgy etching on ultra-mod short asymmetric hairstyles
Adding an etched line in a short, buzzed section is absolutely the latest trend in adding detail to modern haircuts for woman over-40!  And this hairstyle for medium to thick hair is a high-fashion statement just waiting for you to try.  It's a very asymmetrical style with a deep side-parting in silvery- and beige-blonde, plus a hint of lavender toner.   The long side has the profile of a short bob haircut with straight, tousled texture.  And in complete contrast, there's a fabulous buzzed back and one side, with a carefully etched, curved line creating movement from one temple right around to the nape!
Snazzy boy-cut with quiff on gray & white hair
This highly stylish short haircut is an excellent way to 'ditch the dye' and present your natural gray hair in a snazzy, new look!  The buzzed back creates a super, boy-cut detail beneath a pretty, 'chrysanthemum' shape at the crown.  And the top has been cut into 'sliced layers' creating thick, defined sections with a pointed finish.  Gray roots with white balayage create 3-D density for thicker-looking hair. You can quickly style your hair up into a quiff or forwards to a chunky, defined fringe.  It's a fabulous cut with strong lines and a carefree attitude, so if you like it – go for it!
Smooth texture on silver-gray elegance
Thick or medium hair with natural volume looks fantastic in this versatile, short haircut in fashionable silver-gray!  The back is cut short and straight at the nape, matching the clean lines of the side-points, where you can wear eye-catching earrings.  With longer layers on the top and around the crown, it's easy to create shapely volume and a modern profile from a neat, side-parting.  This elegant, short hairstyle could be just what you need to show-off natural gray or silver-white hair in a modern look!  It can be varied to suit any face-shape by changing the long fringe to lengthen or shorten the face.
Medium-blonde with sassy spiky tips
The fact that short haircuts for women over-40, 50, 60 etc. are frequently photographed on pretty, young women tends to put mature women off choosing them.  And that's not right at all!  So just because this edgy cut is shown on a young model, don't think for one moment that it's not age-appropriate for you.  The gentle medium-blonde shade is flattering and mature women look fabulous in edgy, trends with spiky tips and short, buzzed sides.  The problem is, we don't see enough images of older women with trendy, short haircuts in the media! So remember – with a short cut in natural gray or white, or whatever color you fancy – you can look fashionable and beautiful!
Soft & feathery short bangs on short hairstyle for fine hair
This classic pixie cut maintains the simple lines of the original styles made famous in the 1960's.  It's easy to style and no trouble at all to maintain.  Add a lively color or trendy balayage to add 3-D depth on fine – medium hair types. And show your style with fashionable earrings at the cute, short points at the sides,.  The side parting breaks the line of a straight-across fringe and adds a touch of stylish asymmetry. But it's the lovely, feathery texture of the bangs that softens the face beautifully, beneath the fashionable, swept-over top!
Perky peek-a-boo bangs & tousled curls on top
Here's a super-modern look that's great for dark, curly hair. Although this model has an oval face, this asymmetric style is suitable for several shapes. Tousled curls on top add height which is always good for a round face and the flattish sides will also help balance a full face and make it appear longer and slimmer.  The pretty waved bangs flow down over one eye in a flirty, feminine style that will accentuate both your eyes and your youthful spirit!