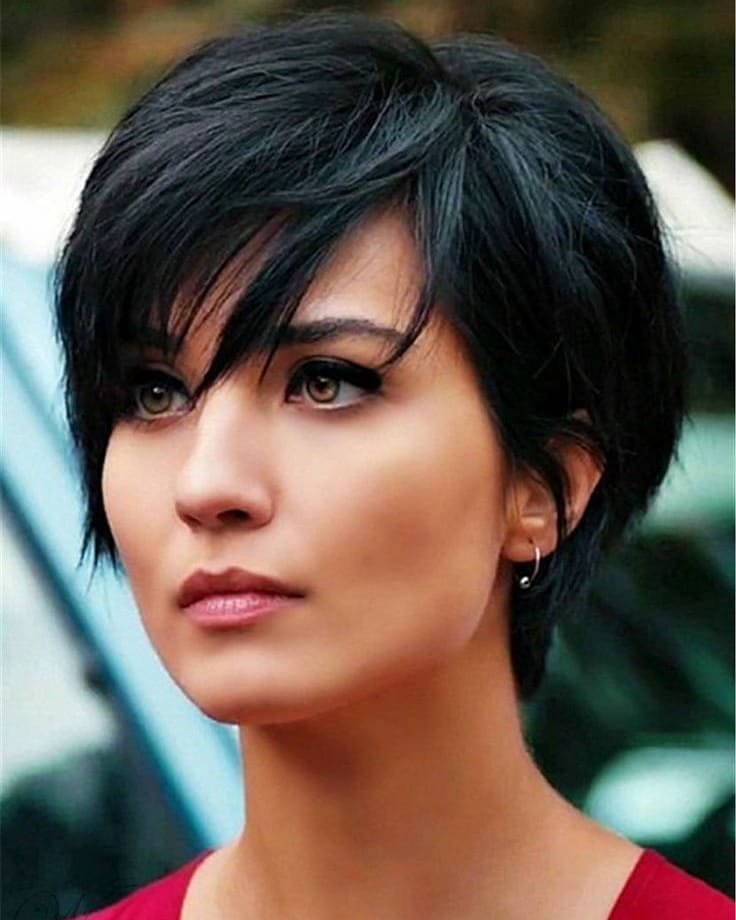 10 Easy Pixie Haircuts for Women
Easy pixie haircuts for women who love the latest trends are one of the most popular looks this season. They're both practical and attractive, so why waste time and money on complicated hairstyles, when you can look great all day – every day with these fashionable looks!
1. Jet black pixie with hint of blue – easy pixie haircuts for women
Thick black hair needs to be cut by a specialist stylist who understands the need to sculpt the hair into shape.  But that doesn't mean you have to choose a strictly shaped geometric cut. This long pixie hairdo has sliced layers that end in carefully tapered tips, so they fall into place after washing. Long bangs are separated to show the forehead and not overwhelm the face. And a blurred side part, plus hair casually pushed behind one ear add asymmetry and a relaxed, youthful image!
2. Ash-blonde swept-over short haircut – easy pixie haircuts for women
This high-fashion pixie haircut is a great choice if you want to put the emphasis on your lovely blue eye color and detract attention from a wide jawline. The tousled height on top adds length to the face. And the long fringe has separated strands to show some forehead and soften the line. There are three fabulous colors in this trendly hair color design – white, blue and beige. So it follows the latest fashion for mixing cool and warm colors in a way that blends seamlessly!
3. Soft medium blonde – easy pixie haircuts for women
If you have medium to thick hair, this is a fashionable new makeover look that isn't too edgy. The stylist has layered the hair to create a rounded, swept over volume from an asymmetric side part. And medium-length, side-points peep out from under a soft swathe of hair just covering the top of the ear. The darker roots contrast gently with the super-attractive golden-blonde top. And there are lots of fine balayage highlights for extra texture and movement!
4. Edgy silver forward styled short haircut – easy pixie haircuts for women
On the other hand, this is an edgy, high-fashion look popular with younger women. The model's natural hair is mousey-brown with no warm undertones and she has a cool undertoned complexion. And that means this trendy silver blonde hair color with a touch of purple toner is perfect for her natural coloring. Leaving the roots light brown gives a softer contrast. And a naturally windswept look has inspired the stylist to create this fabulous forward-swept style!
5. Ultra-neat and clean cut all-over white-blonde hairstyle
This gorgeous white short pixie hairdo is one that is equally suitable for women of any age. It's especially easy to create on mature women with naturally white hair, who like to look chic and well-groomed. Teamed with a buttoned up blouse, this clean-cut look projects an image of efficiency to impress your employer. But there's femininity in your choice of pretty earrings, too. And after-hours, this pixie can be gelled and styled with height and trendy texture!
6. Wispy basin-cut short hairdo in pale ash-blonde
Fine or thinning hair can be difficult to manage, if you don't choose a suitable style. And this cute pixie cut is a great example of how to get the best out of fine hair. Long layers keep the original thickness and can be styled forwards, or curled, or given a side parting. So although the hair is short, you can change the look easily. And what could be easier to style after washing than this forward combed, straight cut?
7. High-fashion light ash-gray spiky short hairstyle
This sophisticated, gray-blonde short hairstyle is perfect for adding glamor to your look, without much effort. There's a great creative contrast between the smooth, downwards sides and the windswept height on top. A clear forehead and high volume adds length to a low forehead or wide face shape. And as you can see, it's the perfect style to show off a glamorous make-up style and a smooth complexion. Just add dramatic earrings and you're ready for any event in record time!
8. Long side-swept bangs white on black roots hairstyle
9. Cute golden-blonde bangs on short hair
This cute look is full of interesting little twists to make it flattering and fashionable! The textured bangs are separated to soften the line. And they stop just above the brows to show off lovely blue eye color. Short side points create a clean-cut look that complements the attractive 3-point shape at the nape. There's interesting texture around the crown and especially at the sides and top. Combing fine hair forwards and defining a few strands is an easy way to add flattering height and movement to a trendy, pixie cut!
10. Mid ash-beige short cut with subtle balayage
With long layers swept over the head to one side, this exciting new look has plenty of dynamic movement! It's suitable for medium to fine hair types and the stylist has created height on top with separated, defined strands. And by highlighting the strands with a slightly lighter blonde shade, you get that fabulous 3-D effect that suggests thicker hair. Beige, pink, gold and blonde all come together to create a super, original hair color design!