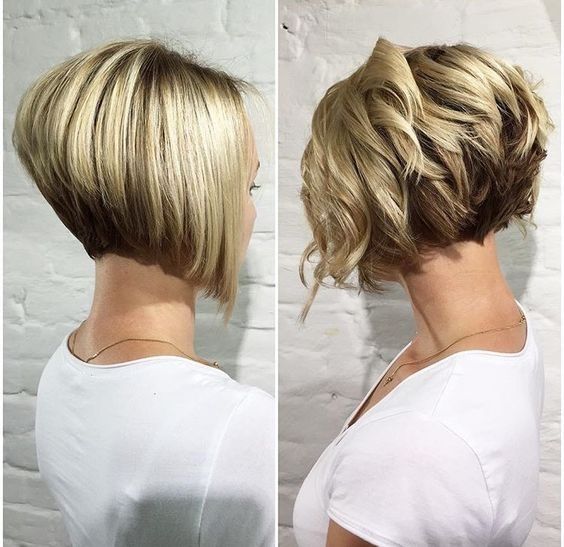 10 Super Cute Curly Bob Hairstyles
Bob hairstyles are incredibly on trend lately. Thanks to the likes of Kim Kardashian and Kylie Jenner going for the big crop with their locks, it's no surprise that opting for a bob has grown in popularity. Bob hairstyles are incredibly versatile, offering a range of incredible looks and plenty of different options with layers and bangs. Though it's typical to wear your bob hairstyle straight, adding lots of curls to your amazing hair will absolutely transform your style. Adding curls to a bob brings body, bounce and a stunning silhouette. Here's 10 super cute curly bob hairstyles we just can't get enough of!
Purple and Silver Curly Bob
Purple and silver are two colours which blend together perfectly – especially in this bob! Dye your hair a stunning steel shade of silver. Add metallic purple highlights throughout. Get a graduated bob cut, with longer layers towards the front of the face graduating to shorter layers at the back. Using straighteners or curlers, curl the hair from top to bottom for a gorgeous, bouncy finish.
Brown and Pink Bob with Curled Ends
To create a stunning curly bob you need not curl your hair from top to bottom! As this gorgeous brown and pink bob proves, sometimes less is more. Start by dying your hair a deep shade of chocolate brown and adding lots of lovely hot pink highlights throughout. Opt for a bob which falls around the jaw level. Loosely curl the ends of the hair to add lift to the locks and show off the colours at work.
Curly Blue Bob
Curls can accentuate a brightly coloured bob like no other hairstyle. Choose your favourite bright shade to dye your hair. We absolutely adore this electric blue colour as pictured above! Crop your hair into a  beautiful bob which falls around jaw length. Add lots of layers throughout towards the top of the head. Curl from top to bottom to create this incredible and voluminous end result.
Swept Back and Curled Balayage Bob
Balayage is a stunning hair transition which blends two colours together seamlessly. It looks every bit as beautiful on short hair as it does on long hair – so let's steal this style! Start by chopping your hair into a cute bob which falls around the ear length. Opt for a side parting so that you get a long fringe. Choose a balayage blend of dark to light brown. Sweep the hair back and curl to finish.
Tight Curls and Centre Parting
Loose curls are great when it comes to curling your bob hairstyle, but sometimes tight curls are even better! Recreate this look with ease by opting for a cute bob. This will finish a few inches above shoulder length. Part your hair in the centre. Work lots of lovely, tight curls throughout the style from top to bottom. Run your fingers through the curls for a super trendy tousled effect which is oh so swoon-worthy!
Messy Curly Bob
Messy curls are our favourite type of curls. As much as gorgeous ringlets look beautiful, there's something incredibly sexy about a messy and unfinished hairstyle – perfect for a rock chick vibe! With your bob, add lots of pretty blonde highlights throughout for a sun-kissed effect. Curl the bob from top to bottom, and use your fingers to scrunch and add a little mess to the curls.
Tousled Blonde Wedged Bob
Wedged bobs are those that have lots of short layers towards the back of the head, creating a stunning curved effect. Steal this style by opting for a curved bob at your next hair appointment. Ensure the hair is slightly longer towards the front of the face and kept shorter at the back. Add lots of curls to the ends of the hair, and sweep forward to create a cool, windswept vibe.
Wedged Bob with Ringlets
Another wedged bob to add to the collection – but this one totally different from the last! Again, choose a style with longer sections of hair towards the front of the face and shorter layers at the back of the head. Add two shades of stunning blonde as highlights throughout the hair. Work tight ringlets throughout the layers and use hairspray to add some wonderful volume to the back of the head.
Loosely Curled Brown and Blonde Bob
Versatility is a huge factor in what makes bobs such popular haircuts. They look equally impressive when straight or curly, but we must admit that curly is our favourite. Steal this style by choosing a wonderful stacked bob with lots of short layers to the back of the head. Keep your natural colour underneath and add blonde highlights to the top. Finish with loose curls throughout and lots of texture.
Wavy Caramel Bob
Waves sometimes look even better than curls when it comes to bobs – just take a look at this gorgeous lady! She's worked her caramel bob into a gorgeous wavy masterpiece which is perfect for any occasion. Dye your hair a light brown and add lots of caramel coloured highlights throughout the top layer. Cut a fringe in if you so wish. Finish with very loose waves throughout.
We hope this post has inspired you to embrace the bob and go for the chop at your next hair appointment. Which of these amazing bob looks is your favourite? Let us know in the comments below.