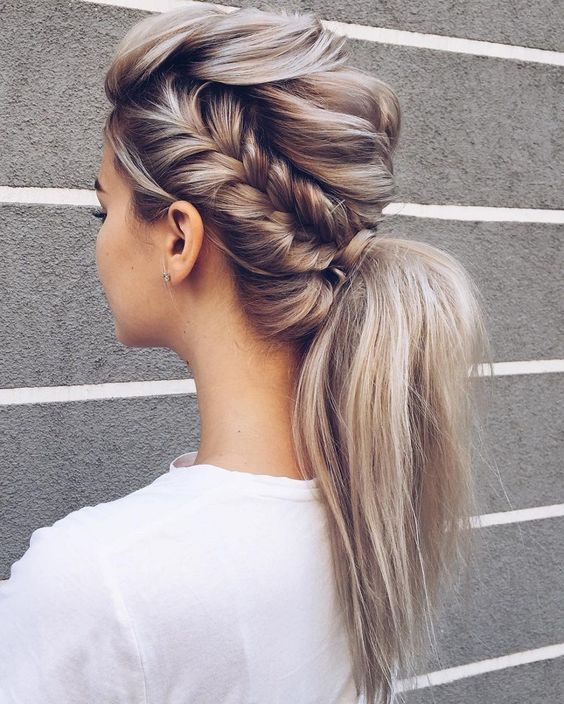 10 Cute Easy Ponytail Hairstyles for Women
The ponytail is a classic, timeless hairstyle for women. It's a basic staple style for most women who have hair that is long enough to fit into a ponytail. Ponytails are versatile and practical. They keep your hair out of your face and out of your way, and they are appropriate for virtually any everyday outing.
Ponytails are great, but pulling your hair back in the same low ponytail every single day can get a little boring after a while. The next time you feel the urge to style your hair in a basic ponytail, consider these ponytail hairstyles instead. These 10 ponytail hairstyles are cute, on-trend, and quick and easy to style yourself. They're more interesting and trendy than a basic ponytail, but they'll still save you time on busy mornings when you're rushing out the door.
1. Classic Braided Low Ponytail
This ponytail hairstyle is a classic low ponytail with the addition of a classic braid that weaves down one side and merges into the ponytail at the nape of the neck.
The braid adds texture and interest to this hairstyle and it top layers of hair are teased for added volume and dimension.  A small strand of hair wrapped around the hairband at the base of this ponytail adds an extra sleek finishing touch to this hairstyle.
2. Chain Braided Low Ponytail
If you're looking for an intricate ponytail hairstyle that will turn heads anywhere you go, look no further than this chain braided low ponytail. It features an intricate chain braid that starts at the crown of your head. It ends in a sleek wrap-around low ponytail that is secured at the nape of your neck.
This chain braided low ponytail is intricate and intriguing, but it's surprisingly pretty easy to style. Plus, it's ultra-versatile. This hairstyle is definitely appropriate for casual everyday wear, but you could also pull this versatile style off at more formal events as well.
3. Wrap-Around High Ponytail
This ponytail hairstyle is ultra-elegant. Its slicked-back, smooth and shiny finish with a wrapped base give it a classy, professional vibe, while its free strands in front add a carefree finishing touch.
You can pair this simple wrap-around high ponytail hairstyle with a cute and trendy everyday outfit, super casual athleisure wear, business casual attire, etc. etc. It is versatile enough to pull off anywhere from a lunch date to an office meeting.
4. French Braided Low Ponytail
This cute, easy, and practical French braided low ponytail will keep your hair out of your face all day long and add on-trend interest to a classic ponytail.
A subtle French braided crown gives this ponytail added texture and dimension, while its wrapped base adds a sleek finishing touch to this everyday hairstyle.
5. Loose French Braided Low Ponytail
No two French braided ponytail styles are exactly alike, as this hairstyle and the one before it prove.
This French braided low ponytail is relaxed and laid-back. Its French braid is loose and cascades gracefully into curled ends, and it leaves strands free in the front for added carefree vibes.
6. Twisted Low Ponytail with Pearl Accents
All it takes is one simple twist to transform a basic low ponytail into a more interesting style.
This twisted low ponytail is sleek and classy. It is perfect for professional events when you don't have the time to go all-out with your hairstyle. Pearl accents add an excellent finishing touch to this low pony. They secure the ponytail's twist and give this hairstyle more elegance and a pretty, feminine focal point.
7. Braided High Ponytail
Styling this braided high ponytail yourself doesn't take up much more time than pulling your hair back into a classic high ponytail.
Before you secure your hair into a ponytail, separate a small section from the front of your hair where a middle part would be. Braid that section straight back, then pull all of your hair back and secure it into a high ponytail. Wrap a small strand of hair around the base of the ponytail for an added sleek finish.
8. Sleek Dutch Braided Low Ponytail
Party on one side, and professionalism on the other–that's what this low ponytail hairstyle gives you.
On one side, this one-of-a-kind low ponytail hairstyle features multiple Dutch braids that add interest to this pony. On the other side, this ponytail is nothing more than a sleek, slicked-back low pony. An extra wide elastic hairband separates the base of this ponytail into three discrete sections of hair, which is subtle but adds more dimension to this hairstyle.
9. Rope Braided Low Ponytail
Rope braids aren't too tough to style yourself, but they look very intricate and glamorous.
This hairstyle involves separating your hair into three discrete sections, rope braiding each section, and then securing all of your hair into one low ponytail at the nape of your neck. It's simple, keeps your hair out of your face all day long, and it looks very trendy with plenty of texture and dimension.
10. Fishtail Braided High Ponytail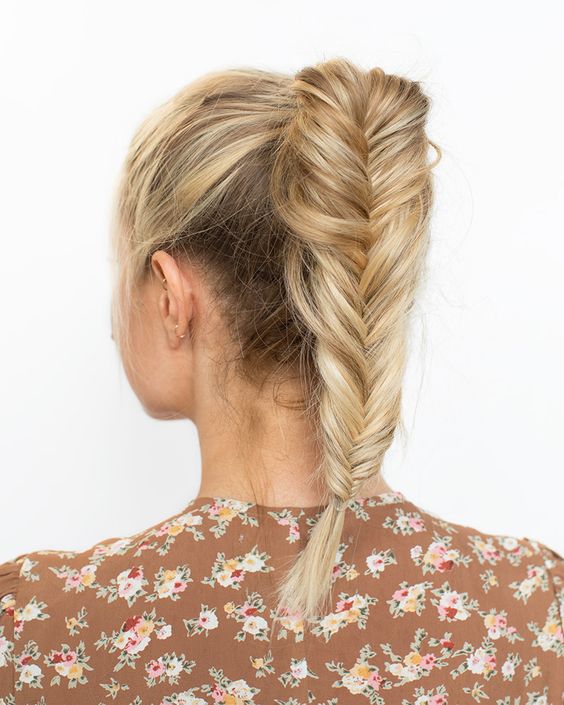 This stylish fishtail braided high ponytail is super cute and super easy to style on your own in no time.
Start by securing your hair up into a classic high ponytail. Then, fishtail braid the ends of the ponytail and secure the braid with a mini clear elastic hair band and voila! That's all it takes.