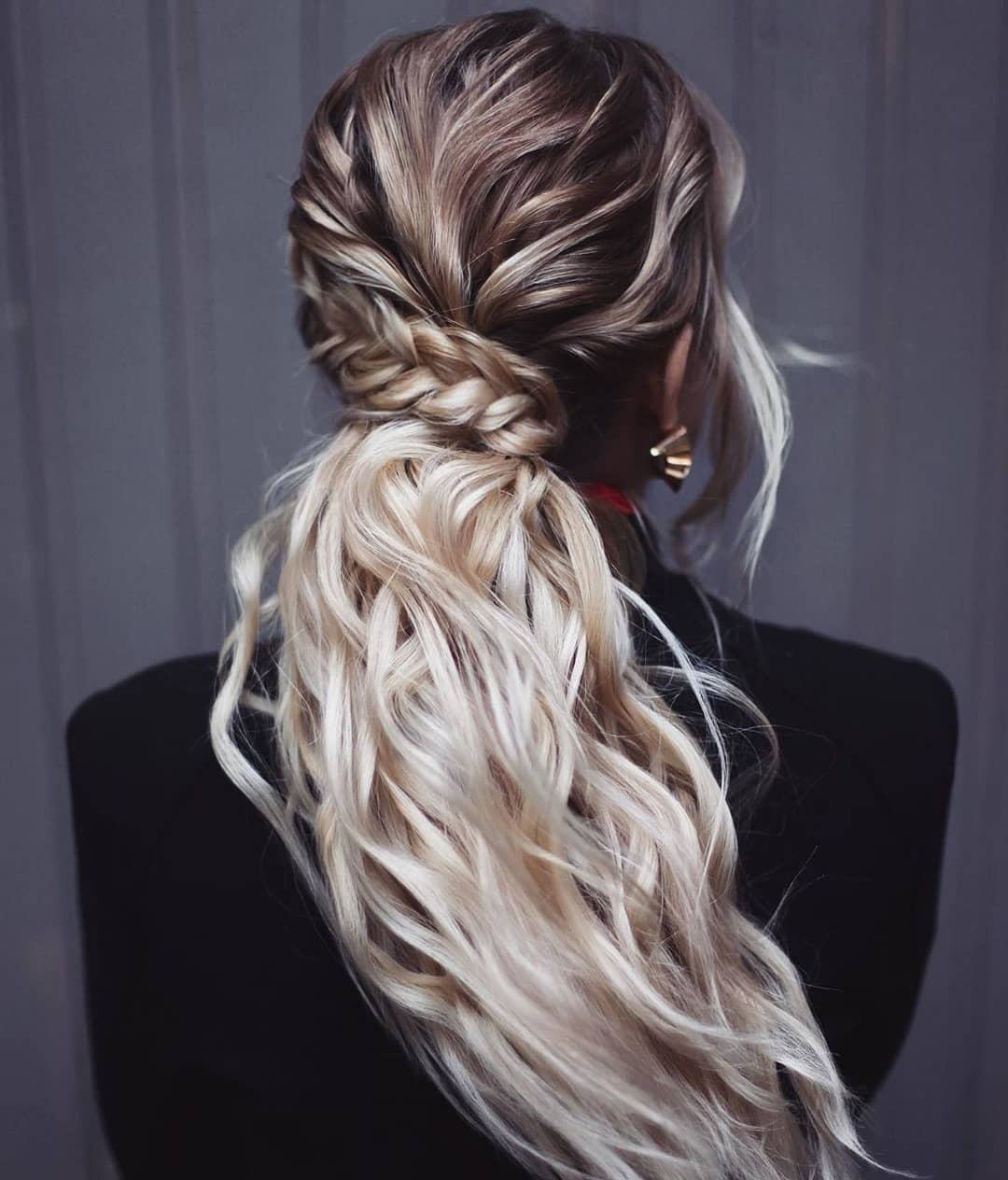 10 Cute Braided Hairstyles for Women
Braids make everything better. They can transform decidedly un-styled hair into an on-trend look that's ready to face the day. Plus, they're practical–they keep your hair out of your face and out of your way all day long.
If you're looking for new ideas for cute and casual hairstyles for everyday wear, look no further than these 10 cute braided hairstyles These braided styles are designed for women with medium-length to long hair. Most of these braided hairstyles accommodate multiple hair types but pair best with straight, wavy, or gently curly hair.
1. Long Curly Ponytail with Braided Base
Live out your own version of Tangled with this gorgeous, Rapunzel-inspired ponytail. This mid-height ponytail cascades into loose curls that add volume and elegance to this hairstyle.
A thick braid wraps around the base of this ponytail, adding intricacy and more dimension to this braided hairstyle. Leave a few front sections of hair loose on each side of your head to give this braided ponytail a carefree finishing touch.
2. Long Teased Ponytail with Fishtail Braid
It's all about the volume with this braided ponytail. An intricate, loose fishtail braid weaves from one side of this ponytail down past the base of the ponytail all the way to the ends of your hair.
The crown of this mid-height ponytail is teased up to give the illusion of more thickness and volume. The loose fishtail braid also adds dimension and texture to this style.
3. Long Hair with Braided Headband
Why buy a headband when you can make your own using only your own hair? This braided hairstyle is intricate and unique. It features a single thick, loose braid that wraps across a middle part to create the appearance of a headband.
This hairstyle leaves most of your hair free to style as you please. You can curl it, straighten it, leave it natural, etc. etc. The choice is yours, but a braided headband adds a glamorous focal point to this otherwise simplistic hairstyle.
4. Multi-Braided High Ponytail
This is stylish, practical, and perfect for trendy, casual everyday wear. Multiple types and sizes of braids are included within this braided hairstyle.
Several Dutch and French braids of varying sizes keep this high ponytail ultra-secure while adding style and to a classic high pony hairstyle.
5. Mini French Braided High Ponytail
This braided hairstyle adds interest and intricacy to a classic high ponytail. It features multiple miniature French braids that combine into a high ponytail at the top of the crown of the head.
Golden metal clips and hair bands adds ornate focal points to this hairstyle.
6. Relaxed French Braided Long Ponytail
This bouncy, glamorous braided hairstyle starts with a loose French braid that begins at the hairline and extends down to the base of the ponytail at the nape of your neck. A miniature braid wraps around the base of the ponytail to add a subtle, sleek finishing touch to this braided hairstyle.
If you have long hair, use a flat iron or curling rod to create relaxed curls in your loose hair past the base of your low ponytail to add volume and give this hairstyle an extra glamorous finish.
7. Low Bun with Braided Underside
A bird's eye view of the top of this hairstyle would reveal nothing more than a simple low bun. A closer look, however, shows that the underside of this hairstyle features multiple miniature braids that add interest and dimension to a classic style.
This multi-faceted hairstyle is equal parts sleek and trendy. Its simple low bun gives this hairstyle a sleek, neat finishing touch, while its subtle braided detailing adds intricacy and a trendy focal point.
8.  Double Dutch Braided Hair
Dutch braids are cute, flirty, and fun. This simple Dutch braided hairstyle features two Dutch braids–one on either side of a middle part.
This hairstyle gets your hair out of your face while leaving your bottom layers free for you to leave natural or style as you please. It's a versatile style that is both pretty and practical.
9. Twisted Braided Low Ponytail
Put a twist on a classic low ponytail with this twisted braided low ponytail hairstyle. This subtle braided hairstyle looks neat and helps you look put-together whether you're headed to work or a coffee date.
This hairstyle works best with long hair that is either naturally straight or wavy. It adds texture and dimension to straight and wavy hair while still looking natural. Don't forget to wrap a strand of hair around the base of your low ponytail after you secure it to conceal your hairband for an extra sleek finishing touch.
10. Waterfall Braided Long Wavy Hair
You really can't go wrong with waterfall braids. Waterfall braids make every hairstyle look more intricate, special, and glamorous with their effortless boho chic style.
This simple braided hairstyle is ideal for ladies with longer locks. It pairs wavy hair with a loose waterfall braid across the crown of the head to create a neat but carefree hairstyle that is perfect for on-trend everyday wear.