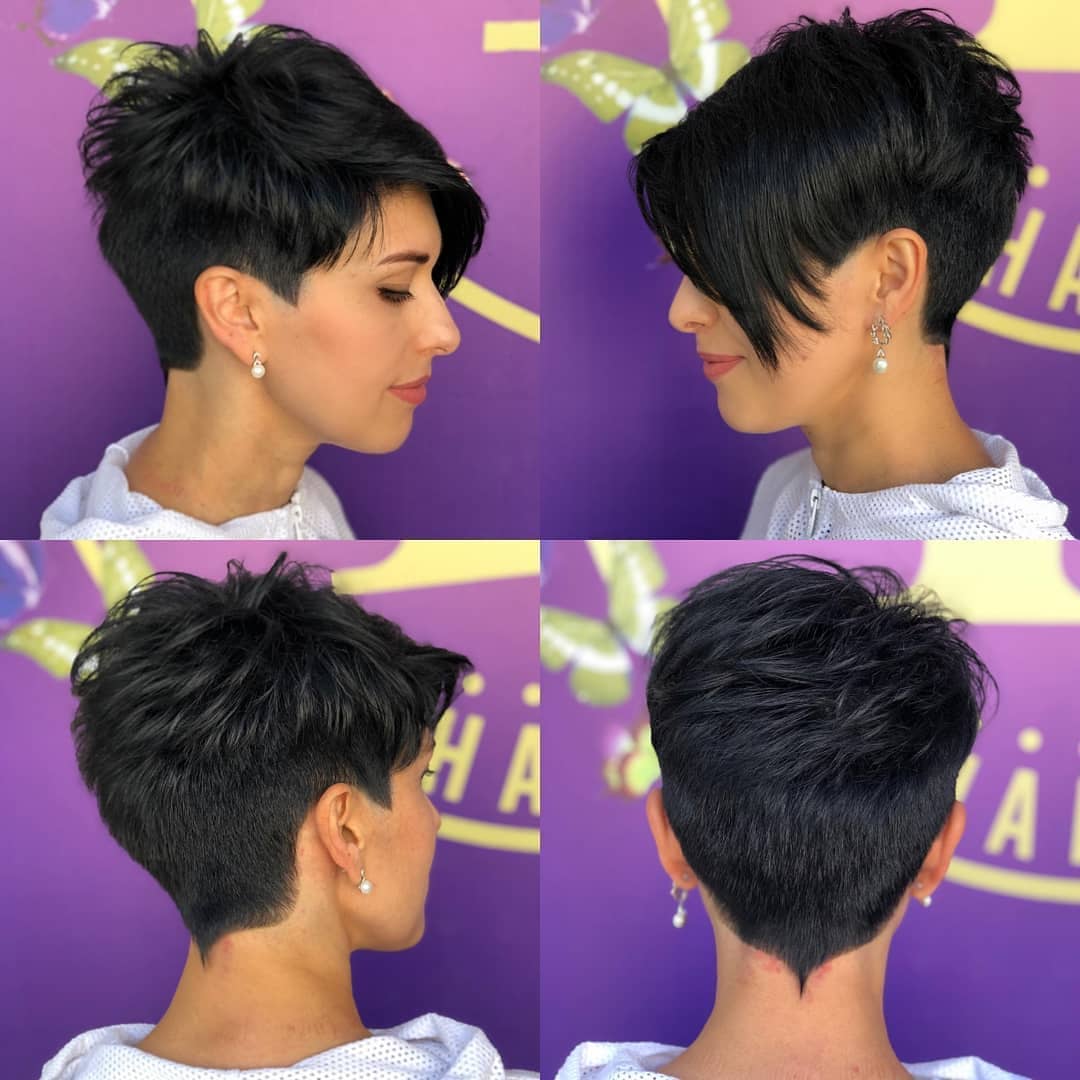 10 Easy Everyday Hairstyles for Short Straight Hair
These easy everyday hairstyles are designed with trendiness and low maintenance levels in mind. These 10 hairstyles are designed for women with short hairstyles–including pixies and bobs–and either naturally straight hair type or a willingness to straighten your hair every morning. Many of these hairstyles also work for women with short hair that naturally has a slight wave.
While some of these hairstyles do require a low amount of styling to polish and perfect in the morning, these 10 short, straight hairstyles are designed specifically to be quick and easy to get you out the door on time every day-even on days you sleep past your alarm. If you have short, straight hair, or are currently considering cropping your straight locks, check out these 10 trendy, easy everyday hairstyles.
1. Asymmetrical White Blonde Pixie with Shadow Root
This asymmetrical white blonde pixie cut is simultaneously bold and flirty, sleek and daring. Its longer layers on one side give you more styling options, while its  deep side part and shorter layers on on the other side help make it quick and easy to style in the morning.
A shadow root helps make this asymmetrical pixie cut look more natural. It also helps blend together the buzzed sides and bleached longer layers on top together with a polished finish.
2. Brunette Pixie with Long Side Bangs and Deep Side Part
This gorgeous brunette pixie is both elegant and understated. It features long side bangs and a deep side part that gives this look sleek, feminine style.
Versatile and eye-catching, this pixie can be styled in many ways due to its longer layers on one side. However, its shorter layers on the other side help cut morning maintenance in half for this asymmetrical pixie cut.
3. White Blonde Highlighted Pixie Cut with Undercut
White blonde is currently all the rage, and this undercut white blonde pixie shows just how multi-faceted this ultra-trendy color can really be.
By blending together white blonde and cool ash brown, this highlighted pixie cut is both bright and natural-looking. A buzzed undercut in back adds a daring finish to this pixie cut, and its smoother layers on top give it a sleek and polished finishing touch that balances out its multi-dimensional tone.
4. Spiky White Blonde Shaved Pixie
If you're feeling daring, try this spiky white blonde pixie cut. The layers at the top of this pixie cut are styled into spikes. This bold style is sure to get you a lot of looks–in the best possible way.
Its shaved sides and spiked top layers are undeniably attention-grabbing, and  its white blonde shade helps this daring pixie cut top the trend charts in the world of women's hair and fashion.
5. Undercut Shaved Red Pixie Cut with Side-Swept Layers
Combining a shaved undercut and longer, side-swept layers on top, this pixie cut is both traditional and modern. Its buzzed bottom layers add daring flair to this cut, and its smoother, longer layers on top help to give it dimension and sleek style.
This pixie cut is a deep shade of red with purple undertones. This one-of-a-kind shade adds interest and intrigue to this haircut, but it looks natural enough that it won't turn too many heads on the street if you're hoping to blend in a little.
6. Long Highlighted Brunette Pixie Cut with Side-Swept Bangs
It can be tough to pull off highlighted brown hair, but this highlighted brunette pixie cut pulls it off smoothly with its various bright and white blonde layers.
The layers of this piece-y pixie cut are slightly tousled, which–along with the highlights–adds dimension to this style. These tousled layers also make this pixie cut ideal for women with both naturally straight and wavy hair types.
7. Platinum Blonde Pixie Cut with Tousled Layers
You can't go wrong with a classic pixie cut with cropped, tousled layers, and this low-maintenance platinum blonde pixie cut proves it.
A bright shade of platinum blonde adds eye-catching trendy style to this piece-y pixie cut. Its tousled layers help give this pixie cut more dimension, and its side-swept bangs help enhance your facial features.
8. Black Pixie Cut with Long Side Bangs and Shaped Back
This bold, daring pixie cut is all about the shapes. It features a variety of both angled and rounded layers with long, asymmetrical side bangs that frame the side of your face. The back of this pixie cut is shaped into a sharp point, which adds intrigue and unique style to this sexy cut.
Blending voluminous dimension and smooth, sleek style, this pixie cut features plenty of volume on top with buzzed sides and back. Long, smooth layers in front add a sleek finishing touch that helps balance out this pixie cut's alluring, out-there style.
9. Black and Blue Asymmetrical Pixie Cut
The blue highlights in this black asymmetrical pixie cut are subtle, but they're there. In fact, their subtlety is part of what makes the electric blue highlights in this pixie cut style even more intriguing. They enhance this haircut, but they don't steal the spotlight away from it.
This asymmetrical pixie cut features smooth, cropped layers on one side and sleek longer layers on the other side. It also includes volume on top to add even more attention-grabbing dimension to this impossible-to-deny black and blue pixie cut.
10. Curled Brunette Pixie Cut
This brunette pixie cut is styled to be curled, so it's perfect for women with either naturally straight or wavy hair.
Featuring longer layers on both sides, the length of this pixie allows it to accommodate more involved styles like all-over curls that require a little bit more length than a classic close-cropped pixie to pull off. Curls add volume and dimension to this shiny, sleek and eye-catching brunette pixie cut.