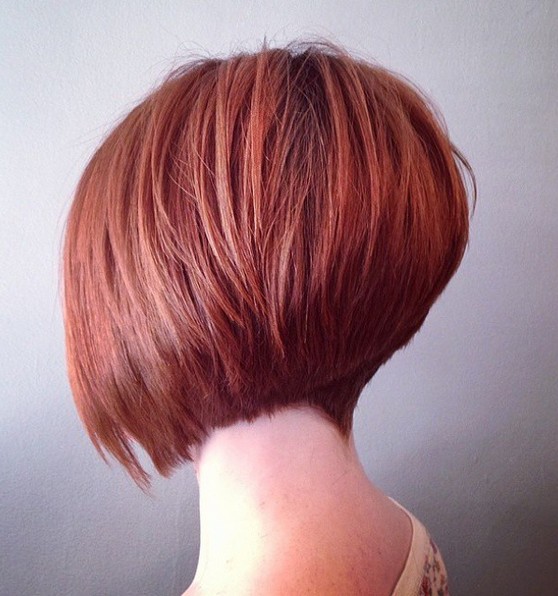 20 Sexy Stacked Haircuts for Short Hair: You Can Easily Copy
Dreaming of locks that are bursting with bounce and energy? Then you may want to consider a stacked haircut! Stacked haircuts are designed with tons of lovely layers of all different sizes to create a full, energetic style that's cute and flirty. Check out these trendy, sexy stacked haircut ideas!
Messy Dark Brown – Easy Short Haircut for Summer
As if the layers weren't enough, this lovely lady chooses to tousle up her mane for a messy, super sultry finish. Her dark brown hair is gorgeous against her porcelain skin and we're loving the amount of layers she has from front to back.
Sleek Dark Red – Short, Lob Hair Style
Stacked haircuts are cute, but if you want to add some instant sex appeal consider a fiery hair color like this deep red shade. We're loving her sleek and subtle graduated style, with plenty of lengthy layers and an enticing design from front to back.
Platinum Curls – Stylish Balayage Hairstyle
Oh so summery, this classy and gorgeous hairstyle is brightened with some stunning platinum coloring, given a beautiful makeover with lovely long ringlets. This sophisticated, light hairstyle combines the beauty of layers with sultry ringlets that are perfect for fancy occasions.
Blonde Highlights with Volume – Straight Bob Cut
This stacked haircut is LOADED with volume! She adds some length around the face to frame her face beautifully while the back is left extra short to load up on volume. Adding some light blonde highlights throughout her mane, she gives her locks some vibrant and bright hues that play against the dark brown perfectly. An everyday style that's dimensional and fun!
Sea Foam Green and Black Waves: Easy Office Hairstyle for Women
Sea foam green just so happens to be one of the HOTTEST hair colors for 2019; and what goes better with this delightful mermaid shade than black roots? The color combo is sensational and unique, while some subtle waves in the back add some flirty dimensional fun to the entire style. A great option for work or school.
Purple Sleek Straight with Thick Hair
Subtle layers are brought to life with a divine color combination of black with purple on top, a mysterious and sexy shade that's sure to turn heads. She leaves her stacked hairstyle stick straight for a sultry style with plenty of attitude. Her strands are sure to wave effortlessly and we're loving her side part that's downright fabulous.
Volume Galore
THIS hairstyle is screaming with volume! With tons of layers on the top back part of her hair, some simple teasing of the crown adds a divine amount of volume that's downright playful and sexy. Her super dark locks are undoubtedly stylish and the volume really pulls this look together wonderfully. So much body to this look!
Stacked Haircut with Highlights and Bangs
A lot of gals think bangs are OUT with a stack haircut; but that couldn't be any more FALSE. Check out this adorable 'do, featuring a bob haircut with tons of short layers in the back and some cutesy bangs up front, skimming above her eyebrows. The addition of natural-looking highlights creates a lighter shade that perks up her face miraculously.
Curly Stacked Hairstyle for Women Short Hair
Want to take your stacked haircut to an all-new, beautiful dimension? Consider this glamorous hairstyle! She starts off with a beautiful graduated bob, brought to life with tons of voluminous curls that add a touch of fullness and body. This stunning style can easily be perked up with some blingy jewelry or pearls for fancy events.
Hints of Purple
Black-on-purple: it's the next IT hair color and it's certainly one to consider! Her fabulous stacked haircut adds plenty of lengthy layers throughout her mane, creating instant volume and bounce. Styled straight with a straightener, her vibrant purple streaks look silky and sultry for a perfect ending.
Shaved Side – Asymmetrical Short Hair Cut
Lover of all things edgy and 'out-there'? Then we highly recommend this quirky 'do! Shaved sides are ALL the rage for 2019, and we're loving her shave and extra lengthy combination that's extremely eye-catching and unique. For my frisky girls out there who love to live life on the edge, I highly recommend this awesome style.
Loose Waves
Stacked hairstyles are awesome for women of all ages, whether you're a girl in school or a woman in her 50's. Here we see a classy take on the stacked haircut, starting with a super short pixie cut and plenty of extra short layers, waved to perfection for a snazzy 'do that can accompany you to the office as well as the 5 star restaurant.
Lengthy Grays – Balayage Hairstyles with Short Hair
Gray hair can't be fabulous? Think again! Gray hair isn't just fabulous, it's also one of the hit colors for 2019. Her gray locks are straightened with a hair straightener for a silky smooth finish that shimmers in the sunlight, and her long layers create a bit of sensual volume that's great for women with longer face shapes.
Blonde Highlights – Balayage Hairstyles for Women Short Hair
Funky, edgy, and loaded with attitude, we're loving this classic stacked haircut. It's left lengthy in the front to frame the face while the back is stacked up super short for plenty of bouncy volume. She adds some light blonde highlights to her locks for some flirty dimension that's downright fabulous.
Lengthy Bayalage Layers
We're in love with her hair! Featuring a stunning collection of blondes, reds, and browns, her bayalage hair color is loaded with lovely dimension that has a sunkissed finish we adore. Her all-natural locks are given just a touch of body with some super long layers that blend beautifully. An overall natural looking 'do that's great for older women.
Red Hot Wavy Volume
Want to turn heads? Then you need to try on this hairstyle for size! Her red hot locks are dazzling, sexy, AND charming thanks to the perfect combination of super bright red hues, some flirty layers, and some gorgeous loose waves to top it all off.
Platinum Asymmetrical
This is undoubtedly one of the best options for summer! Her lengthy bob is sporting the asymmetrical cut that we ALL know and love, adding some spice and funk to her look without going overboard. Lengthy up front and extra short in the back, this look is oozing with flirty fun.
Purple Loose Waves – Chic Short Haircut for Women
Take your stunning deep purple locks to the next level with some gorgeous loose waves! It's the perfect look for school, for the nightclub, for prom- just about anywhere! You're sure to dazzle wherever you go, and you can really intensify this style with darker shades of makeup.
Just a bit of Height
There's a lot to love about this modelesque hairstyle, from the beauteous long layers to the artsy side swept bangs. What really adds some spunk to this look is the slight pinch of messy volume found on top, which really pulls this simple hair style together wonderfully. Love this look with those glasses too!
Reds and Blondes
If your layers weren't giving you enough body, consider adding some extra texture to your locks by use of colors! Her fashionable and feminine hairstyle features a wide collection of reds and blondes for a really intriguing look that's bursting with color.
Pophaircuts.com which one of these stacked hairstyles will you consider?