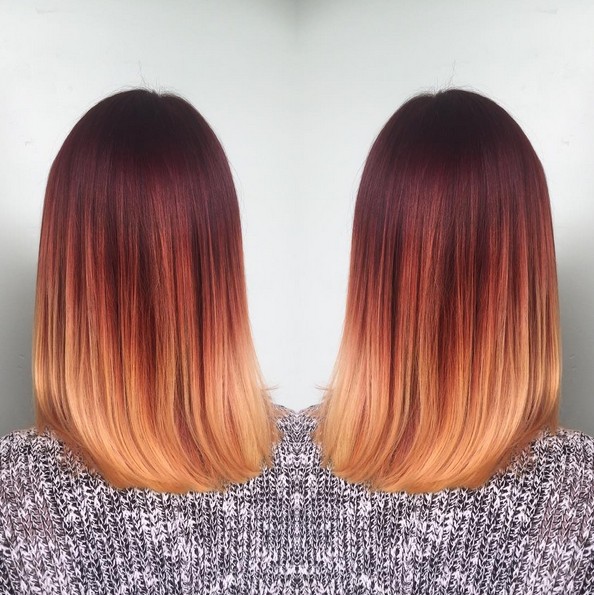 18 Striking Red Ombre Hair Ideas
Ombre? A definite hot hairstyle trend right now. What's even hotter? Striking red hair! Combine the two and you've got a stunning hair color that turns heads everywhere. These red ombre hair ideas are sure to catch your attention!
Burnt Red to Golden Blonde
A deep shade of red is left on the upper half of these locks, leading to a dark golden blonde lower half. The contrast is gorgeous and with a subtle wave throughout the mane, it's a beautiful look that can go from day to night with ease.
Red and Blonde Waves
A slightly subtler version, this lovely hairstyle features a less bold contrast of red and golden blonde with a blend that's simply fabulous. The luscious waves create some gorgeous flirty volume that bounces freely.
Deep Red and Platinum Blonde Ombre with Braids
We're so in love with this highly contrasting mix! Deep red up top is contrasted beautifully with some bright platinum blonde ends. Putting these colors in a pair of double halo braids let the colors run freely together for a very enticing look. Don't forget to add some loose waves for some extra flirty fun!
Black and Deep Red Waves
There's nothing quite exotic or stunning as a black and deep red combination. It's mysterious and alluring, and with the addition of some bouncy waves, this hairstyle has a sultry effect that's perfect for fancy occasions or date night with that special someone.
Red and Burnt Orange with Side Braid
This hairstyle has 'fierce' written ALL over it. The gorgeous side braid adds an extra dose of edge that's funky yet stylish. Loving the burnt orange ends to lighten up the mood just a bit, adding some lightness around the face to make her face shine.
Black and Pinky Red Ends
Straight and sleek with a middle part; it doesn't get any more classic than that! But what really brings this casual hair to life is the gorgeous combination of black on red with a slight pink hue that's downright beautiful. Love this color combo!
Purple, Red, and Blonde
This hairstyle features some of our FAVORITE colors, all wrapped up into one stunning 'do. She has a trio of fabulous colors from deep purple to stunning red, ending with some golden ends to bring the hairstyle to life. Leaving the hair stick straight, it's a casual style that can be worn to school or the office.
Dark Brown and Pinky Red Voluminous 'Do
Her mane is FABULOUS. It's exotic, trendy, and bursting with volume. She leaves her roots with a sensual dark brown tint, while the rest of her long locks are kept red with a deep pink hue that's luscious and vibrant. Her striking hairstyle is given some sultry attitude with tons of voluminous waves!
Sultry Red and Golden Blonde
One of the hottest shades of red, her hair has sexy and sultry written all over it. She tosses her red and golden blonde mane off to the side, adding a touch of extra loose and voluminous curls for a very enticing finish. Love this look for fancy events or those days where you really want to take over the room!
Black and Purple-Red Voluminous Style
There's no denying the enticing look of this luscious style! She leaves her hair with a vibrant black upper half with just a touch of blue coloring, leading to a sultry lower half featuring an off-red hue with tons of purple highlights. The color is perfect but the addition of voluminous curls brings this style to life.
Extra Lengthy Auburn and Blonde Tips
RED HOT. That's DEFINITELY two words we would use to describe this enticing color! A deep auburn shade of red is plastered up top, leading down to some subtle blonde tips to lighten the overall shade of this hair. She leaves her lengthy mane straight with a deep side part that hangs delicately over one eye for a fierce and mysterious look.
Shades of Auburn
This subtle hair color is anything but simple. She leaves the top of her mane covered with a gorgeous deep auburn shade while the lower half is given a light, slightly orange-y hue that adds depth and beauty to her look. Adding some loose curls gives some bouncy volume that would work beautifully with a cute summer dress.
Tousled Auburn and Golden Blonde
We're a huge fan of this lovely hairstyle. She starts off with some sexy auburn roots and light golden blonde lower half for a color that's contrasting and unique without going overboard. Tousled with some wave, this style has plenty of attitude that fits well with a sexy leather jacket.
Reds, Pinks, and Blondes
Love red hair? Of course you do! Love pink highlights? Definitely! And blonde? That's ALWAYS a winner in the hairstyling world. Put the three shades together and you create an enticing finish that's bursting with style and colors. Play with your makeup colors to lighten up or darken up this entire look.
Purpley Red with Brown
This is quite an intriguing and feminine style, featuring a purpley red up top with a sultry light brown coloring beneath. The curls make this style incredibly dainty and enticing, making it a great choice for important meetings or a fancy night out on the town.
Exotic Black, Hot Pink, and Red
This look is SURE to turn heads! It's definitely one of the most fierce and bold styles on the list, and it has a gothic-y, artsy flare we can't ignore. Black roots are contrasted with a hot pink middle, leading to an exotically red end that's downright perfect. For the gals who want to make an entrance without doing a thing, consider this fierce style.
Red and Orange
Looking for a great summer option when it comes to red ombre hair coloring? Then consider this sweet style! A lighter shade of auburn red is found on top, followed up with some bright and shiny orange ends that have 'summertime fun' written all over them! Feel free to shimmer in the sunlight with this lovely 'do.
Dark Auburn with Goldeny Tips
A little more on the brown side, this hairstyle features a very dark auburn that's given some light and bright attitude with goldeny tips. A cute combination that's simple, yet stunning.
Pophaircuts.com which one of these striking hair colors will you choose?