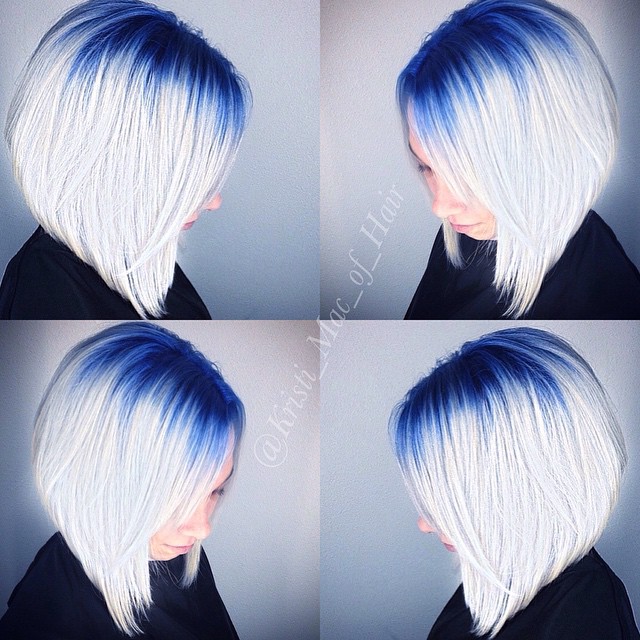 Lovely and Convenient Angled Bob Haircuts
Angled bobs are incredibly chic, sporting an edgy angle that is both enticing and eye-catching. And while an angled bob can work wonders on its own, sometimes we just want to switch up our look- whether it's for a fancy party or a trip downtown with the ladies. These lovely angled bob hairstyles will dazzle up your locks and leave you with a polished, refined finish every time.
Large, Relaxed Bold Red Curls
This angled bob gets a heaping dose of edgy attitude with a sultry bold red color, while large, relaxed curls add a touch of glam. A simple style that can be done with a large-barreled (1.5 inch) curling iron- the results are nothing short of FABULOUS.
Subtle Front Flip with Purple Highlights
Purple is the IT color for 2016, which obviously looks super flawless on an angled bob haircut. She adds just a hint of bouncy attitude by subtly flipping the ends forward, which not only adds some bounce, but also frames her face perfectly.
Subtle Relaxed Waves
This is the perfect office hairstyle when paired with a blazer and pencil skirt, although it can be really glammed up for a party with dazzling jewels and a black dress. Needless to say, these gorgeous subtle relaxed waves are extremely versatile!
All Natural: Cute Hairstyle for Girl
Sometimes it's best to just get up and go- and there's NOTHING wrong with going all natural from time to time! If you've been blessed with naturally straight locks, rock those straight strands from time to time; you'll look beautiful!
Classic Ombre: Stylish Hair Color Ideas for Women
Take your angled haircut from cool and cute to flawless and fabulous with a classic, natural looking ombre hair color. Darker brown roots lead to a delightful light brown lower half, a very lovely pairing.
Chunky Hot Pink Highlights: Short Hairstyle with Side Bangs
Chunky highlights may have been a 90s thing, but they are certainly coming back in style; especially when you choose an intense and trendy color like hot pink! We're loving her vibrant locks, hot pink being the perfect accent to her darker mane.
Lightly Waves Ends
Her hair color is flawless- the lighter hues flowing freely and effortlessly against darker strands is so beautiful. But what really takes her lovely locks to the next level is the subtle wave she adds to the ends, opening up her face and letting those red lips do the talking.
Slick Straight -Sleek Short Hair Styles
As we mentioned before, angled bobs are super chic and polished; but straightening them into a slick straight hairstyle is a great way to amplify the refined quality. Simply use a straightener and some hairstyling products to make your strands glisten and shine.
Gorgeous Medium Loose Curls
Her hair is enticing and simply beautiful, with a subtle hint of purple throughout her jet black locks. With some medium loose curls, her look gets a sophisticated and stunning makeover that's perfect for very classy and high-end events.
Flipped-Back Bangs
Don't get tired of your side swept bangs! Yes, they are trendy no matter what, but give your bangs a touch of flirty attitude by flipping them back and to the side. So cute!
Colorful Locks
Adding dimension and extra edgy to your already-edgy angled haircut is a cinch with some wild colors! Her dark mane is filled with hues of blue and purple, two of the HOTTEST colors for 2016. You really can't go wrong with a style like this!
Tousled Waves – Layered Shoulder Length Haircut
It's the perfect 'beach' look; the tousled waves, it's like you've just stepped out of a fun day in the ocean! We're also loving her collection of dark and light blondes, which glisten beautifully against the sun. This is definitely a top choice for warmer seasons!
Extremely Sharp Angle
Really trying to make an intense statement with your hair? Then consider an extremely sharp angled bob hairstyle like this. It's enticing and super edgy, not to mention stylish and sexy.
Under-Flip
Framing your face for a cute and youthful appearance is easier than you think! Forget buying fancy products or spending hundreds on procedures; simply give your bob hairstyle an under-flip right below the chin, resulting in a cute and framing finish!
Asymmetrical Bright Red – A-line Short Haircuts
For the ladies out there who love to be the center of attention and grab the eyes of everyone in the room, this hairstyle is for you! The asymmetrical front strands are trendy and sharp, while bright red locks are eye-catching and exotic.
Purple, Purple, Purple
We can't tell you enough: purple is the most popular hair color for 2016! If you're feeling extra daring, consider some vibrant purple locks like these. Fabulous.
Crazy Colors, Crazy Layers – Short Hairstyle Ideas
Crazy colors and crazy layers can only mean one thing: crazy AWESOME hairstyle! Her blonde-on-purple locks are fashion-forward and super cute while the assortment of layers in different shapes and lengths creates an interesting and unique appearance we LOVE.
Toss-Back
Get those pesky lengthy bangs out of your face and enjoy a flattering, flirty hairstyle by simply tossing your bangs back.
Reverse Ombre: Short, Straight Bob Haircuts for Women
This wild style is sure to catch the attention of EVERYONE around you! The colors here are simply DAZZLING: a bright, intense blue on the roots leading to a illuminating white lower half. Is she a fairy? Perhaps an angel? No, she's just a woman with some seriously stunning locks.
Flipped Bangs and Extra Short Back
Her darling hairstyle features bangs with an assortment of layers of all shapes and lengths, flipped to perfection, while the back is designed with an extra short cut that lets the underneath peek out.
Shaved Bob Haircut with Side-Swept Bangs
Side-swept anything is always sultry and hot, and looks extra fabulous with an intense angle bob haircut! She tosses her locks over to one side, creating a really alluring look that can be played up or down with makeup and wardrobe.
There's so many beautiful and trendy styles for an angled bob. Pophaircuts.com which will be your next look?