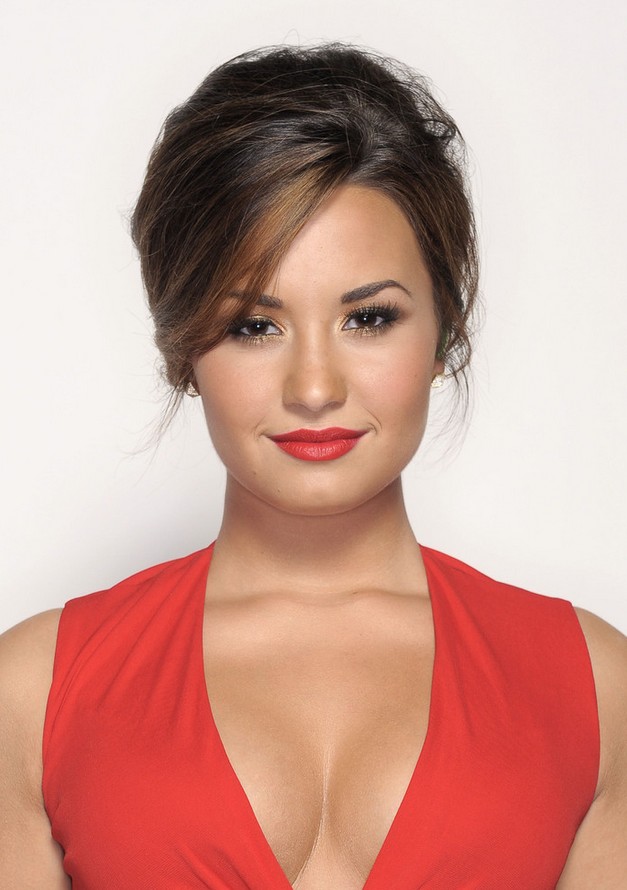 4 Demi Lovato Hairstyles: Long Hair
This style is designed to keep the focus on Demi's face and décolletage, with no hair showing below the ear lobes, except for a couple of lovely, soft wisps to keep the outline casual.
The hair is teased and swept back into a chignon at the back, creating an attractive bouffant shape around the crown. The blurred parting is asymmetrical with a flattering, defined fringe section covering one eye in an alluring look that accentuates her eyes. Demi's dark-blonde colour is cleverly highlighted with a soft touch of gold in the fringe finishing off a simple, but effortlessly elegant up-style.
Demi Lovato Ombre Hair: Long Curly Hairstyle
Here's another of Demi's fabulous long ombres! This time the colours are a warm brown with fabulous copper highlights around the top and a lovely caramel blonde from chin level down to the ends.
The caramel shade looks more sophisticated than a brighter blonde and creates a more elegant look overall.  With the lovely asymmetric fringe sweeping down over her eye, Demi looks stunning in this eye-catching wavy look!
Demi Lovato Ombre Hair: Casual Long Hairstyle
Here's Demi out and about and looking very contemporary in a fabulous black and white outfit.  All the colour is reserved for Demi's hair which is cut in long layers and styled in amazing loose waves reaching down almost to her waist.
The hair has a dark-brown base, with flattering copper highlights accentuating the flattering volume around Demi's face.  The longer lengths are full of ombre highlights in a carefully harmonised blonde that emphasises the fabulous texture and lively movement in this high-fashion hair design.
Demi Lovato Red Hair: Long Hairstyles
Demi loves to experiment with colour on her thick, long hair and this casual style is given lots of extra depth and dimension by the unusual colour technique!
The long layers are styled in loose waves for a relaxed look and the blend of three, strong red shades is a fresh look we've never seen before.  It makes a very eye-catching hair design that is original and very appealing!